I N C I N E M A S . . .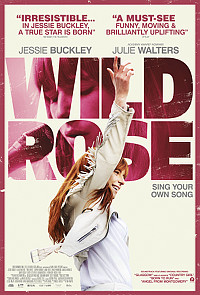 WILD ROSE


MID90s


WONDER PARK


THE MAN WHO KILLED HITLER AND THEN THE BIGFOOT


YULI (Sp)


A DEAL WITH THE UNIVERSE
HELLBOY: David Harbour
LITTLE: Regina Hall
MADURA RAJA: Mammootty
ALL ABOUT EVE - NT LIVE: event cinema
BOLSHOI - GOLDEN AGE: event cinema

SHAZAM!


PET SEMATARY


THE SISTERS BROTHERS


HAPPY AS LAZZARO (It)


LAST BREATH


YULI - THE CARLOS ACOSTA STORY LIVE: event cinema
MISSING LINK: Hugh Jackman
HOLY LANDS: Tom Hollander
THE KEEPER: David Kross
PEPPA PIG - FESTIVAL OF FUN: Harley Bird
NERVOUS TRANSLATION: Jana Agoncillo
JUNGLEE: Vidyut Jamwal
ROMEO AKBAR WALTER: John Abraham
---
BFI Flare: London, 21-31.Mar.18
---

DUMBO


AT ETERNITY'S GATE

OUT OF BLUE

EATEN BY LIONS

BEING FRANK: THE CHRIS SIEVEY STORY
THE HIGHWAYMEN: Kevin Costner
THE VANISHING: Gerard Butler
LORD OF CHAOS: Rory Culkin
WINTERLONG: Francis Magee
3 FACES: Jafar Panahi
NOTEBOOK: Pranutan Bahl

US


THE WHITE CROW


SORRY ANGEL (Fr)


A TRIP TO THE MOON (Arg)


MINDING THE GAP
FIVE FEET APART: Haley Lu Richardson
THE JOURNEY: Zahraa Ghandour
THE CROSSING: Huang Yao
90 MINUTES: Anton Saunders
CRADLE OF CHAMPIONS: amateur boxing doc
SHARKWATER EXTINCTION: illegal fishing doc
---
A T H O M E . . .


AQUAMAN


LIZZIE


MEKTOUB, MY LOVE: CANTO UNO (Fr)

THE OLD MAN & THE GUN


ANNIHILATION


RALPH BREAKS THE INTERNET


ASSASSINATION NATION


TULIP FEVER

SHOPLIFTERS


SEEDS (Mex)


THE HOUSE BY THE SEA (Fr)


SUSPIRIA


CREED II


A TRIP TO THE MOON (Arg)


ROBIN HOOD

FANTASTIC BEASTS: THE CRIMES OF GRINDELWALD


NINA


TRIPLE FRONTIER
I N C I N E M A S . . .


MARY MAGDALENE


MY DAYS OF MERCY


SAUVAGE (Fr)
HELLBOY: David Harbour
AFTER: Selma Blair
LITTLE: Regina Hall
MISSING LINK: Hugh Jackman
TEEN SPIRIT: Elle Fanning
WILD NIGHTS WITH EMILY: Molly Shannon
STOCKHOLM: Mark Strong
A DARK PLACE: Andrew Scott
ROTTENTAIL: Dominique Swain
GIRLS OF THE SUN: Golshifteh Farahani
WILLIAM: Maria Dizzia
MIA AND THE WHITE LION: Daniah De Villiers
MASTER Z - IP MAN LEGACY: Zhang Jin

PET SEMATARY


SHAZAM!


PETERLOO


AMAZING GRACE
THE BEST OF ENEMIES: Taraji P Henson
HIGH LIFE: Robert Pattinson
THE PUBLIC: Gabrielle Union
STORM BOY: Jai Courtney
BILLBOARD: John Robinson
THE WIND: Caitlin Gerard
SUBURBAN BIRDS: Lu Huang
KHALID - FREE SPIRIT: event cinema

DUMBO


THE BEACH BUM: Matthew McConaughey
UNPLANNED: Ashley Bratcher
DIANE: Mary Kay Place
MAKING BABIES: Steve Howey
SCREWBALL: Bryan Blanco
NOTEBOOK: Pranutan Bahl
TRINITY SEVEN - HEAVENS LIBRARY & CRIMSON LORD: Matsuoka Sadyojo

US


OUT OF BLUE


SUNSET (Hun)


A TRIP TO THE MOON (Arg)
HOTEL MUMBAI: Dev Patel
TRIPLE THREAT: Tony Jaa
RAMEN SHOP: Takumi Saitoh
---
A T H O M E . . .


ON THE BASIS OF SEX


TOUCH ME NOT


WELCOME TO MARWEN


HOLMES & WATSON

THE MAN WHO KILLED HITLER AND THEN THE BIGFOOT


BUMBLEBEE


VICE

IF BEALE STREET COULD TALK


CAPERNAUM (Leb)


TUCKED


STAN & OLLIE


COLUMBUS


AQUAMAN


KING OF THIEVES

SPIDER-MAN: INTO THE SPIDER-VERSE


GIRL


TRIPLE FRONTIER

GREEN BOOK


TYREL


FANTASTIC BEASTS: THE CRIMES OF GRINDELWALD


PIERCING


MORTAL ENGINES
---
© 2019 by Rich Cline, Shadows on the Wall
HOME | REVIEWS | NEWS | FESTIVAL | AWARDS | Q&A | ABOUT | TALKBACK