I N C I N E M A S . . .

ALITA: BATTLE ANGEL


THE LEGO MOVIE 2: THE SECOND PART


IF BEALE STREET COULD TALK


ALL IS TRUE


BOY ERASED


CRAZY ALIEN: Matthew Morrison
PEPPA PIG CELEBRATES CHINESE NEW YEAR: Michelle Wai
INTEGRITY: Nick Cheung
PEGASUS: Teng Shen
SONCHIRIYA: Sushant Singh Rajput
AMERICA: family doc
YOUNG PICASSO 2019: exhibition on screen

CAN YOU EVER FORGIVE ME?


GREEN BOOK


HOW TO TRAIN YOUR DRAGON: THE HIDDEN WORLD


BURNING (Kor)
ESCAPE ROOM: Taylor Russell
CRUCIBLE OF THE VAMPIRE: Neil Morrissey
EVERYBODY'S TALKING ABOUT JAMIE: event cinema
LA TRAVIATA - ROYAL OPERA HOUSE: event cinema
I'M NOT RUNNING - NT LIVE: event cinema
CARMEN - MET OPERA: event cinema

VICE


DESTROYER


LOVE SONIA (Ind)


NINA (Pol)
THE MULE: Clint Eastwood
SECOND ACT: Jennifer Lopez
A DOG'S WAY HOME: Bryce Dallas Howard
ONE NATION, ONE KING: Gaspard Ulliel
DRAGON BALL SUPER - BROLY: Masako Nozawa
MANIKARNIKA - THE QUEEN OF JHANSI: Kangana Ranaut
BERGMAN - A YEAR IN A LIFE: filmmaker doc
ON HER SHOULDERS: survivor doc

MARY QUEEN OF SCOTS


GLASS


BEAUTIFUL BOY


MONSTERS AND MEN


HALE COUNTY THIS MORNING, THIS EVENING
LONDON UNPLUGGED: Juliet Stevenson
THE RAFT: Daniel Gimenez Cacho
UNDERDOG: Eryk Lubos
HEY DUGGEE AT THE CINEMA: Jasmine Bartholomew
---
A T H O M E . . .


BLINDSPOTTING


THE MISEDUCATION OF CAMERON POST


MONSTERS AND MEN


DISOBEDIENCE


BAD TIMES AT THE EL ROYALE


THE CLOVERFIELD PARADOX


PAPILLON


VENOM

WRETCHED THINGS


1985


WAJIB


THE WIFE


THE HOUSE WITH A CLOCK IN ITS WALLS


MILE 22

A STAR IS BORN


CRAZY RICH ASIANS


SKATE KITCHEN


A SIMPLE FAVOUR


THE CHILDREN ACT


THE SEAGULL


KING OF THIEVES

AMERICAN ANIMALS


DOGMAN


TEHRAN TABOO


THE LITTLE STRANGER
I N C I N E M A S . . .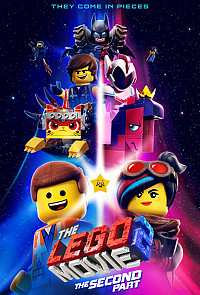 THE LEGO MOVIE 2: THE SECOND PART


EVERYBODY KNOWS (Sp)


COLD PURSUIT


UNTOGETHER


THE GOSPEL OF EUREKA
WHAT MEN WANT: Taraji P Henson
THE PRODIGY: Taylor Schilling
CHOKEHOLD: Casper Van Dien
UNDER THE EIFFEL TOWER: Matt Walsh
PEPPA CELEBRATES CHINESE NEW YEAR: Michelle Wai

PIERCING


THE WILD PEAR TREE (Tur)
MISS BALA: Gina Rodriguez
ARCTIC: Mads Mikkelsen
A SILENT VOICE: Robbie Daymond
EK LADKI KO DEKAH TOH AISA LAGA: Anil Kapoor
JIMI HENDRIX - ELECTRIC CHURCH: musician doc

KING OF THIEVES


IN LIKE FLYNN
SERENITY: Matthew McConaughey
THE KID WHO WOULD BE KING: Rebecca Ferguson
BRICKED: Tracy Campbell
NEVER LOOK AWAY: Tom Schilling
THE INVISIBLES: Max Mauff
JIHADISTS: radicalism doc

GLASS


I HATE KIDS


ADULT LIFE SKILLS


DON'T COME BACK FROM THE MOON


THE HEIRESSES
AN ACCEPTABLE LOSS: Tika Sumpter

THE UPSIDE


SGT WILL GARNER


TOUCH ME NOT (Ger)
A DOG'S WAY HOME: Ashley Judd
REPLICAS: Keanu Reeves
THE ASPERN PAPERS: Jonathan Rhys Meyers
THE UNTOLD STORY: Barry Van Dyke
PERFECT STRANGERS: Belen Rueda
ESCAPE ROOM: Deborah Ann Woll
GREAT GREAT GREAT: Sarah Kolasky
MOJIN - THE WORM VALLEY: Yusi Chen
---
A T H O M E . . .

A PRIVATE WAR


WIDOWS


THE SISTERS BROTHERS


THE SUNDAY SESSIONS


THE CLOVERFIELD PARADOX


SUMMER '03


ALL THE DEVIL'S MEN

POSTCARDS FROM LONDON


STUDIO 54


BOY ERASED


THE WIFE

FIRST MAN


I AM NOT A WITCH


THE HATE U GIVE


THE APPARITION (Fr)


JOHNNY ENGLISH STRIKES AGAIN

THE OLD MAN & THE GUN


TEA WITH THE DAMES

MONSTERS AND MEN


AN EVENING WITH BEVERLY LUFF LINN


MEMOIR OF WAR (Fr)


CASTLE ROCK


HELL FEST
---
© 2019 by Rich Cline, Shadows on the Wall
HOME | REVIEWS | NEWS | FESTIVAL | AWARDS | Q&A | ABOUT | TALKBACK