24 May: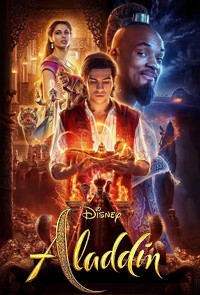 ALADDIN

THE SECRET LIFE OF PETS 2


MEMOIR OF WAR (Fr)


XY CHELSEA
31 May:

BOOKSMART


SUPPORT THE GIRLS


THUNDER ROAD

---
7 Jun:


HALSTON


LAST SUMMER


LATE NIGHT
14 Jun:


WE THE ANIMALS
21 Jun:

* THE CAPTOR [Stockholm]
28 Jun:


APOLLO 11

---
5 Jul:


KNIFE + HEART (Fr)
* VITA & VIRGINIA
12 Jul:
* ONLY YOU
19 Jul:
* GWEN
26 Jul:


TELL IT TO THE BEES
6 Sep:
* JONATHAN AGASSI SAVED MY LIFE

---
C O M I N G U P . . .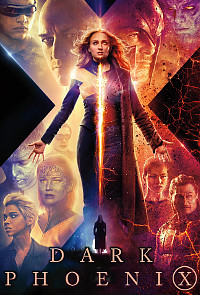 • BRIGHTBURN. ROCKETMAN. GODZILLA: KING OF THE MONSTERS. MA. X-MEN: DARK PHOENIX. GLORIA BELL.
• STARFISH. CARGO. HALLOWED GROUND. BRING FRANK. KANARIE. DIVISION 19. THEY'LL LOVE ME WHEN I'M DEAD. THE LONG DUMB ROAD. CALIBRE.
* BEAUTY & DECAY. DADDY ISSUES. NO CHOCOLATE, NO RICE. SILVANA. Tribeca. Flare. Thessaloniki. LFF. Raindance.
• IN FABRIC. MEN IN BLACK INTERNATIONAL. TOY STORY 4. YESTERDAY.

---
N O U K R E L E A S E D A T E . . .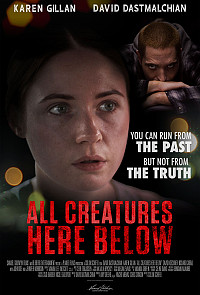 ALL CREATURES HERE BELOW


ANYTHING


FUNNY STORY


HEAVY TRIP (Fin)


HAGAZUSSA (Ger)


HARD PAINT (Br)


JEREMIAH TERMINATOR LEROY


JUST CHARLIE


LITTLE WOODS


LUCID


MAPPLETHORPE
* NOMAD: IN THE FOOTSTEPS OF BRUCE CHATWIN


PADRE (It)


THE PROFESSOR AND THE MADMAN


ROOM FOR RENT


SHADOW (Chn)


SHELTER (Isr)


SUMMER '03


TRANSMILITARY


THE WEDDING GUEST

* films I've seen, reviews en route

---
See also:
SHADOWS FILM FEST
ROCKETMAN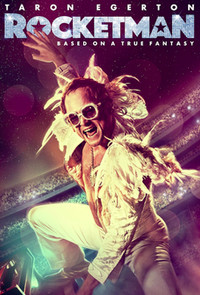 dir Dexter Fletcher; scr Lee Hall; with Taron Egerton, Jamie Bell, Bryce Dallas Howard, Richard Madden, Stephen Graham, Tate Donovan, Harriet Walter, Charlie Rowe, Gemma Jones 19/UK
release UK 24.May.19, US 31.May.19
There's quite a bit of anticipation about this film, starting with Elton John's desire that it presents a no-holds-barred fantastical view of his outrageous life. The trailer is a proper stunner. And hopefully with a more honest, unflinching approach, the film will offer Dexter Fletcher a chance to create something even better than Bohemian Rhapsody. There are a lot of intriguing angles to this film, including the reteaming of Fletcher and Egerton, as well as Bell and Hall. And the fact that Egerton is actually singing the songs too, with Elton John's full blessing. Bring it on. Alas, I won't get to see this pre-release, so my review will be a bit late.

GLORIA BELL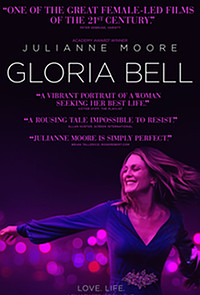 dir Sebastian Lelio; with Julianne Moore, Rita Wilson, Jeanne Tripplehorn, Sean Astin, Alanna Ubach, Michael Cera, John Turturro, Brad Garrett 18/US
release US 8.Mar.19, UK 7.Jun.19
As a fan of both Moore and Lelio (and his original Chilean version of this film, Gloria), there's no way that I will miss seeing this. I'm not expecting it to match the understated impact of the original, but Lelio's filmmaking style seems perfectly suited to Moore's immersive acting, which is very different to the original's wonderful Paulina Garcia. Word of mouth is good on this one, so I'm looking forward to it. Frustratingly, the PR hasn't let me into a screening, so I'll end up seeing it on a streaming service.

MEN IN BLACK INTERNATIONAL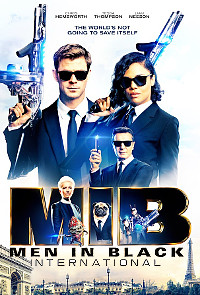 dir F Gary Gray; with Chris Hemsworth, Tessa Thompson, Rebecca Ferguson, Liam Neeson, Emma Thompson, Kumail Nanjiani, Rafe Spall, Stephen Wight 19/US
release UK/US 14.Jun.19
So now it's this franchise getting the reboot, and the high-power Avengers duo of Hemsworth & Thompson is promising. The trailer looks manic, but hopefully that's just a promotional strategy. The worrying thing here is that the writers (Matt Holloway & Art Marcum) are responsible for Transformers: The Last Knight, the low point in that already low franchise. So let's hope that Gray (a skilled director not known for his comedic light touch) can make something that's at least entertaining.

TOY STORY 4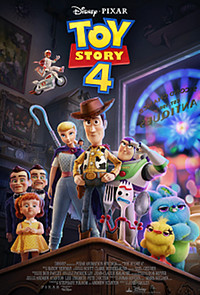 dir Josh Cooley; with Tom Hanks, Tim Allen, Annie Potts, Christina Hendricks, Joan Cusack, Laurie Metcalf, Keanu Reeves, Jordan Peele, Keegan-Michael Key, John Ratzenberger 19/US
release US/UK 21.Jun.19
There's a new director at the helm, but hopes are high that Pixar maintains the same attention to character that made the first three films such classics. The trailers bode well, including new characters voiced by the likes of Key & Peele. And anyone who has followed these toys over the past three films wouldn't be able to stay away. It's also nice to see Disney give the film a day-and-date release in the US and UK, something that has rarely happened with their animated movies. So no need to pirate this one!

YESTERDAY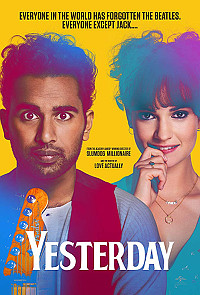 dir Danny Boyle; with Himesh Patel, Lily James, Kate McKinnon, James Corden, Ed Sheeran, Ana de Armas, Joel Fry, Sanjeev Bhaskar, Meera Syal 19/UK
release UK/US 28.Jun.19
The horrific true events around the 2008 terrorist siege are dramatised in what looks like a seriously harrowing film. The eclectic cast bodes well, with actors who will no doubt provide depth and emotion to the action. The film has won a series of festival awards, plus acclaim from audiences and critics. Although many mention that the documentary approach leaves it feeling observational rather than insightful. I'm looking forward to making up my own mind ... if the film's release is rescheduled sometime soon.

SPIDER-MAN: FAR FROM HOME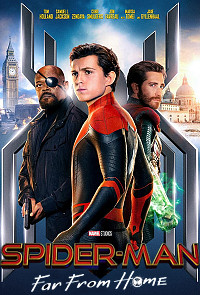 dir Jon Watts; with Tom Holland, Zendaya, Jake Gyllenhaal, Jacob Batalon, Marisa Tomei, Samuel L Jackson, Cobie Smulders, Jon Favreau, Martin Starr, Brad Davis 19/US
release US/UK 2.Jul.19
Aside from the general entertainment Tom Holland provides as the most engaging Avenger yet, this film is notable as the first post-Endgame episode in the saga, so it will be intriguing to see how they deal with those events (as well as the fact that some of Peter's high school classmates are now five years older than him). In addition, let's hope Watts continues to subvert the genre as he did with Homecoming.

THE CURRENT WAR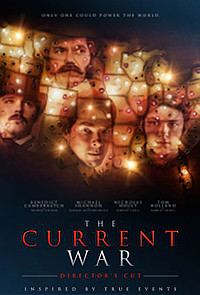 dir Alfonso Gomez-Rejon; with Benedict Cumberbatch, Nicholas Hoult, Michael Shannon, Tom Holland, Katherine Waterston, Tuppence Middleton, Matthew Macfadyen, Tom Bell 19/UK
release UK 26.Jul.19, US Aug.19 tbc
The beefy cast makes this look interesting, and perhaps far more gripping than would be expected for a movie about scientists battling to be the one to standardise the lightbulb. Cumberbatch, Hoult and Shannon play Edison, Tesla and Westinghouse, respectively, with added oomph from the terrific Holland, Waterston, Middleton, et al. And Gomez-Rejon (Me and Earl and the Dying Girl) is an intriguing choice as director. After two years in limbo, he has restored the film to its pre-Weinstein director's cut, and it's finally due for release.

THE BEACH BUM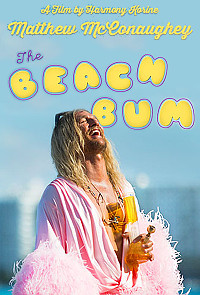 dir-scr Harmony Korine; with Matthew McConaughey, Snoop Dogg, Isla Fisher, Martin Lawrence, Zac Efron, Jonah Hill, Stefania LaVie Owen, Clinton Archambault 19/US
release US 29.Mar.19, UK tbc
It's always a concern to see Martin Lawrence on a cast list, but if anyone can rattle him out of his shell it's Korine, a filmmaker who refreshingly never takes the expected route through a movie. McConaughey playing a character who seems based on himself is also a little worrying, although the trailer makes the movie look like it has Korine's usual freewheeling unpredictability. There's still no UK release date, which makes me wonder what's happening with this one....

---
Also on my want-to-see list...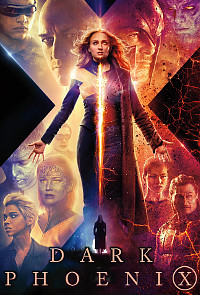 Spring:
GODZILLA: KING OF THE MONSTERS

Summer:
X-MEN: DARK PHOENIX

THE DEAD DON'T DIE

THE FAREWELL

THE LION KING

MIDSOMMAR

OPHELIA

CRAWL

ONCE UPON A TIME IN HOLLYWOOD

PAIN & GLORY

SCARY STORIES TO TELL IN THE DARK

21 BRIDGES

UGLYDOLLS

Autumn:
JUDY

GEMINI MAN

IT CHAPTER 2

JOKER

THE LODGE

Winter:
STAR WARS: THE RISE OF SKYWALKER

No UK release date:
FUTURE WORLD

KRYSTAL

THE MAN WHO KILLED DON QUIXOTE

WHERE'D YOU GO BERNADETTE