19 Jul: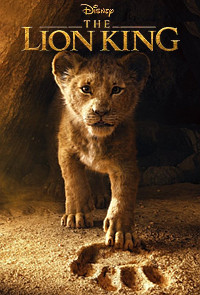 THE LION KING


TELL IT TO THE BEES

GWEN

VARDA BY AGNES

CONSEQUENCES (Svn)
26 Jul:


ARE YOU PROUD?


HAIL SATAN?
* THE CURRENT WAR


MARIANNE & LEONARD: WORDS OF LOVE


HOOKED
* HIDDEN KISSES (Fr)
* ALWAYS SAY YES (Mex)

---
2 Aug:

HOLIDAY (Den)


PHOTOGRAPH (Ind)
9 Aug:
* BLINDED BY THE LIGHT
* OPUS ZERO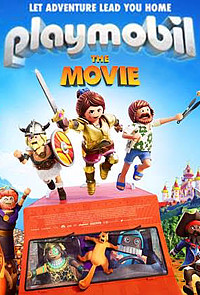 * PLAYMOBIL: THE MOVIE
13 Aug:


APOCALYPSE NOW: FINAL CUT
30 Aug:
* BAIT
* MEMORY: THE ORIGINS OF ALIEN
* THE SOUVENIR


CANARY [Kanarie]


HARD PAINT (Br)

---
6 Sep:
* THE SHINY SHRIMPS
Nov:
* AMS SECRETS
* BRITTANY RUNS A MARATHON
* JONATHAN AGASSI SAVED MY LIFE

---
C O M I N G U P . . .
• HORRIBLE HISTORIES: ROTTEN ROMANS. AMERICAN WOMAN.
• MY FRIEND THE POLISH GIRL. CUBBY. LABEL ME. SEAHORSE. THE CHAMBERMAID. THE CANDIDATE. KILLERS ANONYMOUS. CHAIN OF DEATH. THE MUSTANG. HOTEL MUMBAI. CARGO. THE MAN WHO KILLED DON QUIXOTE.
* BEAUTY & DECAY. DADDY ISSUES. NO CHOCOLATE, NO RICE. NOMAD: IN THE FOOTSTEPS OF BRUCE CHATWIN. SILVANA. SOUTHERN PRIDE. LIFF. Tribeca. Flare. Thessaloniki. LFF. Raindance.
• GOOD BOYS. ONCE UPON A TIME IN HOLLYWOOD. PAIN & GLORY.

---
N O U K R E L E A S E D A T E . . .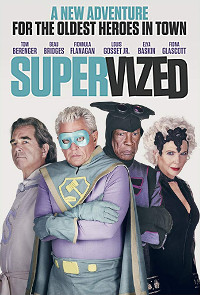 ALL CREATURES HERE BELOW


BEING FRANK


CASSANDRO THE EXOTICO!


EUPHORIA


FUNNY STORY


DEEP MURDER


HEAVY TRIP (Fin)


HAGAZUSSA (Ger)


JEREMIAH TERMINATOR LEROY


LITTLE WOODS


LUCID


MAPPLETHORPE


THE PROFESSOR AND THE MADMAN


ROOM FOR RENT


SHADOW (Chn)


SHELTER (Isr)


SUMMER NIGHT


SUPERVIZED


SWINGING SAFARI


TRANSMILITARY

* films I've seen, reviews en route

---
See also:
SHADOWS FILM FEST
HORRIBLE HISTORIES: ROTTEN ROMANS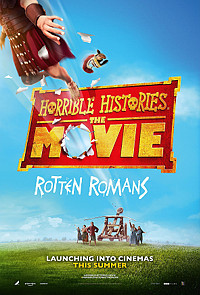 dir Dominic Brigstocke; with Derek Jacobi, Kim Cattrall, Emilia Jones, Kate Nash, Nick Frost, Craig Roberts, Rupert Graves, Lee Mack, Warwick Davis 19/UK
release UK 26.Jul.19
There are no illusions that this will be a high quality comedy, but with its up-for-it cast, there are hopes that it might perhaps revive a kind of Carry On sensibility as a genuinely ridiculous British historical romp. The Horrible Histories series has seen a huge number of books and TV shows, so why not bring it to the big screen? Hopefully the writers will be able to make things even more rude for grown-ups, even if the primary audience will of course be the kiddies. As the poster says, "Hail yeah!"

ONCE UPON A TIME IN HOLLYWOOD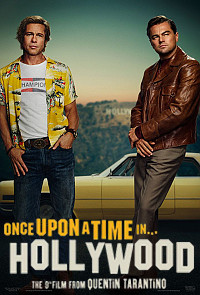 dir Quentin Tarantino; with Leonardo DiCaprio, Brad Pitt, Margot Robbie, Al Pacino, Kurt Russell, Bruce Dern, Timothy Olyphant, Dakota Fanning, Luke Perry, Damian Lewis 19/US
release US 26.Jul.19, UK 16.Aug.19
Quentin Tarantino takes on the momentous summer of 1969 with a story about two friends, an actor and a stuntman, trying to navigate a shifting studio system. With his trademark eclectic cast, Tarantino can hardly help but create another hugely entertaining movie. And word out of Cannes has been very strong (I've avoided reading reviews, as always). His films are always unmissable, and he's bound to have an intriguing take on Hollywood itself.

GOOD BOYS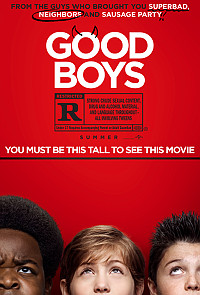 dir Gene Stupnitsky; with Jacob Tremblay, Brady Noon, Keith L Williams, Retta, Will Forte, Lil Rel Howery, Molly Gordon, Millie Davis 19/US
release US/UK 16.Aug.19
The poster boasts that this is "from the guys who brought you Superbad," and indeed it looks like the same plot only with younger, preteen kids navigating girls and dodging with drug dealers while trying to get to a party. Director-cowriter Stupnitsky's experience on The Office will hopefully lend the film some improv-style energy beyond just laughing at 12-year-olds in adult situations. And the solid cast should help add some edge to the comedy.

PAIN & GLORY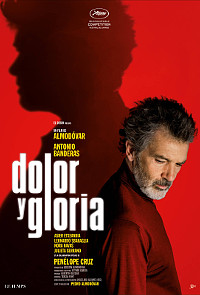 dir Pedro Almodovar; with Antonio Banderas, Penelope Cruz, Cecilia Roth, Leonardo Sbaraglia, Asier Etxeandia, Raul Arevalo, Julieta Serrano, Nora Navas 19/Spain
release UK 23.Aug.19, US 4.Oct.19
Pedro Almodovar goes personal with this drama about a filmmaker, starring Antonio Banderas in what looks like one of his most demanding roles yet (he won best actor at Cannes for this). It's always great to see Almodovar reunite with his actors - and this film has the added bonus of putting Cruz and Roth back together (see All About My Mother). As a longtime fan of the filmmaker and actors, I am becoming impatient for a press screening!

CRAWL
dir Alexandre Aja; with Kaya Scodelario, Barry Pepper, Ross Anderson, Morfydd Clark, Anson Boon, George Somner, Ami Metcalf, Jose Palma 19/US
release US 12.Jul.19, UK 23.Aug.19
What's not to love about this bonkers action thriller: a Category 5 hurricane, a flooding house and marauding giant alligators. The trailer alone is enough to leave the audience worn out, which bodes well for the film as a whole. Director Aja has had a slightly mixed bag of a career, but if he can recapture the entertaining gonzo intensity of Haute Tension or Piranha 3D we're in for a treat.

THE KITCHEN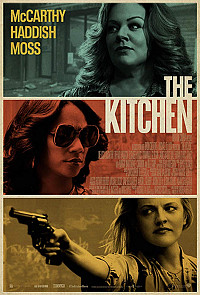 dir Andrea Berloff; with Elisabeth Moss, Melissa McCarthy, Tiffany Haddish, Domhnall Gleeson, Common, James Badge Dale, Margo Martindale, Bill Camp, Brian d'Arcy James 19/US
release US 9.Aug.19, UK 20.Sep.19
This simply looks unmissable: a rare chance to see McCarthy and Haddish in serious roles, alongside the always terrific Moss and a support cast full of ace veterans (everybody really needs to be a Margo Martindale completist). The plot looks like a bit like a 1970s-set variation on Widows, with a much more pulpy sensibility. So the film looks edgy and fun too. And it will be interesting to see actor-writer Berloff make her directing debut by taking on the big boys at what they think they do best.

OPHELIA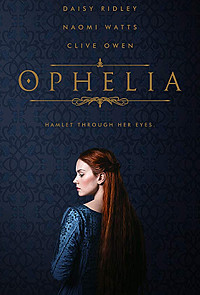 dir Claire McCarthy; with Daisy Ridley, Naomi Watts, Clive Owen, Tom Felton, George MacKay, Daisy Head, Sebastian De Souza, Dominic Mafham, Anna Rust 19/UK
release US 28.Jun.19, UK tbc
Yet another big-name British film without a British release date, this looks like a clever reworking of Shakespeare's Hamlet through a new perspective. There's no expectation that this is as clever as Tom Stoppard's Rosencrantz & Guildenstern Are Dead, but the cast is intriguing enough to make the film worth a look. Reviews on the US release have been ok (not raves), which may explain the lack of anticipation over here. But we still want to see it.

AFTER THE WEDDING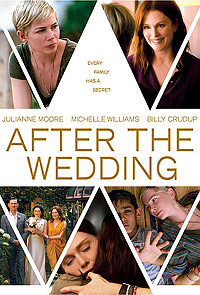 dir Bart Freundlich; with Julianne Moore, Michelle Williams, Billy Crudup, Will Chase, Abby Quinn, Jeff Kim, Doris McCarthy, Eisa Davis 19/US
release US 9.Aug.19, UK tbc
Julianne Moore stars in another remake of a foreign classic (see also Gloria Bell). This one is a reworking of Susanne Bier's superbly dark 2006 Danish drama about a marriage rattled by secrets that come out at the wedding of a child. Genders are swapped around in this version, allowing Moore (aka Mrs Freundlich) to star opposite Michelle Williams in roles that are sure to spark some proper acting fireworks. Alas, there's no UK distributor or release date yet.

---
Also on my want-to-see list...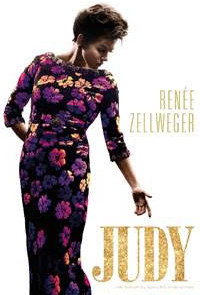 Summer:
THE FAREWELL

SCARY STORIES TO TELL IN THE DARK

THEM THAT FOLLOW

UGLYDOLLS

Autumn:
RAMBO: LAST BLOOD

21 BRIDGES

DOCTOR SLEEP

GEMINI MAN

IT CHAPTER 2

JOKER

JUDY

THE LODGE

OFFICIAL SECRETS

A SHAUN THE SHEEP MOVIE: FARMAGEDDON

3 FROM HELL

CHARLIE'S ANGELS

FROZEN II

LE MANS '66 (aka FORD V FERRARI)

MIDWAY

Winter:
STAR WARS: THE RISE OF SKYWALKER

No UK release date:
FUTURE WORLD

KRYSTAL

THE MAN WHO KILLED DON QUIXOTE

WHERE'D YOU GO BERNADETTE