24 Jan: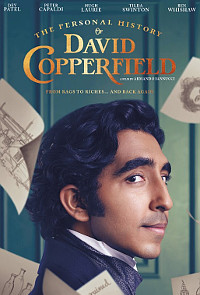 THE PERSONAL HISTORY OF DAVID COPPERFIELD

NO FATHERS IN KASHMIR

THE CAKEMAKER (Isr)
31 Jan:


A BEAUTIFUL DAY IN THE NEIGHBORHOOD


THE LIGHTHOUSE


QUEEN & SLIM


RICHARD JEWELL


NEVRLAND (Aut)

---
7 Feb:

DANIEL ISN'T REAL
* MR JONES


PARASITE (Kor)
14 Feb: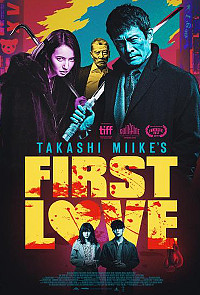 FIRST LOVE (Jpn)
21 Feb:


END OF THE CENTURY (Arg)


GREED


LITTLE JOE
28 Feb:


DARK WATERS


PORTRAIT OF A LADY ON FIRE (Fr)


6 Mar:
* ESCAPE FROM PRETORIA
* MILITARY WIVES
13 Mar:


AND THEN WE DANCED (Geo)


BACURAU (Br)
20 Mar: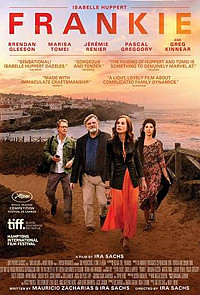 * FRANKIE

27 Mar:

THE PAINTED BIRD (Cz)

---
Apr-Jun:
* THE UNCERTAIN KINGDOM


REAL


EMA (Chl)


THE HOST


LES MISERABLES (Fr)


DEERSKIN (Fr)


DON'T LOOK DOWN (Fr)


MONSOON

---
C O M I N G U P . . .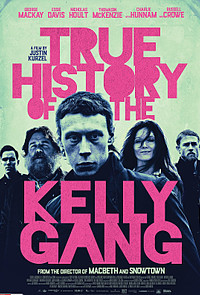 • TRUE HISTORY OF THE KELLY GANG. THE RHYTHM SECTION. A WHITE WHITE DAY. PUSH.
• TALKING ABOUT TREES. THE EDGE OF DEMOCRACY. MAKING WAVES. COLD CASE HAMMARSKJOLD.
* NOMAD: IN THE FOOTSTEPS OF BRUCE CHATWIN. SILVANA.
* Raindance. LFF. FrightFest. Outfest. LIFF. Tribeca. Flare.
• COLOR OUT OF SPACE. DOLITTLE. MISBEHAVIOUR.

---
N O U K R E L E A S E D A T E . . .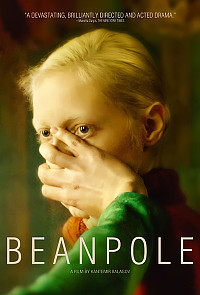 AFTER CLASS


BABYTEETH


BAD EDUCATION


BEANPOLE (Rus)


CLEMENCY


THE DEATH & LIFE OF JOHN F DONOVAN


HAPPY BIRTHDAY (Fr)


I SEE YOU


INVISIBLE LIFE (Br)


KNIVES AND SKIN


THE LODGE


THE LONGEST NIGHT (Ec)


MARTIN EDEN (It)


MATTHIAS & MAXIME (Can)


MOFFIE (SA)


ON A MAGICAL NIGHT (Fr)


RIALTO


THIS IS NOT BERLIN (Mex)


TREMORS (Gua)


VIVARIUM

* films I've seen, reviews en route

---
See also:
SHADOWS FILM FEST
DOLITTLE
dir Stephen Gaghan; with Robert Downey Jr; voices Tom Holland, Emma Thompson, Octavia Spencer, Jim Broadbent, Rami Malek, Ralph Fiennes, Antonio Banderas, Marion Cotillard, Michael Sheen, John Cena, Jessie Buckley, Selena Gomez 20/UK
release US 17.Jan.20, UK 7.Feb.20
Yet another vintage property for which a remake doesn't seem particularly necessary, perhaps the draw here was the ability to render the animals using animation. Although this means the film is likely to be a lot more cartoonish than previous versions. Downey has a lot of charisma in the trailer, and the voice cast is almost ridiculourly over-egged with hugely talented actors. Which also hints to a more cartoonishly comical approach. From the director of Syriana. Hmmm...

FANTASY ISLAND
dir Jeff Wadlow; with Michael Pena, Maggie Q, Lucy Hale, Jimmy O Yang, Austin Stowell, Ryan Hansen, Michael Rooker, Kim Coates, Portia Doubleday 20/US
release US/UK 14.Feb.20
To put it kindly, Jeff Wadlow perhaps doesn't have the shiniest directing resume in Hollywood (Truth or Dare, Kick Ass 2). But the idea for this movie looks witty and original - taking the iconically silly 1970s anthology show and revealing it as the supernatural horror it always was. The cast is sharp enough to make this worth a look, even if the trailer seems to give away far too much about the premise and plot. But the bigger question is: where's Tattoo?

LIKE A BOSS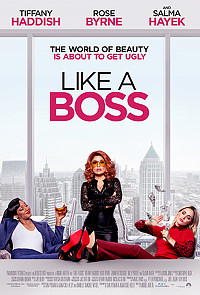 dir Miguel Arteta; with Tiffany Haddish, Rose Byrne, Salma Hayek, Jennifer Coolidge, Billy Porter, Ari Graynor, Jessica St Clair, Jimmy O Yang 20/US
release US 10.Jan.20, UK 21.Feb.20
The trailer for this comedy looks genuinely hilarious, thanks to the ace comical skills of this powerhouse group of performers. Haddish and Byrne are bound to spark off each other riotously as friends starting a beauty company, with added Hayek, Coolidge and Porter. The only question is whether they've put all the best bits in the trailer - and if the script is good enough to add some context to the shenanigans. Whatever, it looks good for some solid laughs. No idea why its release is so delayed in the UK.

TRUE HISTORY OF THE KELLY GANG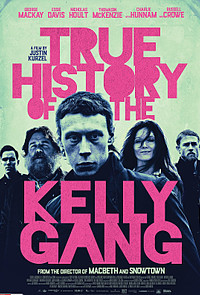 dir Justin Kurzel; with George MacKay, Essie Davis, Nicholas Hoult, Thomasin McKenzie, Charlie Hunnam, Russell Crowe, Orlando Schwerdt, Sean Keenan, Earl Cave 19/Aus
release UK 28.Feb.20
The ambitious Justin Kurzel turns his stylish eye to one of Australia's most-filmed historical figures, notorious 19th century outlaw Ned Kelly. It's intriguing that he's tapped so many foreigners for such an Aussie story, including George MacKay as Kelly, plus fellow Brits Hoult and Hunnam and Kiwis McKenzie and Crowe. So even if we've seen the Kelly Gang on-screen many times before, this is bound to be a new take on the legend. Indeed, reviews out of Toronto suggest a dark, involving and very nasty thriller.

THE INVISIBLE MAN
dir Leigh Whannell; with Elisabeth Moss, Oliver Jackson-Cohen, Aldis Hodge, Storm Reid, Harriet Dyer, Amali Golden, Sam Smith, Benedict Hardie 20/US
release US/UK 28.Feb.20
When this new adaptation of the classic HG Wells novel was first announced, it didn't quite make sense that Moss was the star. Now the trailer reveals this as a freak-out horror movie, and it looks properly nasty. It's a great idea to tell this story from this perspective, because it will be a lot more intense on a variety of levels. Whannell isn't known for bringing much emotional resonance to his films, but if he gets that right here, this could be a new classic.

DOWNHILL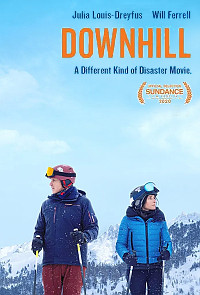 dir Nat Faxon, Jim Rash; with Will Ferrell, Julia Louis-Dreyfus, Miranda Otto, Zach Woods, Kristofer Hivju, Helene Cardona, Zoe Chao, Giulio Berruti 20/US
release US 14.Feb.20, UK 28.Feb.20
Remaking globally acclaimed movies is a risky business, so it's a good thing that Faxon and Rash have taken an intriguing approach with this adaptation of Ruben Ostlund's award-winning 2014 drama Force Majeure. The casting is the first hint that things won't be quite as expected, offering Ferrell and Louis-Dreyfus a terrific chance to flex their dramatic acting muscles in roles that allow for some pitch-black comedy. Still, the original was so unsettling that it's hard to imagine this version carrying quite the same gut-punch.

WENDY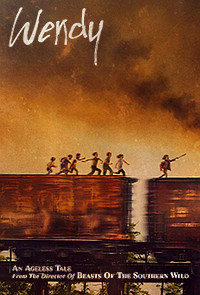 dir Benh Zeitlin; with Devin France, Yashwa Mack, Tommie Milazzo, Shay Walker, Stephanie Lynn Wilson 20/US
release US/UK 28.Feb.20
This looks like an ambitious and very cool followup to Beasts of the Southern Wild for filmmaker Zeitlin. The trailer looks like a fresh take on the classic Peter Pan story, with an earthy, intriguingly realistic exploration of the theme of childhood imagination and independence. With hints of Lord of the Flies, it appears like it will be powerfully involving and perhaps also darkly moving.

MULAN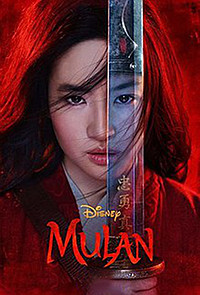 dir Niki Caro; with Liu Yifei, Donnie Yen, Jet Li, Gong Li, Jason Scott Lee, Tzi Ma, Rosalind Chao, Utkarsh Ambudkar, Jun Yu, Jimmy Wong 20/US
release US/UK 27.Mar.20
This is the kind of live-action remakes Disney should be doing, retelling the story in a completely new style. Here, an animated romp becomes a full-on action adventure with a powerful female protagonist. Niki Caro was an inspired choice as director, with her ability to combine art and storytelling. And the trailer looks seriously gorgeous too. The 1998 original is one of Disney's underappreciated little masterpieces (apart from that chatty dragon), and this could be even better if it doesn't get too digital.

---
Also on my want-to-see list...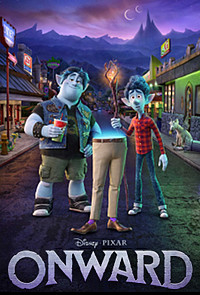 Winter:
COLOR OUT OF SPACE

THE LAST FULL MEASURE

CALL OF THE WILD

GUNS AKIMBO

Spring/Summer:
MISBEHAVIOUR

ONWARD

A QUIET PLACE PART II

THE WAY BACK

ANTEBELLUM

ANTLERS

THE LOVEBIRDS

THE NEW MUTANTS

NO TIME TO DIE

PETER RABBIT 2: THE RUNAWAY

SPONGEBOB: SPONGE ON THE RUN

BLACK WIDOW

THE WOMAN IN THE WINDOW

GHOSTBUSTERS: AFTERLIFE

SOUL

TOP GUN: MAVERICK

WONDER WOMAN 1984

FREE GUY

JUNGLE CRUISE

TENET

TOP GUN: MAVERICK

RESPECT

No UK release date:
THE DEATH OF DICK LONG

GRETEL & HANSEL

PROMISING YOUNG WOMAN

WHERE'D YOU GO BERNADETTE