I N T H E U K . . .
= AVENGERS: INFINITY WAR
> LIFE OF THE PARTY
– SECRET CINEMA: BLADE RUNNER
– RAMPAGE
> RAAZI
• Still showing: ANON. ENTEBBE. HOW TO TALK TO GIRLS AT PARTIES. THAT GOOD NIGHT. REDOUBTABLE. REVENGE. THE WILD BOYS. MANSFIELD 66/67. THE STRANGERS: PREY AT NIGHT. TULLY.
---
I N T H E U S . . .
= AVENGERS: INFINITY WAR
> LIFE OF THE PARTY
– OVERBOARD
– RAMPAGE
– TULLY
+ RBG
• Still showing: BORN GUILTY. ANYTHING. BEAST. REVENGE. ALASKA IS A DRAG. FILMWORKER. ALWAYS AT THE CARLYLE. TRUTH OR DARE. ANON. GEHENNA: WHERE DEATH LIVES.

<< NEWER NEWS
---







D A T E L I N E : 1 6 M A Y . . .
Felicity Jones, Patrick Stewart, Freddie Highmore, Thomas Brodie-Sangster, Meera Syal, Sanjeev Bhaskar and Nonso Anozie will voice characters for the animated adventure DRAGON RIDER, about a boy who teams up with two dragons to stop a villainous killer.
---
Martin Freeman will star opposite Diane Kruger in THE OPERATIVE, about a rogue Israeli spy who disappears while attending her father's funeral in London. And now her former handler must retrace her steps to find her and prevent a disaster in Iran's nuclear programme. Yuval Adler is writing and directing.
---
Daisy Ridley is up for the lead role in PIECE OF MIND, based on the about a young woman who had a serious brain injury at age 3 and now, after the death of her father, moves into a small apartment with her university-age brother.
---
Issa Rae and Marsai Martin will star in LITTLE, a comedy about a woman who gets a chance to return to her carefree younger life when the pressures of being a grown-up get to be too much. Tina Gordon is directing.
---
James Marsden will star in the thriller IN THE TALL GRASS, based on the novel by Stephen King and Joe Hill. It's about a brother and sister who get lost in a Kansas field while trying to find a boy who's crying for help. Vincenzo Natali is writing and directing.
---
Peter Capaldi is reteaming with In the Loop director Armando Iannucci for THE PERSONAL HISTORY OF DAVID COPPERFIELD, a new take on the Dickens classic. Costars include Tilda Swinton, Dev Patel, Ben Whishaw and Hugh Laurie. Iannucci cowrote the script with Simon Blackwell.
---
Edgar Ramirez and Pedro Pascal will star in WASP NETWORK, based on the book The Last Soldiers of the Cold War. It's the outrageous true story of Cuban spies who infiltrated America in the 1990s. Olivier Assayas is writing and directing.
---
Nikolaj Coster-Waldau will star in THE SILENCING, a thriller about a hunter who finds himself playing cat and mouse with a killer who may have kidnapped his daughter years earlier. Anders Engstom is directing.
---
Imogen Poots and Jesse Eisenberg will star in VIVARIUM, as an engaged couple looking for their starter home when they become trapped in some sort of otherworldly realm of identical homes and creepy children. Lorcan Finnegan is directing.
---
Vince Vaughn, Zazie Beetz, Yvan Attal and Stephen Root will join Kristen Stewart in AGAINST ALL ENEMIES, the late-1960s civil rights thriller based on a true story involving iconic actress Jean Seaberg. Benedict Andrews is directing.
---
Robert Patrick has landed a lead role in THE RISING HAWK, a 13th century adventure about a rebellious Ukrainian villager who teams with his father to get revenge on the Mongolian army after they killed of his mother. Akhten Seitablaev and John Wynn are directing.
---
And Milla Jovovich will reunite with director Paul WS Anderson for MONSTER HUNTER, based on the videogame about about a man who discovers that he is the descendant of an ancient creature killer, so he trains to take the world-threatening beasts on.
---







D A T E L I N E : 1 3 M A Y . . .
It's official: Keanu Reeves and Alex Winter will be back for BILL & TED FACE THE MUSIC, which catches up with the slacker duo in middle age as someone who claims to be from the future tells them they will write a song that will save the world. So they set off on a time-travel adventure to compose the song with the help of historical figures. Dean Parisot is directing.
---
Elizabeth Moss, Lupita Nyong'o and Winston Duke are lined up to star in US, writer-director Jordan Peele's follow-up to his mega-hit Get Out. The plot is being kept under wraps, but it is rumoured to be a psychological thriller.
---
Annette Bening is joining Brie Larson in CAPTAIN MARVEL, which has already begun filming in Los Angeles and Louisiana. Costars include Jude Law, Lee Pace, Ben Mendelsohn, Djimon Hounsou and Gemma Chan. Anna Boden and Ryan Fleck are directing.
---
Burt Reynolds, Kurt Russell, Tim Roth and Michael Madsen are lined up to join Quentin Tarantino's ONCE UPON A TIME IN HOLLYWOOD, about a fading TV star (Leonardo DiCaprio) who teams with his stunt double (Brad Pitt) to retake Hollywood in 1969, just as the Manson family launches its attacks.
---
Benedict Cumberbatch will star in IRONBARK, based on the true story of the spy Greville Wynn, an electrical engineer who was recruited by MI5 just before World War II and was captured by the Russians during the Cold War. The project reteams Cumberbatch with The Hollow Crown director Dominic Cooke.
---
Kate Winslet and Willem Dafoe will voice seagulls in MANOU THE SWIFT, an animated adventure about a young swift who is adopted by seagulls, then struggles to adapt to his adoptive family's skill-set. Effects artists Christian Haas and Andrea Block are directing.
---
Gary Oldman and Dylan O'Brien will star in BAYOU, a crime thriller about an ageing hitman who hides his victims in the swamplands outside New Orleans and is mentoring a hotheaded, soulful young man in the business. Gary Fleder is directing from a script by W Peter Iliff.
---
Jessica Williams, Ed Helms and Sharon Stone will star in CORPORATE ANIMALS, a black comedy about a megalomaniacal all-star chef who forces her staff to attend a team-building weekend in New Mexico, during which a disaster traps them all underground. Patrick Brice (Creep) is directing from a script by Sam Bain (Peep Show).
---
Katherine Waterston has joined the cast of AMUNDSEN, a biopic about the first explorer to reach both the north and south poles. Pal Sverre Hagen is playing Roald Amundsen, reuniting with his Kon-Tiki director Espen Sandberg. Christian Rubeck costars.
---
Ewan McGregor will reteam with director Marc Forster for THE COW, a remake of the French comedy The Cow and I, about a US Air Force pilot who is captured by the Germans during WWII and used a cow to escape into France. Bill Prady (The Big Bang Theory) is writing the script.
---
Ralph Fiennes is joining Rebecca Hall, Mark Strong and Said Taghmaoui in THE FORGIVEN, based on the novel about a random accident that has serious fallout for an English couple in Morocco for a decadent weekend party. John Michael McDonagh is writing and directing.
---
And Bruce Willis will play Mike Tyson's trainer Cus D'Amato in CORNERMAN, a drama set in the early 1980s as the recently retired D'Amato opens a small gym in the Catskills to coach possible contenders. Then he meets the 13-year-old Tyson. Rupert Friend is making his writing-directing debut.
---





D A T E L I N E : 9 M A Y . . .
Ben Kingsley will play Salvador Dali in the biopic DALI LAND, which also stars Lesley Manville, Tim Roth and Frank Dillane. Set between New York and Spain in 1973, the film follows the artist as he prepares for a major show. Mary Harron is directing from a script she wrote with John C Walsh.
---
Chiwetel Ejiofor and Harris Dickinson are joining the MALEFICENT sequel. Elle Fanning is back as Sleeping Beauty, with Angelina Jolie again in the title role, joined this time by Michelle Pfeiffer and Ed Skrein. Joachim Ronning is directing.
---
Rose Byrne and Domhnall Gleeson are expected to be back for a sequel to PETER RABBIT, as are voice cast members James Corden, Margot Robbie, Daisy Ridley and Elizabeth Debicki, plus writer-director Will Gluck. No word yet on whether this one will be based on one of Beatrix Potter's stories.
---
Matthias Schoenaerts, Garrett Hedlund and Scoot McNairy will star in THE SOUND OF PHILADELPHIA, a cross-generational story following cycles of revenge and power plays within a mob family after the death of a young girl. Jeremie Guez (A Bluebird in My Heart) is directing.
---
Samuel L Jackson and Ryan Reynolds will be back for the sequel THE HITMAN'S WIFE'S BODYGUARD. This hints that Salma Hayek will be back as well in her scene-stealing role in the action-comedy follow-up. Director Patrick Hughes and writer Tom O'Conner are also returning.
---
Liam Neeson will star in CHARLIE JOHNSON IN THE FLAMES, based on the novel about a British war correspondent who finds himself caught up in a murder case while covering violent unrest in the Congo. Tarik Saleh is directing from a script by Justin Haythe.
---
Ben Mendelsohn and Essie Davis will star in BABYTEETH, a dark comedy about a couple who realise that their seriously ill teen daughter has fallen in love with a drug dealer. Newcomer Shannon Murphy is directing.
---
Lucy Liu, Jacki Weaver and Taye Diggs will lead the cast of STAGE MOTHER, about a Texas church-choir director who inherits her late son's drag club in San Francisco and decides to try to keep it running. Tom Fitzgerald is directing from a script by Brad Hennig.
---
Isabela Moner will play DORA THE EXPLORER in a new live-action movie based on the long-running cartoon series. It's about a teen girl who travels the globe with her monkey sidekick and her cousin Diego. James Bobin is directing from a script by Nicholas Stoller.
---
And Jack Black will be back for another TENACIOUS D movie, which will possibly be based on the band's next album, the rock opera Post-Apocalypto. No other details have been revealed, although it looks like the film will be out later this year.
---
<< NEWER NEWS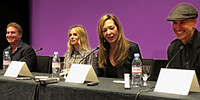 Liberated by the look
Chatting with I, Tonya's
Margot Robbie, Allison Janney,
Craig Gillespie & Steven Rogers...
---

Winter TV Roundup
Stranger Things, The Crown, This Is Us,
Will & Grace, The Deuce, Black Mirror...
---
SCREEN: Autumn TV Roundup - Game of Thrones, Top of the Lake, The Orville, etc

4th of JULY: Baseball Battleground in Hyde Park

SCREEN: Summer TV Roundup - Twin Peaks, The Handmaid's Tale, 13 Reasons Why, etc

SCREEN: Spring TV roundup - Big Little Lies, Feud, Taboo, Legion, etc

Shadows @ Galeca Dorian Awards in Los Angeles
---
AND MORE >>