95th Academy Awards
Nominations Tue 24.Jan.23 • Awards Sun 12.Mar.23


Rich's comments: After last year's chaotic ceremony, it looks like the Academy is returning to something more traditional, bringing back Jimmy Kimmel as host and reenstating the categories they presented earlier. So while it might be a bit dull, at least it will be in a safe pair of hands. As for the nominations, the snubs are startling, ignoring Decision to Leave as well as female directors and composers, which almost left Aftersun out (although Paul Mescal's nomination got a cheer from me). The also only barely nodded to the triumphant RRR while giving Top Gun: Maverick far, far too much attention (that screenplay?). The winners look like they'll be rather predictable, but on the big night I'll be rooting for Michelle Yeoh and Everything Everywhere All at Once to take, well, everything.
See also:

RICH'S OSCAR 2023 PICKS & PREDICTIONS: OUT ON A LIMB >>

SHADOWS SWEEPSTAKES: WHO DESERVED TO WIN >>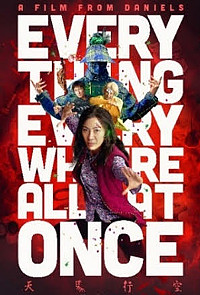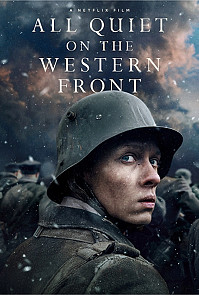 W I N N E R S . . .
7/11:
EVERYTHING EVERYWHERE
ALL AT ONCE
4/9:
ALL QUIET ON THE WESTERN FRONT
2/3:
THE WHALE
1/6:
TOP GUN: MAVERICK
1/5:
BLACK PANTHER: WAKANDA FOREVER
1/4:
AVATAR: THE WAY OF WATER
1/2:
WOMEN TALKING
1/1:
GUILLERMO DEL TORO'S PINOCCHIO
NAVALNY
RRR

N O M I N E E S . . .
9:
THE BANSHEES OF INISHERIN
8:
ELVIS
6:
TAR
7:
THE FABELMANS
3:
BABYLON
THE BATMAN
TRIANGLE OF SADNESS
2
LIVING
1:
A HOUSE MADE OF SPLINTERS • AFTERSUN • ALL THAT BREATHES • ALL THE BEAUTY AND THE BLOODSHED • ARGENTINA, 1985 • BARDO • BLONDE • CAUSEWAY • CLOSE • EMPIRE OF LIGHT • EO • FIRE OF LOVE • GLASS ONION • MARCEL THE SHELL WITH SHOES ON • MRS HARRIS GOES TO PARIS • PUSS IN BOOTS: THE LAST WISH • THE QUIET GIRL • THE SEA BEAST • TELL IT LIKE A WOMAN • TO LESLIE • TURNING RED
---
A L L T H E N O M I N E E S
P I C T U R E

All Quiet on the Western Front
Avatar: The Way of Water
The Banshees of Inisherin
Elvis


Everything Everywhere All at Once
The Fabelmans
Tar
Top Gun: Maverick
Triangle of Sadness
Women Talking
I N T E R N A T I O N A L F I L M

All Quiet on the Western Front - Germany
Argentina, 1985 - Argentina
Close - Belgium
EO - Poland
The Quiet Girl - Ireland

A N I M A T E D F E A T U R E

Guillermo Del Toro's Pinocchio
Marcel The Shell With Shoes On
Puss in Boots: The Last Wish
The Sea Beast
Turning Red

D I R E C T O R

The Banshees of Inisherin - Martin McDonagh


Everything Everywhere All at Once - Daniel Kwan & Daniel Scheinert
The Fabelmans - Steven Spielberg
Tar - Todd Field
Triangle of Sadness - Ruben Ostlund
D O C U M E N T A R Y

All That Breathes
All The Beauty and The Bloodshed
Fire of Love
A House Made of Splinters


Navalny
A C T R E S S

Cate Blanchett - Tar
Ana de Armas - Blonde
Andrea Riseborough - To Leslie
Michelle Williams - The Fabelmans


Michelle Yeoh - Everything Everywhere All at Once
A C T O R

Austin Butler - Elvis
Colin Farrell - The Banshees of Inisherin


Brendan Fraser - The Whale
Paul Mescal - Aftersun
Bill Nighy - Living

S U P P O R T I N G A C T R E S S

Angela Bassett - Black Panther: Wakanda Forever
Hong Chau - The Whale
Kerry Condon - The Banshees of Inisherin


Jamie Lee Curtis - Everything Everywhere All at Once
Stephanie Hsu - Everything Everywhere All at Once
S U P P O R T I N G A C T O R

Brendan Gleeson - The Banshees of Inisherin
Brian Tyree Henry - Causeway
Judd Hirsch - The Fabelmans
Barry Keoghan - The Banshees of Inisherin


Ke Huy Quan - Everything Everywhere All at Once
O R I G I N A L S C R E E N P L A Y

The Banshees of Inisherin - Martin McDonagh


Everything Everywhere All at Once - Daniel Kwan & Daniel Scheinert
The Fabelmans - Steven Spielberg & Tony Kushner
Tar - Todd Field
Triangle of Sadness - Ruben Ostlund
A D A P T E D S C R E E N P L A Y

All Quiet on the Western Front - Edward Berger, Lesley Paterson & Ian Stokell
Glass Onion - Rian Johnson
Living - Kazuo Ishiguro
Top Gun: Maverick - Ehren Kruger, Eric Warren Singer & Christopher McQuarrie


Women Talking - Sarah Polley
S C O R E

All Quiet on the Western Front - Volker Bertelmann
Babylon - Justin Hurwitz
The Banshees of Inisherin - Carter Burwell
Everything Everywhere All at Once - Son Lux
The Fabelmans - John Williams
S O N G

Applause - Tell It Like a Woman
Hold My Hand - Top Gun: Maverick
Lift Me Up - Black Panther: Wakanda Forever


Naatu Naatu - RRR
This Is a Life - Everything Everywhere All at Once

C I N E M A T O G R A P H Y

All Quiet on the Western Front - James Friend
Bardo, False Chronicle of a Handful of Truths - Darius Khondji
Elvis - Mandy Walker
Empire of Light - Roger Deakins
Tar - Florian Hoffmeister
P R O D U C T I O N D E S I G N

All Quiet on the Western Front - Christian M Goldbeck, Ernestine Hipper
Avatar: The Way of Water - Dylan Cole, Ben Procter, Vanessa Cole
Babylon - Florencia Martin, Anthony Carlino
Elvis - Catherine Martin, Karen Murphy, Bev Dunn
The Fabelmans - Rick Carter, Karen O'Hara


F I L M E D I T I N G

The Banshees of Inisherin - Mikkel EG Nielsen
Elvis - Matt Villa & Jonathan Redmond


Everything Everywhere All at Once - Paul Rogers
Tar - Monika Willi
Top Gun: Maverick - Eddie Hamilton
C O S T U M E S

Babylon - Mary Zophres


Black Panther: Wakanda Forever - Ruth E Carter
Elvis - Catherine Martin
Everything Everywhere All at Once - Shirley Kurata
Mrs. Harris Goes To Paris - Jenny Beavan

V I S U A L E F F E C T S

All Quiet on the Western Front


Avatar: The Way of Water
The Batman
Black Panther: Wakanda Forever
Top Gun: Maverick
M A K E - U P & H A I R

All Quiet on the Western Front
The Batman
Black Panther: Wakanda Forever
Elvis


The Whale
S O U N D

All Quiet on the Western Front
Avatar: The Way of Water
The Batman
Elvis


Top Gun: Maverick
S H O R T F I L M

An Irish Goodbye
Ivalu
Le Pupille
Night Ride
The Red Suitcase


A N I M A T E D S H O R T

The Boy, the Mole, the Fox and the Horse
The Flying Sailor
Ice Merchants
My Year of Dicks
An Ostrich Told Me The World Is Fake and I Think I Believe It

D O C U M E N T A R Y S H O R T

The Elephant Whisperers
Haulout
How Do You Measure a Year?
The Martha Mitchell Effect
Stranger at the Gate


S P E C I A L A W A R D S

HONORARY OSCARS:
Euzhan Palcy
Diane Warren
Peter Weir

JEAN HERSHOLT HUMANITARIAN AWARD:
Michael J Fox

GORDON E SAWYER AWARD:
Iain Neil

S C I - T E C H A W A R D S

TECHNICAL ACHIEVEMENT: Danny Cangemi, Matt Chambers, Fernando de Goes, Sebastien Deguy, David Eberle, John Frazier, Mark Hills, Howard Jensen, Theodore Kim, Sylvain Paris, Christophe Soum, Jim Vanns,, Nicolas Wirrmann, Audrey Wong

SCIENTIFIC & ENGINEERING: Larry Barton, Bernie Butler-Smith, Howard Preston, Ben Wilcox

AWARD OF COMMENDATION:
Ryan Laney



---

See also:
Official Oscar website
Academy of Motion Picture Arts & Sciences website
---
© 2023 by Rich Cline, Shadows on the Wall
HOME | REVIEWS | NEWS | FESTIVAL | AWARDS | Q&A | ABOUT | TALKBACK