CANNES FILM FEST
TORONTO FILM FEST


Following on from his 2015 refugee drama Mediterranea, Italian filmmaker Jonas Carpignano switches the focus to catch up with a side character, a young Romani boy who is straining to come of age. Shot like a documentary with mainly non-actors, the film is abrasive and pungent, maintaining a close-up perspective on this cocky teen's forays into what will clearly become a hopeless life of criminality.

Amid a noisy extended family in the Ciambra neighbourhood in Calabria, 14-year-old Pio has never learned to read but drinks and smokes like the big boys. He helps the family with a variety of scams, and wants to accompany his brother Cosimo (Damiano Amato) to hotwire cars. His only real friend is African refugee Ayiva (Seihon), who tries to keep him out of trouble without much success. Then when Cosimo and their father Rocco are caught by police, Pio decides to become the man of the house. Although his mother Iolanda may have something to say about that.

Carpignano's in-their-face camerawork, combined with the boisterous sound mix, is somewhat exhausting, making the two-hour running time feel twice as long. There isn't a proper plot, so the action meanders through various mini-adventures while Pio circles between other children in his extended family, Italian mobsters who have a tentative agreement with the Roma community and Ayiva's fellow refugees. And it's building to a tense climax, during which perhaps he'll discover what it truly means to grow up.

Pio Amato bursts with screen presence. Naive yet bullheaded and not always likeable, he charges around shouting aggressively, ignorant of the fact that he hasn't a clue what's actually going on. His family members, playing lively versions of themselves, roll their eyes at him when they're not shouting him down. His chemistry with Seihon is the only tenderness on-screen, leading to the most difficult decision Pio has to make.

The drama is underscored by a sense of authenticity that quickly catches the attention. And it's Pio's yearning to be like his big brother that holds us. He's so taken by the seeming glamour of adult life that he isn't even bothered when his dad and brother are taken to jail. So the most pointed commentary here centres on how, for this community, breaking the law is merely an everyday part of life, whether it's stealing electricity from a neighbour or a scooter to sell on the black market. For them, the cops are the bad guys.
15 themes, language, violence, sexuality
---
11.Oct.17 lff

R E V I E W B Y R I C H C L I N E
Angels Wear White


MUST

SEE
dir-scr Vivian Qu
prd Sean Chen
with Wen Qi, Zhou Meijun, Zhang Xunyue, Shi Ke, Liu Weiwei, Geng Le, Peng Jing, Wang Yuexin, Li Mengnan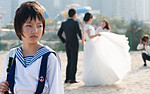 release UK Oct.17 lff
17/China 1h47

---
VENICE FILM FEST
TORONTO FILM FEST


A slow-burning lament about corruption and injustice in China, Vivian Qu's dramatic thriller is warm, steely and packed with conflicted characters from a variety of generations. It's sometimes so morally complex that it makes the viewer's head spin, not because we don't know what's right, but because everyone is so good at sidestepping around it.

While filling in for her party-loving receptionist pal Lily (Peng), young hotel cleaner Mia (Wen) rents rooms to a drunk official and preteens Wen and Xin (Zhou and Zhang). Later, when the girls act out in school, a police investigator and a lawyer (Shi) ask Mia what happened. She goes quiet, as her boss insists. This is especially traumatising for Wen, who flees her furious mother (Liu) to instead live with her father (Geng). Meanwhile, Mia has her own pressures: in need of an ID card, she may be able to blackmail the abusive official.

The salient point about Chinese society here is that no one does the right thing without some sort of personal gain. And that anyone can be bought. It's a stark depiction of humanity that's sadly relevant pretty much anywhere on earth, and the film has added weight in telling so many stories involving women and girls, who can feel silenced by a male-dominated society. Meanwhile, the imagery is skilfully evocative, from the use of primary colours to an enormous statue of a bare-legged woman standing on the beach.

The acting is understated and intense, anchored by Wen's complex performance as a very young woman caught in the middle of a seriously head-spinning situation. Perhaps she's a victim herself, but it's her precarious position in society that makes it difficult for her to do the right thing. As her pal, Peng brings surprising depth to a good-time girl who specialises in putting up a front. And the two young actresses Zhou and Zhang are strikingly good, boisterous and pushy but also naively innocent.

Writer-director Qu keeps the plot moving briskly, cleverly cutting through the action to reveal much deeper things about the culture, the characters and this specific situation. As a result, this is not only a dark drama about female vulnerability, but it's also a riveting low-key thriller about corrupt power. And in its inventive imagery, the film also has something important to say about how the whole world objectifies women. It's involving and evocative, and it also challenges us to change our perspective.
15 themes, language, violence
---
11.Oct.17 lff
---

R E V I E W B Y R I C H C L I N E
Let the Sun Shine In


Un Beau Soleil Intérieur
dir Claire Denis
prd Olivier Delbosc
scr Claire Denis, Christine Angot
with Juliette Binoche, Xavier Beauvois, Philippe Katerine, Josiane Balasko, Sandrine Dumas, Nicolas Duvauchelle, Alex Descas, Laurent Grevill, Bruno Podalydes, Paul Blain, Gerard Depardieu, Valeria Bruni Tedeschi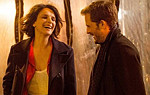 release Fr 27.Sep.17,
UK Oct.17 lff, US Oct.17 nyff
17/France 1h34

---
CANNES FILM FEST


An exploration of the yearning to find that elusive one true love, this astutely observed film is funny, charming, beautiful and sad. But it's never remotely sentimental, thanks to filmmaker Claire Denis' razor-sharp approach. It's also elevated by a sharply honest performance from Juliette Binoche as a woman seeking the love of her life.

Tired of being the mistress of a Paris banker (Beauvois), painter Isabelle (Binoche) wants a man to spend the rest of her life with. A hot actor (Duvauchelle) says his marriage is over, so Isabelle pounces. But he feels guilty about that and applies the brakes. Isabelle then tries rekindling things with her ex-husband Francois (Grevill), as well as a seemingly impassive stranger (Blain) she meets in a bar. Maybe she's missing something about one of these men, or perhaps a psychic reader (Depardieu) can encourage her not to give up the search.

Yes, the film pokes fun at desperation about getting to a certain age without finding a life partner. And the point is that perhaps we need to lighten up about these things. This isn't easy to say to someone in this position, but the script cleverly grapples with the fantasy that there's such a thing as an easy relationship that will last forever. And it also quietly explores how for some people a string of finite relationships are more satisfying than they seem to be.

Binoche is wonderful as the smart artist with a rock-chick vibe who needs a cuddle more than a casual hook-up. Her wobbly emotions are all over the place, but even the erratic way she treats men is sympathetic, because she's so endearing. Other characters come and go around her, all offering pointed interaction as she perks up to the possibilities or accepts the grim fact that she may need to look elsewhere for the elusive happiness she's sure is out there.

Denis is an expert at telling a story with a looseness that draws out underlying emotions and textures without being obvious about it. The camerawork and editing are so precise and lyrical that we are pulled under the surface into the forceful currents of brittlely astute comedy and underlying raw emotional pain. Much of the audience's laughter comes from recognition, which also powers the wrenching sadness. But like Isabelle, the film never gives up hope. And the final sequence with Depardieu is simple perfection.
15 themes, language, sexuality
---
12.Oct.17 lff

R E V I E W B Y R I C H C L I N E
The Wound


Inxeba
dir John Trengove
prd Cait Pansegrouw, Elias Ribeiro
scr John Trengove, Malusi Bengu, Thando Mgqolozana
with Nakhane Toure, Bongile Mantsai, Niza Jay Ncoyini, Thobani Mseleni, Gabriel Mini, Gamelihle Bovana, Halalisani Bradley Cebekhulu, Inga Qwede, Sibabalwe Ngqayana, Siphosethu Ngcetane, Zwelakhe Mtsaka, Menzekeki Majola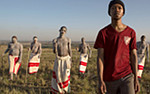 release US 16.Aug.17,
SA 15.Sep.17, UK 27.Apr.18
17/South Africa 1h28

---
SUNDANCE FILM FEST
BERLIN FILM FEST


This finely observed drama from South Africa is produced with sometimes startling honesty as it depicts ukwaluka, the Xhosa rite of passage into manhood. The film is a bracing look at a tribal tradition in modern times, packed with vivid characters who are grappling with a range of big questions. What emerges is a striking exploration of masculinity that transcends cultures.

A loner who works in a factory, Xolani (Toure) returns to his mountain village to be a caregiver at the annual circumcision ritual. His initiate is Kwanda (Ncoyini), who is taunted for being soft, because he's a rich boy from the big city. As various activities continue over the following weeks, Xolani reconnects with his old friend Vija (Mantsai), an alpha male who is caring for three initiates. But there are deep tensions swirling among these men, separated from their community to help these boys come of age.

Filmmaker Trengove makes this riveting from the start, diving straight into the story without much background, then revealing details through the beautifully written and played interaction. The collision between modern life and cultural traditions is fascinating, and the growing sense of underlying menace makes us afraid about where this is heading. Most complex is the connection between Xolani and Vija, who have been having sex for years during ukwaluka; for Xolani this is romance, but Vija can't accept this aspect of his life.

All of the actors bring an earthy realism to the film, which makes it almost feel like a documentary. The tensions between these men are powerful and complex, with Mantsai's Vija overcompensating on the machismo, while Toure's Xolani withdraws from the group. Even Ncoyini's Kwanda is grappling with some heavy issues, refusing to accept being bullied. The villagers call him arrogant, but they're the ones who think they're better. And Kwanda has faced himself in ways the tribal men never have.

Each scene in this film is packed with subtext that adds meaning, making it seriously involving and darkly moving, implying all kinds of freaky directions it might go. It's stunningly shot by Paul Ozgur with a vivid sense of colour and texture, with initiates dusted white in red-edged tunics. And it's the young Kwanda who challenges the older Xolani: "You want me to be a man, but you can't stand up for yourself." This is a steely and pungent film with a starkly important message.
15 themes, language, violence, sexuality
---
9.Oct.17
---


< < F O R E I G N > >
See also: SHADOWS FILM FESTIVAL

© 2017 by Rich Cline, Shadows on the Wall


HOME | REVIEWS | NEWS | FESTIVAL | AWARDS | Q&A | ABOUT | TALKBACK