SHADOWS ON THE WALL | REVIEWS | NEWS | FESTIVAL | AWARDS | Q&A | ABOUT | TALKBACK

Shadows off the beaten path
Indies, foreigns, docs, videos, revivals and shorts...
On this page: BLADE OF THE IMMORTAL | BODY ELECTRIC
FOXTROT | I AM NOT A WITCH
< < F O R E I G N > >
last update 15.Oct.17
See also: SHADOWS FILM FESTIVAL
---

R E V I E W B Y R I C H C L I N E
Blade of the Immortal


dir Takashi Miike
scr Tetsuya Oishi
prd Jeremy Thomas, Shigeji Maeda, Misako Saka
with Takuya Kimura, Hana Sugisaki, Sota Fukushi, Hayato Ichihara, Erika Toda, Kazuki Kitamura, Chiaki Kuriyama, Shinnosuke Mitsushima, Ken Kaneko, Yoko Yamamoto, Ebizo Ichikawa, Min Tanaka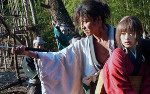 release Jpn 29.Apr.17,
US 3.Nov.17, UK 8.Dec.17
17/Japan Warner 2h20

---
CANNES FILM FEST


With his tongue firmly in his cheek, Japanese master Takashi Miike brings Hiroaki Samura's manga to life, using a heavy dose of sharp humour to undercut the nonstop grisliness. It's also a remarkably involving story that blurs the lines between good and evil by adding layers of complexity to the characters. It may essentially be a story of revenge with a hint of redemption thrown in, but it's also a classic tale very well told.

After a massacre during which he failed to protect his sister, samurai Manji (Kimura) is cursed with immortality. Years later he meets Rin (Sugisaki), a teen girl whose parents were murdered by upstart master Anotsu (Fukushi). She needs help to avenge them, and Manji likes taking on bad guys. But there other forces at work, as Anotsu is trying to manipulate and change the samurai system forever. No one wants him to succeed, but officials make a deal with him leading to a series of epic showdowns that of course envelop Manji and Rin.

Miike coolly combines a lavish historical epic with a cheeky romp, undermining over-serious action machismo with vividly knotty characters. While the violence is as gruesome as expected, especially in multiple scenes in which entire armies are obliterated, every scene is infused with a sense of dark emotion. Manji never wants to inflict all of this death, sighing heavily before each onslaught. But he takes his role as a samurai seriously, and feels responsible to defend what is just.

Yes, there are striking present-day parallels. The actors all play relatively heightened roles, with big personalities and the visual impact of characters originally created for a comic book. Their interaction is charged with tension, including the subtly developing loyalty between Kimura's jaded but engaging immortal swordsman and this determined but ill-prepared young girl who reminds him of his late daughter (Sugisaki is superb in both roles). And Kuriyama and Toda shine in more action-packed roles.

It also makes a difference that the villain is never simplified. Fukushi uses his youthfulness to great effect as the quietly overconfident Anotsu, who takes on the old-world system without hesitation. This complexity means that, when the final confrontation comes, the battle lines are drawn in unexpected ways. As it surges through another enormous, intricately choreographed battle scene, the film maintains an unusually scruffy tone that makes it feel grounded. Although in the end, the messages may get lost in the shuffle.
18 themes, language, violence
---
21.Sep.17

R E V I E W B Y R I C H C L I N E
Body Electric


Corpo Elétrico
dir Marcelo Caetano;
prd Marcelo Caetano, Roberto Tibirica
scr Hilton Lacerda, Marcelo Caetano, Gabriel Domingues
with Kelner Macedo, Lucas Andrade, Ronaldo Serruya, Welket Bungue, Ana Flavia Cavalcanti, Dani Nefussi, Ernani Sanchez, Marcia Pantera, McLinn da Quebrada, Henrique Zanoni, Evandro Cavalcante, Nash Laila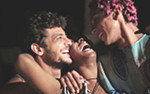 release UK 16.Oct.17
17/Brazil 1h34

---


A loose slice of life, this Brazilian drama simply follows its young protagonist through a series of everyday situations and interactions. It's a striking representation of a rather normal gay man's life, as he enjoys his budding career, hangs out with friends, indulges in alcohol and sex, and doesn't worry about tomorrow. So without preaching at all, the film has a lot to say.

At 23, Elias (Macedo) is a smiley young guy with a great job as assistant to the manager (Nefussi) of a clothing factory. After work he hangs out with his colleagues, going from a bar to someone's home before staggering home drunk. His closest work friend is the queeny twink Wellington (Andrade), who introduces him to a gang of sassy drag stars. As he hooks up with various guys, Elias is still in touch with his generous ex Arthur (Serruya). And he also befriends West African immigrant Fernando (Bungue), a new employee learning the ropes.

Filmmaker Caetano takes an intriguing approach to narrative, travelling through Elias' personality rather than sending him into some sort of conflict. Even when he is confronted by his boss (Sanchez) about being too friendly with the lowlier staff members, he shrugs it off. Camaraderie is what it's all about for Elias, including the freedom to express feelings physically. In this sense, Caetano shows a remarkably modern sensibility that most filmmakers are terrified to depict.

Macedo is relaxed and likeable in the role, an irresistible presence at the centre of the film. His disarming smile and loose physicality connect with everyone on-screen. Andrade is refreshingly unapologetic about his prissy character, initially grating but ultimately rather sweet. And other cast members bring the same offhanded earthiness to their roles, people with full inner lives who are engaging with those around them on whatever level works.

This lack of boundaries and limits gives the film a blast of energy that catches the audience off guard. Caetano admits that he set out to make a fantasy about a world in which people aren't afraid of sex or sexuality, and the freedom on display here is remarkable. Is this a look at how the next generation might find a path to peace? Or will the old guard continue to let fear rule the world? Either way, this film offers a glimpse of hope in a disparate collection of scruffy people who are disarmingly easy to identify with.
15 themes, language, sexuality
---
23.Mar.17
---

R E V I E W B Y R I C H C L I N E
Foxtrot

MUST

SEE
dir-scr Samuel Maoz
prd Marc Baschet, Viola Fugen, Cedomir Kolar, Eitan Mansuri, Michel Merkt, Michael Weber
with Lior Ashkenazi, Sarah Adler, Yonaton Shiray, Yehuda Almagor, Shira Haas, Karin Ugowski, Itamar Rotschild, Ilia Grosz, Noam Lugasy, Aryeh Cherner, Irit Kaplan, Yaakov Zada Daniel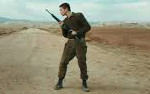 release Isr 21.Sep.17,
US Sep.17 tff, UK Oct.17 lff
17/Israel 1h48

---
VENICE FILM FEST
TORONTO FILM FEST


Israeli filmmaker Samuel Maoz takes an audacious journey into grief and guilt in a drama that's made unsettling by the inclusion of sardonic wit, surrealism and dark irony. With characters who are strikingly well-played, travelling through this gorgeously photographed narrative is like taking an epic voyage into the neglected corners of your soul.

Daphna and Michael (Adler and Azhkenazi) are left in shock when soldiers arrive at their Tel Aviv flat with word that their son Jonathan (Shiray) was killed in an accident on military service. In a daze, Michael notifies his brother (Almagor) and their senile mother (Ugowski), but struggles to accept the military advisor (Rotschild) with official funeral arrangements. Then the soldiers return to apologise: Jonathan isn't dead after all. Indeed, he's manning Foxtrot checkpoint in an otherworldly no man's land with three colleagues, enduring a dull daily routine as their barracks sink into the mud.

Maoz shoots the first act in numbed silence, staying mainly on Michael's shellshocked face. It's harrowing and emotionally shattering, even when the truth is revealed. Then with Jonathan the movie shifts into a lushly designed farce, with a languid camel on the road, young soldiers trying to liven up their days and a series of highly stylised visitors through the checkpoint. These scenes are often very funny, only turning heavy again as the film begins to pivot back to the parents for an astonishing final punch.

The film is exploring guilt that blurs with grief at various points in our lives. The script continually circles back to stories from the family's past (including one animated by Jonathan's drawings), seen through filters of present feelings. This allows actors to deliver performances that carry a serious gut-punch. Ashkenazi, Adler and Shiray all create vividly complex people without using much dialog. Emotions are raging, often just beneath the surface, mixed with other feelings they are struggling to identify.

The film's bold structure keeps the audience on its toes, weaving such a variety of reactions that we laugh and cry at the same time. It's also directed by Maoz and shot by Giora Bejach with unusual skill, capturing scenes in visually striking ways that offer insight into characters and pull us in deeper and deeper. So in the end, ideas of guilt and grief are able to intermingle with the pointlessness of military might, the evil of thoughtless cruelty and the lingering pain of a bad decision.
15 themes, language, violence
---
26.Sep.17

R E V I E W B Y R I C H C L I N E
I Am Not a Witch


dir-scr Rungano Nyoni
prd Juliette Grandmont, Emily Morgan
with Margaret Mulubwa, Henry BJ Phiri, Nancy Murilo, Margaret Sipaneia, Selita Zulu, Nellie Munamonga, Dyna Mufuni, John Tembo, Joseph Tembo, James Manaseh, Pulani Topham, Chileshe Kalimamukwento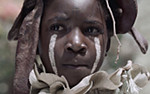 release UK 20.Oct.17
17/UK Film4 1h30

---
CANNES FILM FEST
TORONTO FILM FEST


A fascinating mix of allegory and satire, this offbeat tale from rural Zambia is packed with wonderful characters and surreal touches. It's a story about a group of women who are marginalised as witches and treated with voyeuristic reverence. With her feature debut, writer-director Rungano Nyoni has created a marvellous movie that might not always be easy to watch, but it sparks with artistry and originality.

When 9-year-old Shula (Mulubwa) arrives in a village, she's immediately blamed for everyone's problems, including the ongoing drought. Surely a witch, she's taken to a policewoman (Munamonga) and then government minister Banda (Phiri), who places her in a colony of witches tethered to the ground on huge spindles of white ribbon. But he quickly realises that Sula could be more valuable as a prescient figure of justice, or maybe as the maker of magical eggs he can sell on television. So he gets his ex-witch wife Charity (Murilo) to teach her a thing or two.

The story is farcical, but its underlying themes feel eerily honest. From the opening sequence, in which local and European tourists arrive to take selfies with the witches, it's clear that this isn't the usual sober look at an indigenous community. Indeed, everything is seen through the observant eyes of this curious young girl. She says very little but seems to understand clearly what all of this nonsense means, so she warily goes along with the game.

Mulubwa has a vivid presence on-screen, with such probing eyes, that it's easy to see why she freaks out this entire village. But she also has a wry sense of humour, as do most of the people she encounters. Not everyone takes this superstition so seriously, and all of the actors have a lot of fun undermining the nobility of their characters with sardonic humour or outright silliness. That said, everyone has a sense of dignity about them, except perhaps Phiri's blustering opportunist.

Where the story goes is sometimes humorous and sometimes very dark, a combination that helps highlight the central themes about bigotry toward women and the innate fear of people who aren't easy to categorise. Shula agrees to do what they tell her because she is told she will turn into a goat if she removes her restraining ribbon, but later she wonders if life might be better as a goat. Nonsense, one of the witches replies, a goat just ends up being someone's dinner!
12 themes, violence
---
18.Sep.17
---


< < F O R E I G N > >
See also: SHADOWS FILM FESTIVAL

© 2017 by Rich Cline, Shadows on the Wall


HOME | REVIEWS | NEWS | FESTIVAL | AWARDS | Q&A | ABOUT | TALKBACK