SHADOWS ON THE WALL | REVIEWS | NEWS | FESTIVAL | AWARDS | Q&A | ABOUT | TALKBACK

Shadows off the beaten path
Indies, foreigns, docs, videos, revivals and shorts...
On this page: A FANTASTIC WOMAN | A MOMENT IN THE REEDS
120 BEATS PER MINUTE | ZAMA
< < F O R E I G N > >
last update 6.Oct.17
See also: SHADOWS FILM FESTIVAL
---

R E V I E W B Y R I C H C L I N E
A Fantastic Woman


Una Mujer Fantástica MUST

SEE
dir Sebastian Lelio
scr Sebastian Lelio, Gonzalo Maza
prd Pablo Larrain, Juan de Dios Larrain, Sebastian Lelio, Gonzalo Maza
with Daniela Vega, Francisco Reyes, Luis Gnecco, Aline Kuppenheim, Nicolas Saavedra, Amparo Noguera, Trinidad Gonzalez, Nestor Cantillana, Alejandro Goic, Antonia Zegers, Sergio Hernandez, Moises Angulo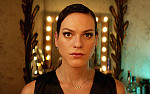 release Chl 6.Apr.17,
US 17.Nov.17, UK 2.Mar.18
17/Chile 1h44


BERLIN FILM FEST
TORONTO FILM FEST
LONDON FILM FEST


With remarkable sensitivity, this drama by Chilean filmmaker Sebastian Lelio (Gloria) tells a vital story that carries a fiercely moving kick. Indeed, it's one of the most important films of the year, exploring a timely issue with dignity and grace: a cry for compassion in a callous world. It's also quite simply beautiful, written and directed with artistry and skilfully well-acted, most notably by Daniela Vega in the title role.

As Orlando (Reyes) plans to take his girlfriend Marina (Vega) away for her birthday, his sudden death leaves Marina bereft, sending her into an odyssey of discrimination. This includes aggressive insinuation from a detective (Noguera) and far worse from Orlando's ex-wife (Kuppenheim) and son (Saavedra), who want her to relinquish Orlando's flat and dog. The issue is that Marina is a trans woman, and people feel justified in treating her cruelly. She has learned to just keep quiet and accept this, but maybe it's time for her to find her voice.

Even with this powerful message, the film never preaches. The story unfolds as a personal journey as Lelio keeps the camera close to Marina, catching her reactions even when no one else sees them. It's clear that she feels very strongly about how she's being treated, but it's second nature to shut up and take the abuse that is almost constantly hurled her way, sometimes very subtly. And no one takes into consideration the fact that she's grieving.

Vega delivers a devastating performance as a woman who is feisty, funny, emotionally open and extremely steely. She's so kind that it's hard to understand why everyone is so awful to her, yet she responds with respect for everyone. So her story arc is profoundly moving. Other cast members also create vivid, complex characters with meaningful inner lives of their own. But it's how they react to Marina that tells us the most about them.

It's no mean feat that Lelio uses such an internalised drama to highlight a huge issue. Without shouting, the say a lot about the effects of righteous bigotry and deep-seated prejudice buried in the fabric of society. Because it really doesn't matter that Marina is trans; she's a human being worthy of being treated with care. Moral indignation never excuses prejudice. So by the end, we'd like to get up and fight alongside her. And perhaps we'll have the chance to do just that sooner than we think.
15 themes, language, violence, sexuality
---
27.Sep.17

R E V I E W B Y R I C H C L I N E
A Moment in the Reeds


dir-scr Mikko Makela
prd Mikko Makela, James Robert Benjamin Watson, Jarno Pimperi
with Janne Puustinen, Boodi Kabbani, Mika Melender, Virpi Rautsiala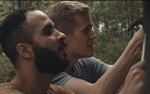 release UK Oct.17 lff
17/Finland 1h48

---


Earthy and gentle, this drama runs to the quiet rhythms of rural Finland. Writer-director Mikko Makela relishes the natural elements of life in a natural setting, as two young men from very different backgrounds get to know each other without many distractions. Their conversations are profound and revealing, underscored with humour and a lovely sense of mutual understanding that's grounded and complex.

After studying literature in Paris, Leevi (Puustinen) arrives home in Finland to a lecture from his bigoted father Jouko (Melender). This summer, Leevi is helping renovate the family's lakeside summer house, and he takes an instant interest in beardy Syrian builder Tareq (Kabbani), a trained architect who has only been in Finland for a few months. As they work together, they chat about their backgrounds. And when they're stuck in the cabin overnight, an extended glance leads to a kiss and more. But can they overcome their individual situations to find a future together?

Makela keeps the film intimate, as Leevi and Tareq discuss big issues, speaking in their common language English. Most scenes take place in the woods or by the lake, and the film parallels the natural beauty with the relaxed familiarity of the conversations. Even their work on the cabin feels relatively untaxing. So when Leevi and Tareq start talking, they express deeper things than expected, including events involving their families and their contrasting experiences looking for men.

Performances are low-key and natural, as the actors reveal their characters' inner lives. Puustinen's Leevi is intriguingly defensive, bristling as his father wants military service to turn him into a man. Kabbani's Tareq speaks sensitively about family expectations back in Syria and his difficult journey to a new life. Their chemistry is strong even before they hook up, and they nicely underplay their deepening bond. As Leevi's dad, Melender is solid in a tricky role, balancing his traditional opinions with his desire to be open-minded.

The film's comments on migration are also refreshingly understated: both young men left home in order to be themselves. That said, there isn't much to the plot, aside from some mild suspense as Jouko suspects what the young men are up to. But Makela keeps things intriguing as the dialog plays with provocative ideas and the characters grapple with their underlying beliefs. So the softly sensual sex scenes are more about making a lasting romantic connection than a casual physical one. And the most powerful aspect is that these are two young man just looking for respect and acceptance in their lives.
15 themes, language, sexuality
---
29.Sep.17
---

R E V I E W B Y R I C H C L I N E
120 Beats per Minute


120 Battements par Minute MUST

SEE
dir Robin Campillo
scr Robin Campillo, Philippe Mangeot
prd Hugues Charbonneau, Marie-Ange Luciani
with Nahuel Perez Biscayart, Arnaud Valois, Antoine Reinartz, Adele Haenel, Felix Maritaud, Medhi Toure, Aloise Sauvage, Simon Bourgade, Catherine Vinatier, Saadia Bentaieb, Ariel Borenstein, Theophile Ray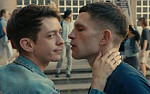 release Fr 23.Aug.17,
US 20.Oct.17, UK 6.Apr.17
17/France 2h20

---
CANNES FILM FEST
VENICE FILM FEST
TORONTO FILM FEST


There's a striking realism to this epic drama about Aids activists in early 1990s Paris. Filmmaker Robin Campillo sometimes seems too ambitious for his own good, indulging in the intense debates between protesters, but the film's core is a tender love story that's powerfully moving. And it highlights the struggle these men and women went through to gain attention for their cause, saving millions of lives in the process.

When Nathan (Valois) attends an Act-up meeting, he is fascinated by the razor-sharp banter between young people strategising ways to provoke the government to develop a cure, as well as protests against corporate greed. Leaders Thibault and Sophie (Reinartz and Haenel) push the members to think up stunts that will gain publicity and bring change, even as most of them are sick with Aids-related illnesses. Nathan is one of the few HIV-negative activists, and he strikes up a romance with the positive Sean (Biscayart), a cheeky, outspoken founder of the movement.

Campillo assembles the film in a freeform style, shifting between dialog-heavy debates, dark drama, acts of protest and heady moments letting off steam in a disco. The narrative spins between these, with each cycle digging deeper into both topics and characters. Along the way, Nathan and Sean emerge as the most-rounded people, as the script reveals their backgrounds and deepens their connection. And it grows especially moving when Sean begins to get ill.

Valois is nicely understated as the outsider who brings the audience into this group, with its sharp humour and raw anger. Nathan's connection with Sean initially seems simplistic, but their relationships turns into something meaningful, allowing Biscayart to deepen the cheeky, bantering Sean into a startlingly soulful young man. Beyond these two, relationships feel more tentative, although the ideological tension keeps them interesting.

It's final act that reveals the story's emotional side, after laying so much groundwork on the politics. Campillo never identifies the period or how many years have passed, but from the moment that Jimmy Somerville's plaintive cry echoes the opening strains of Bronski Beat's iconic hit Smalltown Boy ("To your soul!"), the film puts the audience (and the characters) through the wringer. By the end, we feel like we've been at war with these young people, watching our friends die around us as we fought against the injustice around us. And this film reminds us that the battle isn't over yet.
15 themes, language, violence, sexuality
---
27.Sep.17

R E V I E W B Y R I C H C L I N E
Zama


dir-scr Lucrecia Martel
prd Vania Catani, Benjamin Domenech, Santiago Gallelli
with Daniel Gimenez Cacho, Lola Duenas, Juan Minujin, Matheus Nachtergaele, Rafael Spregelburd, Nahuel Cano, Mariana Nunes, Daniel Veronese, Carlos Defeo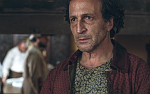 release Arg 28.Sep.17,
US Sep.17 nyff,
UK Oct.17 lff
17/Argentina 1h55

---

TORONTO FILM FEST


This is a fairly difficult movie even by the standards of adventurous Argentine filmmaker Lucrecia Martel. An existential odyssey based on the 1956 novel by Antonio Di Benedetto, it simply refuses to coalesce into any kind of sensible narrative as the title character's life becomes a swirling nightmare of bureaucracy and cross-cultural messiness. And that's actually the point. At least it's fascinating, beautifully shot and acted, and packed with witty satire.

In the late 18th century, Diego de Zama (Gimenez Cacho) is a magistrate for the Spanish crown in Paraguay. Fed up with the chaos of life here, and badly missing his wife and children, he has requested a transfer to Buenos Aires. But the system moves too slowly, bogged down by others who have their own personal interests. It doesn't help that Diego makes some seriously bad decisions of his own, fighting with his assistant (Minujin) and fathering a child with a local. And things get even more bizarre when he finally leaves the outpost.

Martel shoots this without any context whatsoever. The time or place are never named, and aside from some gorgeous landscapes, scenes are shot in closeup so that it's tricky to see the settings or even who else is in the room. Not that we know who these people are, as only a few come into focus in any meaningful way. Instead, we are locked with Diego in what seems like a mind-aching sequence of flailing activities. This may keep him busy, but it seems to put him further from his goal.

Gimenez Cacho brings this out very cleverly, understating Diego's attempts to remain hopeful that he'll escape from this madhouse. His interaction with everyone else is infused with his exasperation. It may make no sense to us as viewers, but it's clear that he's just as perplexed by it all. And each surreal encounter is hilariously messy, most enjoyably his feeble attempt to woo a local politician's wife, played impeccably by Duenas.

In the film's final act, Martel takes the story on the road, travelling from the outpost's mix of Europeans, African slaves and bemused locals to dip into some trippy locations occupied by tribes that whistle in the dark or paint themselves (and the interlopers) red. But of course it's the people closer to him that Diego should be worrying about. And while the film is too obtuse to properly express its ideas, it remains a fascinating depiction of colonial South America.
15 themes, violence, nudity
---
31.Aug.17 vff
---


< < F O R E I G N > >
See also: SHADOWS FILM FESTIVAL

© 2017 by Rich Cline, Shadows on the Wall


HOME | REVIEWS | NEWS | FESTIVAL | AWARDS | Q&A | ABOUT | TALKBACK