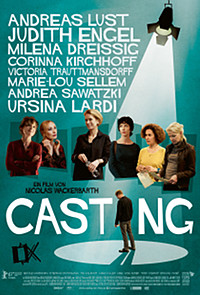 dir Nicolas Wackerbarth
prd Franziska Specht
scr Nicolas Wackerbarth, Hannes Held
with Andreas Lust, Judith Engel, Milena Dreissig, Nicole Marischka, Stephan Grossmann, Ursina Lardi, Marie-Lou Sellem, Corinna Kirchhoff, Andrea Sawatzki, Victoria Trauttmansdorff, Tim Kalkhof, Anne Muller
release Ger 2.Nov.17,
UK 31.Jul.20
17/Germany 1h31

---
BERLIN FILM FEST

---
Watch it now...

---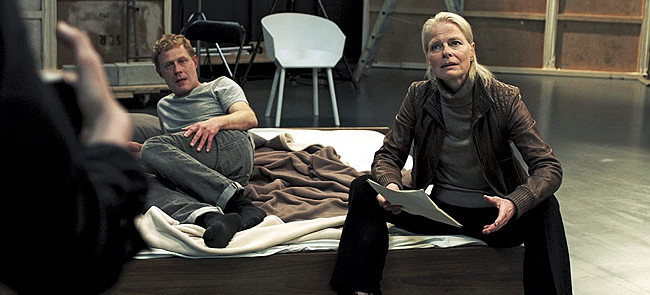 A verite style gives this German comedy the appearance of a reality TV show, as it follows people preparing to make a movie. And since the cast improvises the dialog, the film has a refreshingly breezy tone, with a constant flow of throwaway sequences that suddenly veer into pointed issues. This is an inventive exploration of the filmmaking process, and how each person faces distinct problems and prejudices.
---
As the first day of shooting approaches, filmmaker Vera (Engel) is under pressure to cast the lead role in her remake of Fassbinder's classic The Bitter Tears of Petra von Kant. But she refuses to let herself be pushed one way or another. Actor Gerwin (Lust) steps in for the day, reading opposite the actresses as they audition, and each brings a distinct attitude to the role. And Gerwin connects so well with each of them that Vera begins thinking maybe he should take the male role instead of the star (Kalkhof) already lined up.
---
This is a very talky film, which makes it a reading challenge for those who don't speak German. But the terrific dialog spirals through various conversations that dig into the process of moviemaking, plus themes from the film within the film. The ensemble cast never seems to be acting, simply inhabiting roles to make it clear who's in charge, who's out of his or her depth, and who has a huge reputation that demands respect. And the humour is bone-dry, pushing each character into a squirm-inducing corner.

At the centre, Lust is superb as a hapless nice guy no one knows, resented as a replacement for the real actor, but able to seamlessly slip into scenes. And even when he can't, he finds something unexpected. Engel's Vera is wonderfully stubborn; she'll know Petra when she sees her. Of the actresses, Kirchhoff and Sawatzi stand out as scene-stealing divas who feel above the process. And Trauttmansdorff is terrific as an actress who gives Gerwin a run for his money.

Several themes run through the scenes, provocatively touching on issues like the insecurity actresses feel as they age, the level of manliness expected of an actor, and the need for a director to keep the corporate bosses happy. There's also a range of issues relating to sexuality between both the actors on-set and the roles they're reading. This means that both the comical and emotional moments hit on multiple layers. And the clever sequence of scenes in the final act has a vicious kick.
| | | |
| --- | --- | --- |
| | themes, language | 27.Jul.20 |