SHADOWS ON THE WALL | REVIEWS | NEWS | FESTIVAL | AWARDS | Q&A | ABOUT | TALKBACK

Shadows off the beaten path
Indies, foreigns, docs, videos, revivals and shorts...
On this page: ANTONIO LOPEZ 1970: SEX FASHION & DISCO
JIM & ANDY: THE GREAT BEYOND | THE PRINCE OF NOTHINGWOOD | 78/52
< < D O C S > >
last update 28.Oct.17
See also: SHADOWS FILM FESTIVAL
---

R E V I E W B Y R I C H C L I N E
Antonio Lopez 1970: Sex Fashion & Disco


dir-scr James Crump
prd James Crump, Ronnie Sassoon
with Bill Cunningham, Jessica Lange, Patti D'Arbanville, Pat Cleveland, Grace Coddington, Jane Forth, Donna Jordan, Corey Tippin, Paul Caranicas, Joan Juliet Buck, Michael Chow, Bob Colacello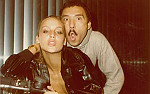 release UK Oct.17 lff,
US Nov.17 dnyc
17/US 1h30

---


A fast-paced, skilful portrait of an artist who isn't very well-known outside fashion circles, this film is infused with the sensuality of its 1970s period. Through lively, expressive interviews and a wealth of footage and stills, Antonio Lopez springs to life before our eyes, making us wish we had a chance to get to know him, because he seems like someone we'd probably fall in love with, just like everyone else did.

Son of Puerto Rican immigrants, Lopez came into his own as an illustrator in the 1960s, transforming the fashion world with his brightly expressive drawings, heightened reality in which the clothes and models looked even better than they did on the catwalk. With his partner Juan Ramos, he was also a fixture in the New York art scene, charming everyone he met (and sleeping with both men and women) before moving to Paris in the early 1970s, where he worked with Karl Lagerfeld. And his eye for outsiders helped him change the scene.

Lopez discovered models like Lange, D'Arbanville, Cleveland, Coddington, Forth and Jordan, all of whom appear on-screen to chat about his irresistible charm. He also launched the careers of icons like Grace Jones and Jerry Hall. His free approach to life blurred his relationships and friendships with his professional collaborations. And he had darker sides as well, struggling with creative blocks and power games within the industry.

Filmmaker James Crump assembles this documentary with lots of energy, darting through Lopez's story with a flurry of fabulous clips and images, animating his drawings and relishing the excesses of 70s style. It's a lot of fun to watch, and it reveals Lopez as a complex man who effortlessly created trends both in art and fashion, as ideas flowed from him freely to everyone around him. His lifelong relationship with Ramos is intriguingly complicated, and is nicely worked into the framework of the narrative.

There's a fascinating sense that we're looking into a bygone era bursting with invention and revelling in newfound freedoms. The explosion of creativity in this period is obvious, as is the liberating effect of free love before the arrival of Aids. So it's part of that era's tragedy that Lopez died at age 44 in 1987 (Ramos followed eight years later). While the interviewees choke up remembering this, Crump never sentimentalises the story. And he leaves us wondering how Lopez might have continued to revolutionise the world had he survived.
15 themes, nudity
---
15.Oct.17 lff

R E V I E W B Y R I C H C L I N E
Jim & Andy: The Great Beyond


Featuring a Very Special, Contractually Obligated Mention of Tony Clifton
dir Chris Smith
prd Brendan Fitzgerald, Danny Gabai, Chris Smith
with Jim Carrey, Andy Kaufman, Milos Forman, Bob Zmuda, Courtney Love, Jerry Lawlor, Danny DeVito, Paul Giamatti, Gary Becker, Judd Hirsch, Lynn Margulies, George Shapiro

release US/UK 17.Nov.17
17/US Netflix 1h34



TORONTO FILM FEST
---
See also:
MAN ON THE MOON (1999)

While shooting Milos Forman's 1999 film Man on the Moon, Jim Carrey commissioned a backstage documentary, but the footage was never shown. Using a rather twinkly present-day interview, Carrey presents it now, revealing how he felt inhabited by Andy Kaufman both on and off set while the biopic was being shot. It's an entertaining look at a collision of offbeat comedy talents, exploring both actors' backgrounds and working styles in a way that's eye-opening and perhaps disturbing.

As images of Kaufman and Carrey are juxtaposed, it seems obvious that Carrey was the only actor who could have done Kaufman justice. And on-set footage shows that he went full-method on his costars and crew. For Carrey, it was actually Kaufman who was on-set, or Kaufman's riotously straight-talking alter-ego Tony Clifton. Watching director Forman react to this is hilarious ("I just want to talk to Jim!"), and costars are quick to point out that Carrey was playing the public version of Kaufman, rather than the private one.

Along the way, the film circles back to offer parallel biopics about these two comic actors, each of whom shook off the constraints of his childhood to create characters who pulled no punches while blurring the lines between his real identity and the people he was playing. The difference was that Kaufman's act deliberately ruffled feathers, so he could never retreat from it. People were angry at him, while Carrey's audience was reacting to his crazy on-screen characters.

In the swirl of fast-paced editing, it's often difficult to tell whether we're watching Kaufman or Carrey, or indeed Kaufman's writing partner Zmuda, who famously impersonated Carrey as Tony Clifton on a visit to the Playboy Mansion. Pretty much everyone associated with Kaufman is on-screen, talking about his distinct gifts as a person and performer. So watching the 1999 scenes of Carrey playing his struggle with cancer takes on an added layer of emotion.

Basically, it's the wealth of material here that makes this doc worth a look. Carrey's to-camera commentary offers insights into his approach to the role and how playing Kaufman changed him. Although when he spins off into comments about acting or Hollywood in general, he seems like a millionaire who doesn't need to work another day in his life or worry what anyone thinks about him. Which, come to think of it, is kind of how Kaufman approached the world.
15 themes, language
---
5.Sep.17 vff
---

R E V I E W B Y R I C H C L I N E
The Prince of Nothingwood


aka Nothingwood
dir Sonia Kronlund
prd Laurent Lavole
with Salim Shaheen, Sonia Kronlund, Qurban Ali, Zaki Entizar, Farid Mohibi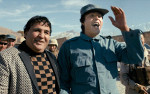 release Fr 14.Jun.17,
US Sep.17 aff, UK 15.Dec.17
17/France 1h26

---
CANNES FILM FEST


A fly-on-the-wall look at prolific Afghan filmmaker Salim Shaheen, this documentary is both playful and chilling in the way it explores the life of a colourful man and a nation's momentous history. French-Swiss journalist Sonia Kronlund follows Shaheen into some rarely seen parts of Afghanistan, which he calls "Nothingwood" due to his no-budget filmmaking style. It's an entertaining and eye-opening doc.

Shaheen has made 110 movies and currently has four in production, so he agrees to let Kronlund and her intrepid cameraman Alexander Nanau tag along as they shoot scenes in Kabul and then fly out to Bamyan for its dramatic landscapes. Shaheen stars in most of his films, often playing a Rambo-style strongman who breaks out in song. But many of his movies tell stories from his own life and feature one of his eight sons playing him. All of this has made him a hero throughout his homeland, even among the Taliban, for whom movies are forbidden.

During her odyssey, Kronlund chats to Shaheen about his directing decisions, as well as how his background informs his scripts. All of this is illustrated through hilarious clips from Shaheen's movies, which are arch and cheap but have an engaging tone. Among the crew are Qurban Ali, a camp actor who relishes playing female roles. He's probably gay, but has a wife and houseful of kids. There's also woolly writer Zaki Entizar, who was injured when a rocket hit their set a few years back, killing 10 members of the cast and crew.

Everyone in Shaheen's team has a fatalistic view of death: it will come when it comes. So they never worry about security, using real Nato-trained soldiers and their guns to shoot the battle scenes. But Shaheen is such a likeable guy that it's hard to imagine anyone wanting to harm him. He effortlessly inspires his crew to make movies with virtually no resources, and the crowds adore him wherever he goes. In clips from his movies, his own life takes on some surprising resonance.

Kronlund captures some astonishing settings, including a site where the Taliban destroyed a massive 4th century Buddha. And there's an interview with a masked Taliban fighter who talks matter-of-factly about illicitly swapping bootleg videos of Shaheen's movies with his colleagues. There's also the intriguing gender angle, as Kronlund is accepted in this all-male world without question, but Shaheen's two wives and six daughters are not allowed to appear for her cameras. This is a fascinating profile of an extraordinary man and the nation he loves.
12 themes, violence
---
20.Sep.17

R E V I E W B Y R I C H C L I N E
78/52

dir-scr Alexandre O Philippe
prd Robert Muratore, Kerry Deignan Roy
with Marli Renfro, Marco Calavita, Stephen Rebello, Walter Murch, Jamie Lee Curtis, Peter Bogdanovich, Danny Elfman, Eli Roth, Guillermo del Toro, Karyn Kusama, Elijah Wood, Bret Easton Ellis

release US 13.Oct.17,
UK 3.Nov.17
17/US 1h31

---
SUNDANCE FILM FEST


Dissecting perhaps the most pivotal scene in movie history, this documentary approaches the iconic Psycho shower murder from every conceivable angle (the title refers to the number of shots and edits). Indeed, Alfred Hitchcock caused a sea-change with this three-minute scene, instantly making movies feel unsafe. It was the first time moviegoers thought they witnessed a real murder on-screen, even though nothing is actually shown.

Filmmaker Philippe brings range of filmmakers, actors, authors and scholars to sit in a recreation of the set and discuss why this scene is so important. The key interviewee is Refro, Leigh's body double, who spent a week shooting the scene. And experts note how perfectly Hitchcock set the stage in the earlier scenes, violating cinematic rules as he confronted the viewer's innate voyeuristic urges. The film's first act is a riot of forbidden images, then just as the plot starts moving, Hitchcock stripped top movie star Janet Leigh naked and killed her off.

The documentary also explores the passage in the source novel, the script and Saul Bass' storyboards, then goes on to unpick the set design, sound (including selecting just the right melon to stab), lighting, camera angles, editing and of course Bernard Herrmann's score, which has entered everyday vernacular. Along with the new interviews, there are plenty of clips of Hitchcock talking about the film, mostly from that notorious set-tour trailer.

Philippe also puts Psycho into context, as others in 1960 Hollywood were using black and white to counter glorious 1950s Technicolor entertainment. Now-iconic films including Some Like it Hot, Anatomy of a Murder and Suddenly Last Summer were released within a year. Indeed, Psycho shockingly followed Hitchcock's biggest hit, the glorious Technicolor North by Northwest. But then, he always saw Psycho as a black comedy, and was amused that people were so frightened by it.

The doc is full of cool observations, such as noting that the shower scene took an unproportional chunk of the shooting schedule, the first movie murder to be so precisely designed. But the most powerful comments explore how the film caught the zeitgeist in America at a time when people were feeling safe in their homes, and in their showers. This wasn't the usual alien invasion or a murderous Russian spy, it was a known killer attacking a vulnerable woman. So in some way, Psycho was predicting the coming decade of political violence, civil rights protests and general public panic.
15 themes, language, violence
---
27.Oct.17
---


< < D O C S > >
See also: SHADOWS FILM FESTIVAL

© 2017 by Rich Cline, Shadows on the Wall


HOME | REVIEWS | NEWS | FESTIVAL | AWARDS | Q&A | ABOUT | TALKBACK