dir Eddie Rosenstein
prd Eddie Rosenstein, Jenni Olson, Todd Robinson, Amie Segal, Sidney Sherman
with Evan Wolfson, Mary Bonauto, Marc Solomon, Brian Brown, April DeBoer, Jayne Rowse, Tim Gill, Thalia Zepatos, Ward Curtin, Joan Wolfson, Jerry Wolfson, Mel Solomon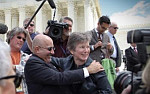 release US 3.Mar.17,
UK 1.Nov.17
16/US 1h26


With a straightforward style, this documentary traces the path of the gay marriage issue in America. Filmmaker Eddie Rosenstein gives this a narrative through-line that's gripping to watch, even if it feels like a story that's been told from many angles already. But seeing it through the eyes of the campaigners working behind the scenes adds a personal touch. And it's fascinating to hear tapes of the actual Supreme Court arguments.

The film opens 100 days before the court begins considering the issue of same-sex marriage, after 37 states had already guaranteed the right in courts, legislatures and at the ballot. The legal team's task is to prove that this is a freedom that needs to be protected, and that not protecting it deprives people of fundamental civil rights. Leading the case are charity founder Evan Wolfson, lawyer Mary Bonauto and activist Marc Solomon, ordinary people who believe the nation is ready for a ruling on this issue.

The doc includes home video of Wolfson 32 years earlier, as he began to think about the inequality and injustice in the way America deprived gay citizens of everyday rights. He grew up in a strong Jewish family, raised to be a nice guy who respects everyone. But there was little understanding of what it meant to be gay, and Wolfson argued in his university thesis that marriage was the best way to show that gay people have the same goals as everyone else. This leads into an exploration of attitudes toward homosexuality over the past 50 years.

Using newsreel footage, Rosenstein details the dramatic shift in public opinion from dismissive hatred to majority acceptance. But the path wasn't smooth. In the late 2000s, laws banned same-sex marriage in several states, creating the need for a national resolution in the Supreme Court, and Wolfson's Freedom to Marry charity took the lead role to help the public understand that gay people, like everyone else, just hope to live a positive, meaningful life.

The point is clear: equal marriage is the right thing to do. And this is what the campaigners worked to communicate. This was never about taking away traditional marriage, it was about saying no to bigotry and discrimination. And the key to changing minds was the realisation that this was affecting children too. Frankly, once people have a personal conversation, the controversy disappears. And future generations should be able to take this freedom for granted.
dir Eva Orner, Chris McKim
prd Randy Barbato, Fenton Bailey, Eva Orner, Chris McKim
with Nayyef Hrebid, Hayder "Btoo" Allami, Michael Failla

release US 13.Jun.16,
UK Mar.17 flare
16/US 1h21

---


This documentary tells the story of two young Iraqis who take a journey together in very different ways. It has two basic narratives, a romance and an immigration odyssey, and both are so compelling that the film becomes utterly gripping. It also packs a strong emotional kick as these young men struggle against cultural realities that are difficult to imagine.

After the Iraq invasion in 2003, recent Baghdad university graduate Nayyef took a job as an interpreter for the American forces. Based in Ramadi, he met Iraqi soldier Btoo, and they fell for each other. Both are from religious families that would never accept their homosexuality, but as the war rages they are allowed to have a secret romance. In 2009, Nayyef's situation turns dangerous, so he is given an American visa and moves to Seattle. Unable to migrate, Btoo is trapped with his family, who are figuring out his secret. In desperation, Nayyef asks refugee worker Michael to help Btoo escape to Lebanon.

What follows is a mind-spinning journey through United Nations bureaucracy, as Btoo and Nayyef spend years trying to get back together. Since each has a different background, they take distinct routes to escape the threat of death back home. But they maintain their relationship with regular video chats over years of separation, never giving up hope that some day they can start a family together. Their tenacity in remaining a couple through this ordeal is impressive.

Both guys are so likeable that it's impossible not to root for them. The filmmakers play on this fact, letting their overwhelmingly positive personalities drive the story, which brings out an emotional resonance in almost every event they face, from the horrors of the war to the frustration of political incompetence. Once Nayyef manages to escape local vengeance, it's Btoo whose life is in jeopardy at every step of the way. And the officials seem oblivious to the fact that he will be killed if he's sent back to his family.

What this film depicts so vividly is that it is immoral to place a blanket ban on refugees. People are in real danger in their home nations; they aren't leaving by choice, but because they will be violently tortured and killed if they remain. And they need someone with compassion to hear their story, reach out and help. The brutal fact is the Nayyef and Btoo are the lucky ones, because the vast majority of people who share a similar story don't get out alive.