SHADOWS ON THE WALL | REVIEWS | NEWS | FESTIVAL | AWARDS | Q&A | ABOUT | TALKBACK

Shadows off the beaten path
Indies, foreigns, docs, videos, revivals and shorts...
On this page: LOU REED'S BERLIN | CSNY/DEJA VU
OF TIME AND THE CITY | SARAH SILVERMAN: JESUS IS MAGIC
< < D O C S > >
last update 31.Jul.08
See also: SHADOWS FILM FESTIVAL

R E V I E W B Y R I C H C L I N E
Berlin aka: Lou Reed's Berlin


dir Julian Schnabel
with Lou Reed, Antony Hegarty, Emmanuelle Seigner, Julian Schnabel, Steve Hunter, Fernando Saunders, Tony Thunder Smith, Rupert Christie, Rob Wasserman, Sharon Jones, Steven Bernstein, Curtis Fowlkes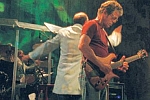 release US 18.Jul.08,
UK 25.Jul.08
07/US 1h25

---
VENICE FILM FEST
TORONTO FILM FEST
With this simple, artistic concert film, Julian Schnabel (The Diving Bell and the Butterfly) captures Lou Reed's 2006 performance of his acclaimed 1973 album Berlin. It's a bit moody for viewers unfamiliar with these songs of jealousy and pain, but it's beautifully performed and filmed.

When the album was released, it was such a commercial failure that Reed didn't play it live for more than 30 years. What we have here is a film compilation of five nights in a warehouse in Brooklyn, with a stage set designed by Schnabel. There are no interviews or cutaways, just Reed playing the songs with a full orchestra and some special guests (including Antony and the Brooklyn Youth Chorus). The result is a valuable film document: perserving a rare performance of a musical masterwork.

With its gloomy look at love, Berlin has been called one of the most depressing albums of all time, and Schnabel certainly captures that tone, adding background projections from the divided German city with Seigner as the songs' central character Caroline, a woman bent on self-destruction. The result feels almost like an intimate movie musical set on a nightclub stage with a small audience.

Schnabel films and edits this in a visually swirly, darkly inviting way, capturing the evocative musicality as the cameras prowl the stage and images overlap with each other and with the ever-present, haunting projections of Caroline. The performance itself has the feel of a jam session, as the musicians are clearly lost in the music; these are first-rate artists having a great time together. The duet between Reed and Antony is simply gorgeous.

And it's definitely all about the music. Because otherwise there's not much to watch. None of Reed's recognised hits are here; these songs have the sense of beat poetry about them, and viewers who have never heard them before might find this film a bit of a hard slog, even though the sheer beauty is unmissable. These are songs about deep, agonising loss. And their slow, morose pace may try the patience of non-fans. Until, that is, we begin to feel the profound emotion and raw, persistent truth in Reed's words and music.
12 themes, language
---
11.Apr.08

R E V I E W B Y R I C H C L I N E
CSNY / Déjà Vu


dir Bernard Shakey
scr Mike Cerre, Neil Young
with David Crosby, Stephen Stills, Graham Nash, Neil Young, Mike Cerre, Josh Hisle, Steven Colbert, Neal Boortz, Patrick Murphy, Tammy Duckworth, Chad Cromwell, Larry Wachs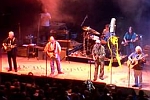 release US Jan.08 sff,
UK 18.Jul.08
08/US 1h36
---
SUNDANCE FILM FEST
BERLIN FILM FEST

This documentary follows Crosby, Stills, Nash and Young as they retrace their 1960s anti-war footsteps for a Freedom of Speech tour in 2006. It's a fascinating look at the polarised attitudes of Americans, and a solid companion piece to the more provocative and much more emotional Shut Up & Sing.

And this is a doc, not a concert film, as we only get snippets of songs, along with interviews, vox pop clips, gorgeous photography of the American landscape and behind-the-scenes tour footage. And this isn't just an oldies tour: these musicians are as relevant now as they were back in their politically charged heyday, and today's concertgoers have never heard anything like this. As Nash says, "The audience still expects honesty from us." The point is that this is a different war and a different president, but the problem is the same. And the draft has been replaced with the more insidious practice of stop-loss.

There's rather a lot of flag-waving in this film, but this is true patriotism, pointing a finger at where America has gone horribly wrong and calling on the people to make their voices (and votes) count. It's fascinating to note that their rabble-rousing anthems were hits in the '60s, but are considered novelty songs today. Although to be honest, Let's Impeach the President doesn't exactly have the raw poetic power of For What It's Worth ("Stop! Hey, what's that sound?").

Filmmaker Bernard Shakey (aka Young) cleverly juxtaposes footage from the archives with current news images. And the whole film is assembled with skill and wit, catching intimate moments and the band members' lively sense of humour ("Neil Young is Tony Orlando," Stills says, "and we're Dawn!"). On the other hand, the film feels a little indulgent and angry; these men speak much louder through their music than through their words.

There's also the nagging question about where CSNY were when the Dixie Chicks were being so brutally slandered three years earlier. The Chicks get several mentions here, including people on the street who are still angry with them today. And this deep-seated blind ignorance makes us wonder whether America will ever wake up from its complacency, even with outspoken artists like these.
15 themes, language, violent images
---
13.May.08

R E V I E W B Y R I C H C L I N E
Of Time and the City


MUST

SEE
dir-scr-narr Terence Davies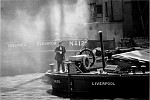 release UK 31.Oct.08,
US 23.Jan.09
08/UK 1h14
---
CANNES FILM FEST

TORONTO FILM FEST

A lyrical poem about his hometown, this is Davies' first movie in eight years. And his artistic approach gives us a moving, kaleidoscopic portrait both of a city and of the filmmaker himself.

He starts with a quote from Myrbach: "If Liverpool did not exist, it would have to be invented." And what follows is an intimate look at how the city changed from the 1940s to the 60s, the years when Davies came of age and began making movies. The narration includes quotes, poetry, readings and very personal memories, plus audio from radio plays and carefully chosen songs (such as The Spinners' Dirty Old Town). Meanwhile, on screen we watch gorgeously digitised old footage, home movies and pristine sequences shot in crisp colour.

These things combine into an impressionistic image of the city that's deeply moving simply because it comes from straight from Davies' heart. There are some fabulous sequences here, including clips of starry film premieres and wrenching war footage, as well as scenes that are far more intensely specific, such as Davies' struggle with his sexuality as a good Catholic boy tempted by professional wrestlers.

And his sharp wit comes through in several pointed comments about British society, mainly to do with the monarchy and the English way of indulging in pomp and triumphalism all while the British working class suffers some of the worst slums in Europe. And how the gleaming, futuristic building programmes turned so suddenly into grim urban blight. But Davies does all of this with a wry twinkle in his voice that often has us laughing.

This mixture of documentary information, raw emotion and sharp personality makes the film a unique hybrid. Not only are we treated to a stately, almost mythical portrait of a fascinating city, but we are offered a glimpse into the soul of the artist himself. And it's so beautifully assembled that it keeps us glued to the screen.

When asked what he wants to achieve with this film, Davies says, "Even though I'm a very pessimistic person, I believe that it's worth striving to be a better person. Better, not better off--that's just vanity. I want to say that it is worth going on." And more than a portrait of a city, this is a sublime film about age and nostalgia, about growing up and learning to live with our successes and failings.
12 themes, language, some violent imagery
---
19.Jun.06 eiff

R E V I E W B Y R I C H C L I N E
Sarah Silverman: Jesus Is Magic


dir Liam Lynch
scr Sarah Silverman
with Sarah Silverman, Brian Posehn, Laura Silverman, Bob Odenkirk Steve Agee, Brody Stevens, Kelsie Lynn, Kiyano La'vin, Eddie B Smith, David Derby, Suzannah Fagan, Dee Kaye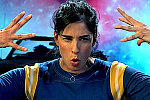 release US 11.Nov.05,
UK 1.Aug.08
05/US 1h12
---
TORONTO FILM FEST

Sarah Silverman brings her bold, irreverent stand-up to the big screen, with full-on musical numbers and some rather outrageous sketch comedy. It's bound to offend virtually everyone, and that's precisely her point.

The film is framed with scenes of Silverman with two friends (played by Posehn and her sister Laura), who are gloating about their recent successes. Determined to out-do them, Sarah claims she has a big show that very night, then makes it up as she goes. What we see is a free-form stand-up performance intercut with various location sequences. The humour takes on a surreal, stream-of-consciousness form, drifting from topic to topic and wandering into some rather ridiculous asides, such as the fact that Sarah has a stand-in (Lynn) waiting to take her place on stage if anything goes wrong.

But it's the topics she addresses that make her routines so memorable. She's completely fearless, drawing on the central fact of her Jewishness to get away with riffs on family relationships, sex, religion (the title refers to her view, as a young Jewish girl, of what Christianity is all about) and age (cue the cheery song "You're Gonna Die Soon!"), plus Martin Luther King, 9/11, the Nazis and the Holocaust. Yes, really. There is no topic that is taboo for Silverman--she gleefully drifts into the most heart-stoppingly rude, politically incorrect material imaginable, right down to a concluding rendition of Amazing Grace that is indescribable for its absurdity and profanity.

But there's much more going on here. Silverman's full-on approach works because she unflinchingly examines these themes with a disarming sweetness. She's also not just being crude for its own sake: she's making an important point about how society conditions us to have sacred cows, and how we take these things so seriously that we often miss what's actually important in life. And when she dips into forbidden areas like ethnicity, disability and poverty, she makes an astute observation about how we only make fun of people we're not afraid of. In other words, there's a lot more to this than hysterical comedy routines and funny musical numbers.
15 strong themes, language, innuendo
---
28.Jul.08


< < D O C S > >
See also: SHADOWS FILM FESTIVAL

© 2008 by Rich Cline, Shadows on the Wall


HOME | REVIEWS | NEWS | FESTIVAL | AWARDS | Q&A | ABOUT | TALKBACK