TORONTO FILM FEST


Spectacularly shot and written with a poetic sensibility, this post-Apartheid South African thriller is made in the style of a period Western. The film bristles with the bottled up rage of people who are fed up with being oppressed and abused. It's a skilfully crafted mix of classic filmmaking and modern-day storytelling, bracingly entertaining and packing a strong thematic kick.

When foreign settlers in Marseilles see their fortune crumbling, they take it out on locals who were there long before they arrived. So five teens vow to protect the land. When one of them kills two policemen, their group disbands and he becomes a notorious outlaw. Two decades later amid political changes, Tau (Dabula) is released from prison determined to make peace. But his town is under threat from both brutal gangster Sepoko (Dhlamini) and Tau's old pal Luyanda (Mabaso), who is now the sadistic police chief. Perhaps Tau needs to assemble five new fingers.

An extended prologue sets up the story's mythical elements, as these five young men recreate a folktale in a game that turns suddenly serious. Then years later, Tau returns home like an interloper (he even calls himself "Nobody") arriving in the corrupt frontier village, rattling the locals. The film is full of intriguing characters and narrative wrinkles as Tau reconnects with the old gang, one of whom (Nkosi) is now mayor, making endless promises to the residents.

Dabula offers soulful depths beneath his beefy charisma. This is a tough guy who reluctantly returns to the violence he had put behind him. The people he faces are formidable, from Dhlamini's quietly menacing monster to the excellent actors playing his former cohorts: the jolly Nkosi, the terrifying Mabaso and the haunted Poolo, plus Dlomo as his childhood sweetheart, whose son (Vilakazi) wants Tau to help him be a fighter like his late father.

Familiar Western imagery abounds, from tense face-offs in the saloon to the sight of pistols strapped to the hip. Shootouts have a bracing authenticity to them that's scary and also very nasty, with violence that's both realistic and horrifically heightened. The dialog is economical, peppered with mythology and spoken in a mesmerising mix of Sesotho, English, Xhosa and Afrikaans. And everything is undergirded with an almost unspoken sense of pain about how the land has been violated, and perhaps a fight is necessary to begin the healing.
15 themes, language, violence
---
4.Sep.18
---
R E V I E W B Y R I C H C L I N E
José


MUST

SEE
dir Li Cheng
scr-prd Li Cheng, George F Roberson
with Enrique Salanic, Manolo Herrera, Ana Cecilia Mota, Esteban Lopez Ramirez, Jhakelyn Waleska Gonzalez, Cesar Lorenzo Yojcom Candido, Juan Andres Molina Cardona, Alba Irene Lemus, Carlos Humberto Fuentes Maldonado, Jennifer Cecilia Amoia Mota, Humberto Martinez, Evelyn Celinda Bautista Torres,Jashua Belvino Argueta Mejia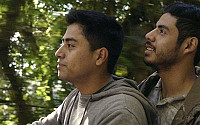 release WP Sep.18 vff
18/Guatemala 1h25

---

THESSALONIKI FILM FEST

Earthy and honest, this observational drama deals with big themes without ever getting pushy about them. Chinese-born American filmmaker Li Cheng lets the story develop in an organic way, almost as if he's capturing real events with the camera. This astute style stretches from the busy street scenes to much more intimate moments, grounding the events and emotions in a way that's powerfully resonant.

In Guatemala City, 19-year-old Jose (Salanic) lives with his single mother (Mota) and siblings, struggling to make a living as the gap grows between rich and poor. In this hyper-religious society, Jose has learned to conceal his sexuality, limiting physical contact to random encounters organised with a phone app. Then he makes a connection with Luis (Herrera), a construction worker from the countryside. As they fall in love, Luis wants to run away together, but Jose simply can't abandon his mother. He still needs to learn that he can indeed have a happy ever after.

Jose and Luis' relaxed, hopeful connection beautifully catches how neither imagined they could find a relationship like this. Cinematographer Paolo Giron skilfully frames the characters within dramatic wide shots of the city and the gorgeous countryside in contrast to much grittier interiors. Many sequences are virtually free of dialog, offering a slice-of-life depiction of a typically busy Latin American city and its complex mix of past and present.

Both Salanic and Herrera deliver such off-handed performances that the audience often feels like voyeurs. Their connection is very sweet, generating a startling intimacy whenever they're together, so their conversations are minimalistic and edgy. Their separation is clearly devastating to Jose, even though he isn't allowed to show it. As Jose's devout mother, Mota is a remarkably quiet, a woman whose first course of action is always to turn to God, urging her children to do the same.

Cheng adds texture with side-plots about Jose's clashes with his blustery boss (Yojcom), romantic issues with coworkers (Waleska and Lopez) and a sojourn with his grandmother (Lemus). The film also subtly depicts the society's deep religious culture, as well as the threat of violence and economical injustice. In this sense, Jose is doubly doomed by being poor and gay. And as if his life isn't precarious enough, an earthquake hits in the middle of the night. But maybe that's the shake-up he needs to get on with his life.
15 themes, language, violence, sexuality
---
6.Sep.18 vff
R E V I E W B Y R I C H C L I N E
The Year I Lost My Mind


Jahr des Tigers
dir-scr Tor Iben
prd Tor Iben, Julia Kuhne
with Alexander Tsypilev, Julien Lickert, Patrick G Boll, Astrid Kohrs, Eva Nurnberg, Toni Kadrija, Michael del Coco, Jean Denis Romer, Joko Koma, Juan Carlos Lo Sasso, Tom Pilath, Helena Hentschel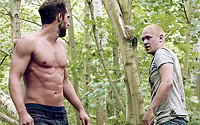 release Ger 25.May.18,
US Jul.18 qf, UK 27.Aug.18
17/Germany 1h25


Dark and intense, this slow-burning German thriller has very little dialog as it follows a young man who indulges in his personal urges in some dangerous ways. Writer-director Tor Iben has a nice visual sensibility, seeing things through his protagonist's eyes to reveal a yearning that's more than a little unsettling. So it's rather frustrating that the plot doesn't go somewhere meaningful.

In Berlin, slacker Tom (Tsypilev) lives with his mother and sister (Hors and Nurnberg) and keeps mainly to himself, collecting masks and burglarising flats and bars with his friend Rachid (Boll). In one of these homes, Tom spots the hot young Lars (Lickert) asleep in bed and, seeing that he's gay, becomes obsessed, following him around town and even returning to watch him sleep. But Tom gets careless, so Lars becomes more vigilant. And when Lars chases Tom down, their fistfight in the woods takes an unexpected turn.

Iben tells this story hesitantly, echoing the way Tom is awkwardly and silently grappling with his desires, which echoes in his half-hearted attempts to cruise in a park or sex club. Since Tom is a closeted gay man, his mask collection is a little on the nose. As is the way he has a few ominous encounters with similarly disguised people, including an apparently murderous motorcyclist (Kadrija). Meanwhile, Lars is a university lecturer who teaches students about the history of same-sex unions and homophobia.

The acting is naturalistic and understated, almost to the point that the characters are somewhat blank. Tsypilev nicely conveys Tom's curiosity and his lack of boundaries, although he barely interacts with his mother or sister at home and mainly gazes silently at Lars, so his deeper thoughts remain elusive. There's more of an attempt to show Lars in other settings, although none of them tell us much about him, whether interacting with students or gossiping with his best friend (del Coco).

Perhaps Iben's idea is to contrast these two men: one who can't admit his own desires, and the other casually living a normal life as a man who just happens to be openly gay. The film is directed observationally, and with its wisp of a plot feels almost like a short film stretched to feature length. But there are constant surprises, both subtle insights and offbeat twists in the story. Where it goes doesn't quite make sense, but it's provocative and very creepy.
18 themes, language, sexuality
---
26.Aug.18
---


< < F O R E I G N > >
See also: SHADOWS FILM FESTIVAL

© 2018 by Rich Cline, Shadows on the Wall


HOME | REVIEWS | NEWS | FESTIVAL | AWARDS | Q&A | ABOUT | TALKBACK