SHADOWS ON THE WALL | REVIEWS | NEWS | FESTIVAL | AWARDS | Q&A | ABOUT | TALKBACK

Shadows off the beaten path
Indies, foreigns, docs, revivals and shorts...
On this page: ARCADIA | GENERATION WEALTH
STUDIO 54 | STUMPED
< < D O C S > >
last update 15.Jun.18
See also: SHADOWS FILM FESTIVAL
---

R E V I E W B Y R I C H C L I N E
Arcadia

dir Paul Wright
prd John Archer, Mark Atkin
voices Ian Sexon, Laura Rennie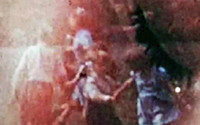 release UK 21.Jun.18
17/UK BFI 1h18

---


Compiled from more than 100 film clips taken from a century of movie history, this kaleidoscopic film has a distinctly British slant as it explores the relationship people have with the land. Scottish filmmaker Paul Wright takes a playful approach, giving everything a nature-worshipping slant that adds a kind of Wicker Man sensibility to the whole movie. And while it's charged and witty, its messages are all over the place.

Vintage film and TV footage is taken from the British Film Institute archive, as well as regional archives around the UK, looking at both the natural world and what men have done to it. The opening scenes dig into the dirt itself, then move through agrarian communities and village life. These elements are all depicted in rituals, from children playing in fields to carnivals, parades, naked communes and pagan rites. And then there's the impact of industry and capitalism, as seen in the destruction of the land as well as natural disasters.

Wright's approach is more than a little indulgent, using ponderous chapter headings and deliberately provocative juxtapositions. Thankfully, the imagery is so astonishing that it's easy to stick with it as it spirals through a variety of clashing themes. From grainy old black and white clips to sharp high-def colour ones, much of this material is strikingly artistic, assembled in clearly painstaking ways that often elicit a smile, sometimes a gasp. And snippets of narration, both new and from the footage itself, add extra layers of texture.

The best things on-screen are the contrasts. Idyllic scenes of an imagined perfect past give way to creepy scenes of secret societies and social unrest. Images of natural beauty sit alongside ugly smoke-belching factories. Posh people do very silly things in their rarified environment, while the poor continually bear the brunt of their cruel economic policies. All of this is augmented with a moody, sometimes exhilarating score by Adrian Utley (Portishead) and Will Gregory (Goldfrapp).

As the film continues, Wright becomes increasingly muddy about what he's trying to depict here. He assembles clips as if to say that living in harmony with nature is the purest form of culture, then he extols the wonders of technology. But are men the cause of the problem, the victim of it, or both? The central thrust seems to be that humans are meant just to love and, most importantly, to dance: in traditional styles, naked in woodland clearings, at music festivals, in raves. If that's all there is to this film, then it's understandable that our first response is to shrug.
15 themes, language, violence, nudity
---
21.May.18

R E V I E W B Y R I C H C L I N E
Generation Wealth


MUST

SEE
dir-scr Lauren Greenfield
prd Frank Evers, Lauren Greenfield, Wallis Annenberg
with Lauren Greenfield, Florian Homm, Kacey Jordan, Frank Evers, Noah Evers, Gabriel Evers, Patricia Greenfield, Sheldon Greenfield, Eden Wood, Tiffany Masters, Jackie Siegel, Sarah Jane Ho, Brett Easton Ellis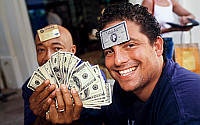 release US/UK 20.Jul.18
18/US Amazon 1h46


SUNDANCE FILM FEST
BERLIN FILM FEST


Filmmaker Lauren Greenfield takes her fabulous doc The Queen of Versailles and spirals out to explore the much bigger picture, creating one of the most vital, urgent films in years. An expertly assembled documentary packed with striking imagery, it's also a riveting exploration of consumerism, taking a surprisingly personal approach that touches on unexplored aspects of a society that's addicted to monetising virtually everything.

As she looks back at her 25-year career, Greenfield sees a connecting theme in her photographs and films: the obsessive craving for more of everything. This need for wealth isn't just about money, it's an addiction that includes sexualisation and body image issues. Has the American dream turned into a fictionalised depiction of who we wish we were, pretending to live a life that we know we can't afford and to be someone we aren't? The fallout here includes crippling debt, crumbling bodies due to surgery and collapsing families.

The point is made that all civilisations, as they begin to decline, flame out in a flamboyant display of excess. But Greenfield isn't pointing fingers here; she explores her own workaholic tendencies even as she weaves her husband (producer Evers) and sons (teens Noah and Gabriel) right into the core of the film. She also tellingly interviews her parents (Patricia and Sheldon) and revisits subjects of her earlier work, which allows her to include staggering narratives that span decades, each adding a telling angle to the overall film.

Greenfield edits this together beautifully, creating a powerful momentum through the cleverly assembled sequence of clips and photographs, plus remarkably candid interviews from a wide variety of people who each has something important to say on the subject, even if they don't realise it themselves. And the churning score by Jeff Beal provides a beautiful connective tissue, drawing out the emotional beats without ever pushing the point.

Indeed, the film has quite a wide range of messages, carefully linking what seem to be disparate elements of global culture into a single terrifying thread that reveals the ultimate destructive dehumanisation of unfettered capitalism. When governments spend far beyond their means, it's no surprise that people do too, aspiring to a life that no one actually needs. And since greed only begets greed, no amount of money or surgery is ever enough. So it's also a good thing that, right from the start, Greenfield is careful to introduce a thematic stream exploring what actually brings happiness.
15 themes, language, nudity
---
3.Jun.18 slf
---

R E V I E W B Y R I C H C L I N E
Studio 54


dir Matt Tyrnauer
prd John Battsek, Corey Reeser, Matt Tyrnauer
with Ian Schrager, Steve Rubell, Jack Dushey, Marc Benecke, Don Rubell, Bill Hamilton, Scotty Taylor, Myra Scheer, Carmen D'Alessio, Ron Galella, Nile Rodgers, Norma Kamali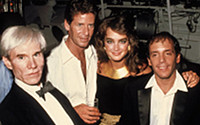 release US Jan.18 sff,
UK 15.Jun.18
18/US 1h38

---
SUNDANCE FILM FEST
The full story of New York's most iconic disco has never been told before, and this documentary is full of eye-opening firsthand details. It also features photos and film footage that reveal the hedonism at Studio 54 from its opening in 1977 until its closure in early 1980. It's a strikingly well-made film, assembled to reflect the mood of the day and the feelings of the people who were there.

Ian Schrager and Steve Rubell met at 18 and became fast friends, eventually going into business together to open what they hoped would be the hottest spot in Manhattan. Converting an old theatre on 54th Street, which had been used as a TV studio, they created an escape from the world outside, a fantastical world where people were free to be themselves without fear. The club's success was far beyond anyone's expectations, hosting the biggest stars in the world along with a carefully selected local crowd. And it kept buzzing until Schrager and Rubell were caught skimming cash to avoid paying taxes.

The film shows that their business model was dodgy from the start, circumventing alcohol licensing while openly supplying illegal drugs to patrons. Rubell was the front man, a colourful character who always had something to say, living as an openly gay man in the club but closeted at home. Schrager was the businessman, the silent partner. And the two were inseparable friends right up until Rubell's death from Aids-related causes at age 45 in 1989.

Largely narrated by Schrager in new interviews (plus Rubell in archive material), the film nicely frames the story in the friendship between these two men. Their mutual affection is vivid, as is the way they maintain their united front in the face of everything that comes at them. Filmmaker Tyrnauer doesn't shy away from their illegal business dealings, but he never digs very deeply into them. Still, Schrager's honesty about what happened is refreshing and often emotionally resonant.

It's also important that the film puts the club carefully into its context before Reagan and the Aids epidemic. Among many highlights is the young Michael Jackson chatting about what makes Studio 54 so special. This adds a blast of nostalgia to the swirling concoction of soaring disco music with scenes of riotous partying in the club's heyday. So it's no wonder people would do anything to get in and join the biggest stars on the planet having the time of their lives.
15 themes, language, nudity
---
18.Apr.18

R E V I E W B Y R I C H C L I N E
Stumped


dir Robin Berghaus
prd Robin Berghaus, Bryan W Davies, Sam Kauffmann, Kevin McCarthy
with Will Lautzenheiser, Angel Gonzalez, Tom Lautzenheiser, Steve Delfino, Dorothy Lautzenheiser, Robert Lautzenheiser, Aine Lautzenheiser, Richard Mangino, Bohdan Pomahac, Simon Talbot, Matthew Carty, Marissa Osborne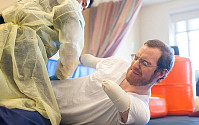 release US Mar.17 ciff,
UK Mar.18 flare
17/US 1h12

---


This sharply observed documentary tells two distinct stories, initially chronicling how a young man turned to stand-up comedy to put his life-altering disability into perspective. And then it shifts into an often startling look at the process of organ transplants, as he goes through a relatively new procedure that would give him a new set of arms. The warm humour and honesty of everyone on-screen makes the film both engaging and vital.

Will Lautzenheiser was just about to start a new job as a film professor when he felt a pain in his legs. It turned out to be a viral infection, and doctors were forced to amputate his arms and legs to keep him alive. Obviously, recovery was painstaking, as Will was patiently helped along by his partner Angel, his twin brother Tom and his sidekick Steve. And he found that performing stand-up comedy routines helped him cope, while also drawing attention to issues surrounding disability. Then he hears about a breakthrough arm transplant procedure, and a whole new process of rehabilitation is required.

The film is most compelling when it centres on Lautzenheiser's personal journey, exploring how he feels about each step of this astonishing journey. His use of gallows humour is remarkable, because it diffuses any awkwardness we might feel about watching him go about his everyday life, including some striking point-of-view sequences that graphically expose his vulnerabilities. He's such a likeable guy, with such a strong wish to make something positive out of this, that we can't help but be inspired.

Thankfully, neither Lautzenheiser nor filmmaker Berghaus milk this material for sentimentality. Everything is presented with a matter-of-fact smile, including some genuinely wrenching moments of personal struggle. It's fascinating to see previous transplant patient Mangino talk to Lautzenheiser about the little joys like being able to scratch his nose again. And watching the occupational therapists teach Lautzenheiser how to do things on his own reminds us how much we take for granted.

But again, this film never pushes these points. It reveals the events with warmth and humour, focussing on the relationships and personal challenges until the whole transplant topic takes over in the final segment, as Lautzenheiser becomes a spokesman for organ donors. This kind of weakens the drama of his own experience, turning the movie into a public service announcement. But it's a powerful one, and it leaves us with a lot to think about.
15 themes, language, grisliness
---
30.Mar.18
---


< < D O C S > >
See also: SHADOWS FILM FESTIVAL

© 2018 by Rich Cline, Shadows on the Wall


HOME | REVIEWS | NEWS | FESTIVAL | AWARDS | Q&A | ABOUT | TALKBACK