SHADOWS ON THE WALL | REVIEWS | NEWS | FESTIVAL | AWARDS | Q&A | ABOUT | TALKBACK

Shadows off the beaten path
Indies, foreigns, docs, videos, revivals and shorts...
On this page: AI WEIWEI: NEVER SORRY | THE QUEEN OF VERSAILLES
SAMSARA | SHUT UP AND PLAY THE HITS

< < D O C S > >
last update 26.Aug.12
See also: SHADOWS FILM FESTIVAL

R E V I E W B Y R I C H C L I N E
Ai Weiwei: Never Sorry


dir-scr Alison Klayman
prd Alison Klayman, Adam Schlesinger
with Ai Weiwei, Chen Danqing, Li Zhanyang, Evan Osnos, Ethan Cohen, Phil Tinari, Lee Ambrozy, Zuoxiao Zuzhou, Rong Rong, Hsieh Tehching, He Yungchang, Gu Changwei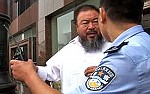 release US 27.Jul.12,
UK 10.Aug.12
12/US 1h31

---
SUNDANCE FILM FEST
BERLIN FILM FEST

Strikingly well-assembled to tell an important, relevant, almost too-current story, this documentary holds our interest on several levels as it explores contemporary art, political activism and the situation for dissidents in China. It also puts Ai's striking art in startling context.

Ai Weiwei is one of China's most famous artists, with major installations around the world. As a documentary crew follows him over a few years, he travels to London, Munich and New York, and is almost always in trouble back home in Beijing due to his outspoken comments about the Chinese government. Sure enough, in 2011 he disappeared for three months, interrogated by officials who then charged him with tax evasion and told him he could no longer use Twitter, speak to the press or leave Beijing. Well, he has managed to do one of those.

At this point (October 2011) the film ends, leaving us wondering what happened next. But then, Ai is still in the headlines, challenging authority in startling ways: smashing a priceless antique vase to protest the destruction of history, designing Beijing's iconic Bird's Nest Stadium then criticising how officials staged the Olympics, publicising 70,000 earthquake victims the government refused to acknowledge. Even his London exhibition of 100 million hand-painted sunflower seeds was a quiet protest about individuality. He describes himself as a chess player waiting for his opponent to make a move.

The film is rambling and somewhat easily distracted by long flashbacks and digressions. But it's also an observant fly-on-the-wall doc, cleverly narrated with on-screen graphics and extensive interviews with Ai and his family and friends, all of whom interject humour and energy into the film. Ai is predictably open and relaxed, and also matter-of-fact about the extraordinary twists and turns of his life, perhaps because his father was imprisoned as a dissident poet.

He calls his art social, not political, inspired by his years in New York as a student, witnessing free protest for the first time then watching the events of Tiananmen Square and the fall of Soviet Europe. "Once you experience freedom, it remains in your heart," he says, fully understanding the absurdity (and danger) of his situation without losing his optimism and curiosity. No wonder he inspires so many people.
15 themes, language, violent images
---
7.Jun.12

R E V I E W B Y R I C H C L I N E
The Queen of Versailles


dir Lauren Greenfield
prd Lauren Greenfield, Mette Heide
with Jackie Siegel, David Siegel, Richard Siegel, Marisa Gaspay, Virginia Nebab, Wendy Ponce, Cliff Wright, Oscar Goodman, Victoria, Kirby, Drew, David, Jonquil, Debbie, Daniel, Katie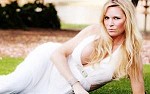 release US 6.Jul.12,
UK 7.Sep.12
12/US 1h51

---
SUNDANCE FILM FEST

Filmmaker Greenfield has a wonderful eye for the absurd, finding moments of offbeat humanity all the way through this involving documentary. It begins as a comical chronicle of a ludicrously wealthy family, then shifts into something much more dramatic.

David Siegel made such an obscene fortune with his time-share business that his 30-bedroom home didn't seem big enough. So he started building the largest family home in America, a 90-room Orlando behemoth he named Versailles. He has seven children with his third wife Jackie, a former Mrs America with a computer engineering degree who runs the household with her lively intelligence and earthy sense of humour. But the 2008 financial crisis changes everything, as banks stop lending money for people to buy time-shares and the Siegels are forced to downsize.

There's something obscene about the Siegels commenting that their 2,500-square-meters home, which has 17 bathrooms, is "bursting at the seams". The new house has 30 bathrooms and 10 kitchens, plus a grand ballroom, bowling alley and skate rink. David lures customers saying that if you can't be rich, feel rich by staying in a luxury time-share. More disturbing is his confession that he put George W Bush in the White House with massive donations that "may not have been legal".

So as they try to rein in their spending, David sinks into a dark depression, while Jackie reacts by continuing to buy things that they don't really need. And the filmmakers continue to find irony in every scene, often by merely prowling around the house, which is overrun by spoiled children (and dogs) who have no clue what it means not to be able to have anything they want.

With the crash of 2008, the Siegels' story takes on far more resonance. And filmmaker Greenfield rolls with the punches, capturing details that are both entertaining and sobering. When the unflappable Jackie sees the impact of layoffs, she starts a massive charity thrift shop, while David gets even more despondent ("Nothing makes me happy these days"). The bankers don't want to help; they want to foreclose on the unfinished Versailles. This is a big downer in a doc that starts as a comedy, but it also makes the film chillingly important.
PG themes, some language
---
25.Apr.12 slf

R E V I E W B Y R I C H C L I N E
Samsara


MUST

SEE
dir Ron Fricke
prd Mark Magidson
scr Ron Fricke, Mark Magidson
with Oscar de Sagazan, Tai Lihua, Kikumaru, Marcos Luna, Hiroshi Ishiguro, Crisanto Neire, Ni Made Megahadi Pratiwi, Putu Sri Candra Dewi, Putu Dinda Pratika, Robert Henline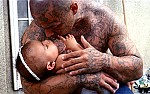 release US 24.Aug.12,
UK 31.Aug.12
11/US 1h39

---
TORONTO FILM FEST
A beautifully textured exploration of the human soul, this non-narrative doc has no speaking roles and no clear through-line, but it's so sumptuously shot, edited and scored that it holds us in rapt attention. And it's also sharply moving.

Filmmakers Fricke and Magidson spent five years travelling around the world shooting scenes that depict human rhythms and soulful yearnings. The focus is on spirituality, from monks in Myanmar to assembly-line workers in China to a library devastated by Hurricane Katrina. It explores how human culture and nature exist in a give and take, shown both through both sweeping landscapes and the tiniest detail. And the images are intertwined with a constantly shifting music and song score by Michael Sterns, Lisa Gerrard and Marcello De Francisi.

Filmed in 70mm and projected in super-high-def 4K (why not Imax?), the movie plays on juxtaposition, cutting from life to death, luxury to poverty, Indonesian dancers to a fiery volcanic eruption. The most magical sequences involve a clever use of time-lapse photography, playing with the movement of the sun, moon and stars or timing people's movements to the rhythms of the expressive score, which reflects moods from reflect elegiac emotion to tribal energy.

Repeated images involve sand, as it fills abandoned houses or as the sun and moon shine over the course of a day, creating what looks like a luridly animated painting. There are also clever images of statues and mountains that seem to observe the passage of time. People are photographed staring directly down the lens, which is sometimes rather unnerving. All of this allows us to interpret the images on our own terms.

That said, Fricke has a political agenda, as he cuts from a grimy slum to the Palace of Versailles or photographs burkha-clad women in front of a billboard of male underwear models. Chinese factories both build things and dismantle them. The scale of chicken and beef production lines is horrific, especially as the view shifts to scenes of oblivious consumerism and plastic surgery. And there's a sobering section exploring the industry and impact of global gun culture. In other words, humanity is great at building things. But we may be even better at destroying our planet. And ourselves.
12 themes, some grisly imagery
---
30.Jul.12

R E V I E W B Y R I C H C L I N E
Shut Up and Play the Hits


dir Will Lovelace, Dylan Southern
prd Thomas Benski, James Murphy, Lucas Ochoa
with James Murphy, Keith Wood, Chuck Klosterman, Nancy Whang, Tyler Pope, Pat Mahoney, Gavin Russom, Al Doyle, Matt Thornley, Phil Skarich, David Scott Stone, Gunnar Bjerk

release US 18.Jul.12, UK 4.Sep.12
12/UK 1h48

---
SUNDANCE FILM FEST


For someone aware of LCD Soundsystem but unfamiliar with their work, this film is an odd experience: like attending the funeral of someone you only tangentially knew. But the elegiac tone is infectious, it touches on profound ideas and the music is magnificent.

On 2 April 2011, LCD Soundsystem played its final, extravagant four-hour show at Madison Square Garden. At the peak of their popularity, frontman Murphy had decided to disband the group and go out on top. And no one knew why. Filmmakers Lovelace and Southern cover the 48 hours around the live event, intercutting the performance with Murphy's pre-concert interview with a journalist (Klosterman) and his experiences in the day after his band ceased to exist.

In other words, this is more a doc about Murphy than a concert movie. Clearly, Murphy regards interviews as a necessary evil, one of the things he longs to escape by dissolving the band. By contrast, he seems relieved to wake up the next morning with his plump French bulldog, make coffee ("I like making coffee!") and sleepily wander the streets of New York. When he speaks, he peppers his thoughts with literary references. And when he performs, he fills the arena with witty, pointed lyrics and densely mixed sounds.

Every element of this film is expertly shot (Spike Jonze operated a camera) to paint an impressionistic portrait of a renaissance man who got his start in the music business at the relatively late age of 30 and was ready to retire at 41. There's not much background information, no real commentary from friends or family and, ultimately, little insight Murphy's decision to step down beyond his general exhaustion.

But this clinical-style observation is packed with emotional subtext. Murphy will obviously miss the energy of live performance and communicating his ideas through music. He breaks down in tears when he enters a storage room packed with items from the band's history. He wistfully talks about finally having the chance to have kids, even though he hasn't had time to have a relationship with anyone but his dog. It's an oddly moving film that never quite breaks the surface, leaving us haunted by its unconventional slant on fame and success.
15 themes, language

14.Aug.12


< < D O C S > >
See also: SHADOWS FILM FESTIVAL

© 2012 by Rich Cline, Shadows on the Wall


HOME | REVIEWS | NEWS | FESTIVAL | AWARDS | Q&A | ABOUT | TALKBACK