SHADOWS ON THE WALL | REVIEWS | NEWS | FESTIVAL | AWARDS | Q&A | ABOUT | TALKBACK

Shadows off the beaten path
Indies, foreigns, docs, revivals and shorts...
On this page: BEACH RATS | BUSHWICK
MOON DOGS | SEAT IN SHADOW
< < I N D I E S > >
last update 26.Aug.17
See also: SHADOWS FILM FESTIVAL
---

R E V I E W B Y R I C H C L I N E
Beach Rats


dir-scr Eliza Hittman
prd Brad Becker-Parton, Andrew Goldman, Drew P Houpt, Paul Mezey
with Harris Dickinson, Madeline Weinstein, Kate Hodge, Frank Hakaj, David Ivanov, Anton Selyaninov, Nicole Flyus, Harrison Sheehan, Neal Huff, Douglas Everett Davis, Gabriel Gans, Erik Potempa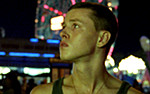 release US 25.Aug.17,
UK 24.Nov.17
17/US 1h35

---
SUNDANCE FILM FEST


Despite a couple of slightly clanking plot points, there's the lovely aura of Gus Van Sant hovering around this loose, introspective teen drama. It's so finely observed that it can't help but draw the viewer deep into the story of a young man struggling to make sense of his identity while surrounded by his lifelong friends. The point of view is so strong that the other characters barely exist.

Frankie (Dickinson) lives on the edge of Brooklyn with his hard-working mother (Hodge), his dying father (Huff) and his independent-minded sister (Flyus). He hangs out with his buddies (Hakaj, Ivanov and Selyaninov) on the boardwalk, scamming cash to buy weed. While he begins a tentative romance with the hopeful Simone (Weinstein), Frankie is actually cruising the webcam chatrooms looking for older men. In his world, thinking of himself as gay is unthinkable. But he's starting to realise that this is something he needs to confront in himself.

Writer-director Hittman lets this unfold in tight close-ups following Frankie through a series of aimless days, killing time with friends, trying to be a good boyfriend for Simone and facing the death of his father, all while keeping his sexual urges a secret from everyone. Obviously, his identity emerges here and there, invisible to most of the people around him. But the camera sees everything through Frankie's eyes, so he feels the pressure growing.

In his first lead role, British actor Dickinson delivers a knock-out performance. He gives Frankie a complex inner life expressed through conflicting reactions that startle Frankie even more deeply than those around him. Clearly an artist to watch, Dickinson is simply magnetic, deliberately leaving the other characters on the periphery. Weinstein, Hodge and Flyus offer fascinating portrayals of women who clearly have full lives off-screen. And Sheehan registers strongly as one of Frankie's hook-ups.

The film feels intensely visceral, as director Hittman fills the screen with wiry young men usually with their shirts off as they enjoy the balmy weather, dive in the sea and play sports together. Yes, it's extremely homoerotic, but then that's the point considering that we're watching through Frankie's yearning eyes. Perhaps some more detail about his three friends might have made them more engaging. And also a little less dread that the plot seems likely to take a moralistic turn. But it's the kind of film that gets us thinking. And it also marks the birth of a star.
18 themes, language, sexuality, violence
---
1.Aug.17

R E V I E W B Y R I C H C L I N E
Bushwick


dir Cary Murnion, Jonathan Milott
scr Nick Damici, Graham Reznick
prd Nate Bolotin, Adam Folk, Joseph Mensch
with Dave Bautista, Brittany Snow, Angelic Zambrana, Christian Navarro, Jeremie Harris, Alex Breaux, Barthelemy Atsin, Jeff Lima, Quincy Chad, Leo Minaya, Arturo Castro, Myra Lucretia Taylor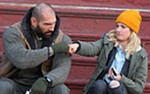 release UK Jun.17 sllf,
US 25.Aug.17
17/US 1h34

---
SUNDANCE FILM FEST
CANNES FILM FEST


This busy thriller unfolds in unexpected ways as it propels us along with the characters through an inventive premise. But it's all a bit haphazard, with uneven writing and acting and a gnawing sense that there isn't much of a point to all the carnage. Still, it's a ripping little action movie that refuses to let its low-key production values get in the way of its big ambitions.

Lucy (Snow) and Jose (Castro) are on a normal night out when chaos rains down from above Bushwick in Brooklyn. Masked commandos in helicopters are blowing things up and shooting anyone who moves. Is this a foreign invasion? Separated from Jose, Lucy meets Stupe (Bautista), an ex-Marine man mountain, and they must head directly into the fray in search of a way to escape. As they run from one violent encounter to another, they rescue Lucy's stoner sister (Zambrana) and connect with a gang whose stash of weapons gives them better odds.

A lot of things happen along the way, including the capture of a commando (Breaux) who reveals a chilling master plan. And directors Murnion and Milott shoot this to resemble a one-take thriller, which keeps things moving briskly, aside from a big monologue scene. The problem is that it's all so contrived that it never feels very organic. The invaders are simply unable to shoot our heroes, and convenient characters and props are found in just the right places.

There's also the problem that the cast can't sell any of this. Dialog veers from hilarious one-liners to knowing irony to dark emotion, but the general craziness of each scene leaves the actors looking unsure how to play this one. And it doesn't help that is Lucy clingy and ditsy, while Stupe is strong and silent, because there are no other textures for Snow and Bautista to play. And the other characters are even less defined.

Despite a meagre budget, the film looks good, with convincing effects providing plenty of military destruction and some cool aerial sequences. But while the general frenzy of action will please some audiences, it's a shame the script doesn't let the characters develop any real sense of camaraderie or connection. This thinness limits the impact of the bigger emotional moments, because we're not sure why we should care that these people survive. And also because it telegraphs every key plot point just before it happens.
15 themes, language, violence
---
30.May.17
---

R E V I E W B Y R I C H C L I N E
Moon Dogs


dir Philip John
prd Kathy Speirs
scr Derek Boyle, Raymond Friel
with Jack Parry-Jones, Christy O'Donnell, Tara Lee, Claire Cage, Jamie Sives, Kate Bracken, Tam Dean Burn, Niall Greig Fulton, Shauna Macdonald, Denis Lawson, Chris Donald, Matthew Tomlinson

release US Apr.17 nbiff,
UK 1.Sep.17
16/UK 1h33
---
EDINBURGH FILM FEST

A snappy script and sparky characters make this offbeat comedy-drama solidly engaging. The plot has a spiralling energy to it that draws the audience in, sympathising with a collection of likeable losers who are in dire need of a break. This is a very strong directing debut for Welsh filmmaker Philip John, packed with visual panache and a lovely sense of musicality.

In Shetland, Michael (Parry-Jones) is annoyed that has to wait a year to go to university, working an awful fish factory job, while his arty-musician stepbrother Thor (O'Donnell) needs his computer skills to play pub gigs. Michael's mum (Cage) and Thor's dad (Sives) are desperate to connect with their sons. But Michael convinces Thor to run off with him to Glasgow, in pursuit of his girlfriend (Bracken). In Orkney, they collect unexpected companion Caitlin (Lee) and embark on a series of adventures that shift the dynamics between these three young people.

The film is strikingly well shot in a series of spectacular locations as the boys cross the islands on their way to the mainland. While the sound-mix swallows some of the dialog, Boyle and Friel's script gives each character a vivid personality that makes them fun to spend time with. All of them have issues that they're working on, or perhaps don't yet know that they need to work on. And they're all worth rooting for.

As the charming-idiot Michael, Parry-Jones is seriously endearing, making the most of each embarrassing moment. Opposite him, O'Donnell is effortlessly cool as a thoughtful artist with a quiet quest of his own (although his pink-hued Absinthe trip feels unnecessary). Lee's Caitlin is the feisty character who continually reveals surprising details as she toys with the boys' affections. And Sives and Cage get to add some pathos as parents who feel out of touch with their children.

The film is a realistic blend of light comedy and dark drama, and some of the heavier scenes have real bleakness to them that cuts quite deep. But the trajectory of the story is packed with superb touches that bring out character detail in ways that are entertaining and pleasantly provocative. The multi-angled story builds to a series of cathartic scenes that cleverly illuminate even more about these people and the journey they are taking. And it's a beautiful depiction of how life gets a whole lot better that when you stop fighting and work together.
15 themes, language, violence, sexuality
---
13.Aug.17

R E V I E W B Y R I C H C L I N E
Seat in Shadow


dir Henry Coombes
prd Deva Smith
scr Henry Coombes, David Sillars
with David Sillars, Jonathan Leslie, Marcella Mclntosh, Lee Partridge, Robert Williamson, Henry Coombes, Ross Hunter, Joe Venters, Jo McQuaid, Mathew Scott, Gordon Robertson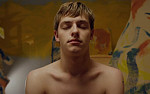 release UK 25.Sep.17
16/UK 1h21

---
EDINBURGH FILM FEST


Cleverly shot by rising-star cinematographer David C Liddell, and directed with quirky artistry by Scottish filmmaker Henry Coombes, this Glasgow-set drama is elusive and intriguing. It's also nutty and outrageous enough to intrigue fans of offbeat cinema, and it's packed with deeper themes about human connections that resonate in unexpected ways.

Bored artist and part-time psychoanalyst Albert (Sillars) finds it funny when his colourful diva friend (McIntosh) asks him to provide some therapy for her depressed grandson Ben (Leslie). A grumpy old Bohemian, Albert reluctantly agrees to meet the young man, helping him face his fears and cope with his prickly on-off boyfriend Adam (Partridge). As he interact with Ben, Albert finds his muse returning, so he and Ben hit the nightclubs, accompanied by Albert's Jungian houseplant. And Ben invites a gang of queeny friends to his next therapy session.

The script is dense and witty, with fantastical asides and dialog that's packed with amusing observations and banter. The dialog is barbed and somewhat random, veering from topic to topic so randomly that the audience is forced to pay attention. Albert is hilariously unconventional, seeing patients in his dressing gown and boxers while taking notes with bits of charcoal. He directly confronts Ben's sadness over his unemployment and loneliness, at the same time tapping into issues he refuses to see in himself.

Sillars is terrific in the central role as an older man who has a way of cutting knowingly through reality in his conversations. He's not particularly likeable, but he is endearing in his eccentricity. Opposite him, Leslie is fascinating as a naive guy who finds unexpected support from this older man. He doesn't understand the effect his youth and beauty have on Albert, but their camaraderie grows in intriguing directions. And their individual, private journeys are compelling, even as they take some freaky twists and turns.

Coombes tells the story as a collage of artful imagery and snappy conversations. The film is a riot of light and shadow, colour and texture, disarming sound and tantalising skin. The set design is cluttered and fantastical, and surreal touches abound, including a drug trip for the potted plant. Not only is filmmaker Coombes addressing issues like unreal expectations and ageism in the gay world, but he has woven through all of this a smart exploration of how people need each other to grow as humans. Especially when we think we're doing just fine on our own.
18 themes, language, sexuality
---
20.Mar.17
---


< < I N D I E S > >
See also: SHADOWS FILM FESTIVAL

© 2017 by Rich Cline, Shadows on the Wall


HOME | REVIEWS | NEWS | FESTIVAL | AWARDS | Q&A | ABOUT | TALKBACK