SHADOWS ON THE WALL | REVIEWS | NEWS | FESTIVAL | AWARDS | Q&A | ABOUT | TALKBACK

Shadows off the beaten path
Indies, foreigns, docs, revivals and shorts...
On this page: HANNAH | ON THE ROAD
1:54 | SIGNATURE MOVE
< < I N D I E S > >
last update 27.Sep.17
See also: SHADOWS FILM FESTIVAL
---

R E V I E W B Y R I C H C L I N E
Hannah


dir Andrea Pallaoro
scr Andrea Pallaoro, Orlando Tirado
prd Clement Duboin, John Engel, Andrea Stucovitz
with Charlotte Rampling, Andre Wilms, Stephanie Van Vyve, Jean-Michel Balthazar, Simon Bisschop, Fatou Traore, Luca Avallone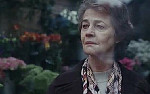 release WP Sep.17 vff
17/Belgium 1h35

---

TORONTO FILM FEST
With barely any plot development or dialog, this film is essentially a cold exercise in watching a person deal with the collapse of her family. Fortunately, she's played by Charlotte Rampling, an actress who rivets the audience even when she's just watching something happen off-screen. Which she does a lot in this movie. But in her eyes, the emotions of the situation are very real, even if we never quite understand why.

Hannah (Rampling) quietly goes about her everyday life, cleaning and tidying the flat she shares silently with her husband (Wilms), then going with him as he begins a prison sentence. He claims that he's innocent, but their son has severed all contact with both of them. Now alone at home with his pining dog Flynn, Hannah carries on as before, working as a housemaid by day and attending acting classes at night. But is there any hope for the future if she's not even allowed to celebrate her grandson's birthday?

This entire film has been designed around Rampling's minimalistic acting style, but there's nothing here that helps the viewer understand what's happening to her or within her mind. We can see her thinking, reacting, and quietly continuing to go about her mundane daily tasks, and Rampling is so amazing in the role that we can even anticipate things she might be thinking about, even if nothing in the script lets us in on it.

The result of all of this is that every scene in the movie feels random. Not one person's behaviour has any motivation, there's no back-story, only the whiff of a hint that something very bad has happened. Some people, like her son, hold Hannah equally as responsible as her husband for whatever it is, and yet she's not in prison too. Her gym membership is abruptly cancelled for no expressed reason. The dog goes on hunger strike. Artfully shot and edited, these pieces never make sense beyond Hannah's attempts to control her reactions.

And of course Rampling is mesmerising as a woman grappling with the implications of whatever it is that upended her life. As an exploration of the aftermath of a tragedy, the film certainly has merit. And watching Rampling reveal Hannah's emotions is simply stunning, from tiny flickers of a smile to a gut-churning sob. Her performance makes this worth a look, but only for audiences who don't mind slow-moving films that deliberately leave the audience outside the story.
15 themes, language, nudity
---
8.Sep.17 vff

R E V I E W B Y R I C H C L I N E
On the Road


dir Michael Winterbottom
prd Melissa Parmenter, Anthony Wilcox
with Leah Harvey, James McArdle, Ellie Rowsell, Joff Oddie, Joel Amey, Theo Ellis, Austin Williams, Bradley Griffiths, Sam Conway, Paul Popplewell, Jamie Quinn, Shirley Henderson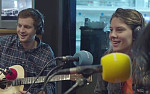 release US Mar.17 sxsw,
UK 29.Sep.17
16/UK Lorton 1h52

---

BERLIN FILM FEST

It's unclear what Michael Winterbottom was trying to do by adding a few fictional characters to a documentary about indie rockers Wolf Alice as they tour around Ireland and the UK. The film is unlikely to appeal to the band's fans, as it reveals nearly nothing about the musicians and only plays fragments of their fresh-sounding songs. And there isn't enough of a story to keep non-fans involved.

Leaving London, 21-year-old music executive Estelle (Harvey) joins Wolf Alice's tour bus as they travel to Belfast and Dublin, then back to crisscross England, Scotland and Wales before heading back to London. Accompanied by support acts Bloody Knees and Swim Deep, they relax backstage, try to sleep on the bus and struggle to maintain their energy as days turn to weeks. Along the way Wolf Alice bandmates (Rowsell, Oddie, Amey and Ellis) are interviewed by journalists, have photo shoots and appear on radio programmes. Meanwhile, Estelle has a fling with roadie Joe (McArdle).

For a rock-n-roll documentary, this film is remarkably uneventful. Aside from some after-hour raves, none of the band members gets up to any backstage antics. And all of them remain oddly enigmatic, revealing nothing about themselves or their music to the cameras. Even their interviews with the press are strangely superficial. For example, would any serious journalist waste time asking an established, hugely popular band like Wolf Alice how they got their name?

Meanwhile, the odd "romance" between Estelle and Joe sparks with precisely no chemistry at all. Their affair seems to spring from a spontaneous kiss, which leads to a series of sex scenes that Winterbottom cross-cuts with the band's performances. But this adds nothing to the film, mainly because there's no context to it. Harvey and McArdle have plenty of screen presence, and their conversations feel real, but without a script (all dialog is improvised) their plot-thread never has even a hint of meaning. And the cameo from Henderson as Harvey's mother is baffling.

Clearly, Winterbottom was going for something experimental here, but the lack of momentum and the absence of insight leaves the movie feeling bizarrely empty and very, very long. Perhaps he should have cut out the fiction and re-edited the material into a concert movie with more in-depth backstage glimpses and some full-length performances of the songs, because lead singer Ellie Rowsell and her lively band have enough charisma on-stage to hold the attention. If you like this sort of music, that is.
15 themes, language, sexuality
---
26.Jul.17
---

R E V I E W B Y R I C H C L I N E
1:54


dir-scr Yan England
prd Diane England, Denise Robert
with Antoine Olivier Pilon, Lou-Pascal Tremblay, Sophie Nelisse, Patrice Godin, David Boutin, Robert Naylor, Guillaume Gauthier, Anthony Therrien, Hudson Leblanc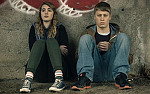 release US Oct.16 ciff,
UK Mar.17 flare
16/Canada 1h46

---


There's a driving momentum to this dark drama that makes it difficult to watch. But the acting and filmmaking are compelling, holding the attention with vivid emotions and topical resonance. This is a story about bullying that refuses to play out the way we hope it will, pushing its characters in increasingly painful directions. It's somewhat overwrought, but also important.

Tim (Pilon) is a 16-year-old outcast at school, hanging out on the fringes with his pal Francis (Naylor), who is openly gay and mercilessly bullied by Jeff (Tremblay). Tim is also gay, but can't bring himself to admit it to Francis or to his sensitive single dad (Boutin). Enraged at Jeff's actions, Tim signs up for the track team with the aim of cracking Jeff's goal of finishing the 800m in 1:54. Jeff responds by blackmailing Tim with a video clip. And their coach (Godin) doesn't know why there's so much tension between them.

Tim's dad, his friend Jen (Nelisse), the coach and other school officials are all aware that something nasty is afoot, but Tim is too frightened to explain the situation to anyone. This leads to a series of harrowing events that are devastating in their impact. Filmmaker England kind of rushes past them, leaving the fallout to echo in the air rather than taking the time to grapple with it, but the point is made with real force.

Pilon anchors the film with a wrenchingly open performance as a young guy who is afraid of everything, from his own desires to everyone around him. It's agonisingly clear that he needs someone he can talk to, but his self-imposed isolation only makes things worse. As the two adults in his life, Boutin and Godin are realistic, compassionate and unable to properly help him. And Tremblay gives a ripping, brave turn as a shallow guy who doesn't care about the repercussions of his actions.

There are some niggling inconsistencies in the plot that remind the audience that we're watching a movie with a message, but the point is so strong that we go along with it. Emotions are raw and vivid, and there are also moments of earthy humour and hopefulness to balance the story's bleak edges. In the end, the film will hopefully encourage people to be more aware of what's happening to the people around them, and more willing to seek out someone trustworthy.
15 themes, language, violence, sexuality
---
8.Mar.17

R E V I E W B Y R I C H C L I N E
Signature Move


dir Jennifer Reeder
b>scr Fawzia Mirza, Lisa Donato
prd Brian Hieggelke, Fawzia Mirza, Eugene Park
with Fawzia Mirza, Sari Sanchez, Shabana Azmi, Charin Alvarez, Audrey Francis, Molly Brennan, Mark Hood, Minita Gandhi, Molly Callinan, Mia Park, Connie Kincer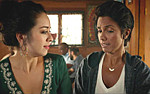 release UK Mar.17 flare,
US 29.Sep.17
17/US 1h20

---


With a sharp sense of humour and a gentle pace, this comedy is set in a multi-cultural corner of Chicago. Expanded from a short, the narrative is rather slight, but the characters are strong enough to hold the attention. And refreshingly, director Jennifer Reeder keeps the deeper themes gurgling strongly under the surface and resists preaching to the audience.

Zaynab (Mirza) is a lawyer living with her Pakistani mother Parveen (Azmi), who is always on the lookout for a husband for her. But Zaynab clearly prefers women, even if she never talks about it. One evening in a bar Zaynab meets Alma (Sanchez), who has a lively Mexican family and is openly gay. As their romance blossoms, Alma becomes increasingly troubled by the way Zaynab is hiding her from her mother. Meanwhile, Zaynab's client Jayde (Francis) is paying for her services by training her to wrestle.

This addition of lucha libre to the story adds a riotous blast of colourful action to a movie that otherwise feels a bit quiet. The film's direction is somewhat relaxed, letting most scenes play out with slow but knowing observations that are livened up by sharp editing and a terrific mix of English, Urdu and Spanish dialog. But every moment is packed with telling details about the characters, which makes all of them deeply likeable.

Veteran actress Azmi very nearly steals the show as the soap-obsessed Parveen, who watches the street through her binoculars because she's nervous about going outside ever since her husband died. Her scenes with the lively, hilarious Mirza bristle with unspoken emotion that cuts through the comical surfaces. And Mirza makes the most of the riotous wrestling scenes, literally throwing herself into the action in a way that's surprisingly meaningful. Her chemistry with the superb Sanchez is also strong.

Mirza and Donato's script never quite develops the romance between these women beyond the idea of it. Both are singletons in ethnic subcultures, surprised to discover various areas of common ground. There's a terrific group of friends around them who could have used some more screen time, adding layers to the themes*. But the way director Reeder plays with these lively people, emphasising their engaging personalities rather than the elements that set them apart, gives the movie a surprisingly resonant, important kick.
12 themes, language, some violence
---
26.Mar.17
---


< < I N D I E S > >
See also: SHADOWS FILM FESTIVAL

© 2017 by Rich Cline, Shadows on the Wall


HOME | REVIEWS | NEWS | FESTIVAL | AWARDS | Q&A | ABOUT | TALKBACK