dir-scr Magnus Martens
prd Are Heidenstrom, Martin Sundland
with Kyrre Hellum, Mads Ousdal, Henrik Mestad, Arthur Berning, Andreas Cappelen, Fridtjov Saheim, Lena Kristin Ellingsen, Peter Andersson, Jan Gronli, Marie Blokhus, Anne Marie Ottersen, Frederik Petersson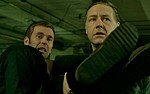 release Nor 2.Dec.11,
UK 10.Aug.12
11/Norway 1h21

---


Like Headhunters, which was also based on a Jo Nesbo story, this Norwegian thriller almost plays more like a black comedy than an action movie. It's packed with hilarious characters and situations, but is also rather intensely gripping and gleefully violent.

Detective Solor (Mestad) is investigating the discovery of seven dead bodies in Pink Heaven strip club on the Norway-Sweden border. He arrests the one survivor, Oscar (Hellum), who's caught holding a gun. But Oscar explains by telling a story about a football pool that he won with his roughneck employees Tor, Dan and Billy (Ousdal, Cappelen and Berning), leading to a series of hapless incidents on the way to the club. But Solor's sure he's stumbled onto the crime of the century. And clearly there's a lot more going on here than meets the eye.

The events unfold in flashback as Solor interrogates Oscar about the bloodbath. As he recounts the story, Solor keeps stopping him when things begin to sound fishy, such as the involvement of a local gangster (Andersson). But the more we get to know the characters, the funnier the film gets. These guys are such chuckleheads that it's not surprising when things start to go downhill very quickly. And following Oscar into the increasing chaos is both amusing and outrageously nasty.

Hellum is terrific as a nice guy caught up in an unimaginable series of events that take one surreal twist after another. And writer-director Martens packs the film with continual sight gags and comical character details that make these guys both likeable and terrifying. Oscar's three colleagues are simply hilarious, as greed makes them turn on each other in random ways. And the script is especially well constructed, cleverly keeping us guessing about what might happen next.

There are a couple of plot points that stretch credibility to the breaking point, but then this is a story about the way pure chance can change your life in ways you could never begin to expect. It's also an entertaining combination of comedy and thriller that makes us laugh one instant and cringe the next. And right to the very end, the story keeps twisting and turning, leading to a conclusion that's both corny and hugely satisfying.
15 themes, language, violence
---
17.Jun.12

R E V I E W B Y R I C H C L I N E
The Players


Les Infidèles
dir Michel Hazanavicius, Fred Cavaye, Emmanuelle Bercot, Eric Lartigau Alexandre Courtes, Jean Dujardin, Gilles Lellouche
scr Jean Dujardin, Gilles Lellouche, Stephane Joly, Philippe Caveriviere, Nicolas Bedos
prd Jean Dujardin, Marc Dujardin, Eric Hannezo, Guillaume Lacroix
with Jean Dujardin, Gilles Lellouche, Guillaume Canet, Manu Payet, Alexandra Lamy, Sandrine Kiberlain, Clara Ponsot, Isabelle Nanty, Mathilda May, Geraldine Nakache, Maeva Pasquali, Anthony Sonigo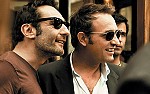 release Fr 29.Feb.12,
UK 6.Jul.12
12/France 1h49


A series of short films and comedy sketches about male infidelity, this French film is often hilariously over-the-top in its farcical excesses. But it's also packed with moments of raw honesty as men grapple with their feelings and their failures.

The film is bookended with the wildly comical adventures of two friends who are serial cheaters: Fred (Dujardin) can separate feelings for his wife and mistresses, while Greg (Lellouche) is racked with guilt because he loves each woman. So they propose a trip to Las Vegas to get it out of their system. In other clips, Laurent (Dujardin) tries to stray while attending a conference away from home, Eric (Lellouche) struggles to cope with the partying lifestyle of his 19-year-old mistress (Ponsot), and Olivier (Dujardin) and his wife (Lamy) push each other to awkward confessions.

These shorts are separated by black-out sketches involving an embarrassing emergency room encounter, as S&M session that takes some startling turns, a philanderer trying to cover his tracks, and an Adulterers Anonymous group with a flustered leader (Kilberlain). Refreshingly, the filmmakers never pass judgement, presenting infidelity as a messy fact of life that should be avoided but isn't the end of the world. This allows the actors to create layered characters who are never villains, which is much more potent than any simplified view of right and wrong.

Dujardin and Lellouche are adept at broad comedy, squeezing every laugh out of a scene. But they're just as good as pathetic men hiding behind a hotel room door, a cocktail glass or their bustling bravado. In the opening scene, they even play with masculinity, hinting that Fred and Greg's rampant sexuality masks underlying gay tension, which they flatly deny. So when we revisit them later, the actors and filmmakers tease us right to the end.

But it's the more serious moments that linger. The Dujardin-Lamy short is painful without being preachy, and it has an immaculately observed conclusion. Lellouche's odyssey with Ponsot takes unexpected turns on its way to a potent final shot. Each clip is skilfully made with moments of raw insight, broad comedy and, yes, sweaty sex. The overall effect is entertaining and much more thoughtful and provocative than we expect.
18 themes, language, violence, strong sexuality
---
14.Jun.12

R E V I E W B Y R I C H C L I N E
Romeos


dir-scr Sabine Bernardi
prd Kristina Lobbert, Janna Velber
with Rick Okon, Maximilian Befort, Liv Lisa Fries, Felix Brocke, Silke Geertz, Gilles Tschudi, Ben Gageik, Sigrid Burkholder, Johannes Schwab, Tessa Lukat, Juliane Knoppek, Ralf Rotterdam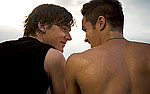 release Ger 8.Dec.11,
US 17.Jan.12, UK 2.Jul.12
11/Germany 1h34

---
BERLIN FILM FEST

Sensitive acting makes this story acutely resonant, even when the plot's relational strain starts to wear us down. But a relentless dedication to realistic characters makes this film startlingly involving. And it has a lot to say about a rarely explored area of gender identity.

When he moves to Cologne for his year of civilian service, 20-year-old pre-op trans-man Lukas (Okon) is horrified to be housed in the girls' residence. At least his old friend Ine (Fries) is there, and she won't divulge his secret, which he hides with testosterone injections and intense bodybuilding sessions. Out with Ine's friends, he meets Fabio (Befort), whose alpha-male masculinity appeals to Lukas. And when Fabio starts flirting with him, Lukas gets nervous for reasons that he can't admit even to himself.

Shot in a warm, intimate style, the film immediately puts us into Lukas' perspective. We feel his insecurity, wondering if anyone can work out his secret, and yet filmmaker Bernardi never presents him as anything but a young man (while the prosthetics in semi-naked scenes are astonishingly real). As he goes out on the town with the others, we experience his yearning to fit in, relax and just live his life without worrying. He questions whether he'll survive until he gets his operation. No wonder all of his friendships are such a mess.

The film is punctuated with video clips of Lukas connecting with others like him online, the only place he can find understanding from people going through the same experiences. These moments highlight the delicacy of Okon's performance, which is transparent and fiercely detailed. It's also fascinating to see how reactions differ from accepting or bigoted people his age and from older people who are much more resistant to change. So Lukas' sometimes unlikeable prickly stubbornness feels powerfully honest.

While this film has a lot to say about transgender issues, what makes it involving is the personal drama that keeps us fully engaged in the realistic characters and situations. Even when the plot drifts into melodrama, Okon, Befort and Fries hold our sympathies with their remarkable performances, forcing us to think about identity issues in ways we probably never have before.
15 themes, language, some violence
---
20.Apr.12

R E V I E W B Y R I C H C L I N E
Where Do We Go Now?


Et Maintenant on Va Où?
dir Nadine Labaki
prd Nadine Labaki, Anne-Dominique Toussaint
scr Rodney Al Haddid, Jihad Hojeily, Nadine Labaki, Sam Mounier
with Claude Baz Moussawbaa, Layla Hakim, Nadine Labaki, Yvonne Maalouf, Antoinette Noufaily, Julian Farhat, Ali Haidar, Kevin Abboud, Khalil Bou Khalil, Mostafa Al Sakka, Sasseen Kawzally, Petra Saghbini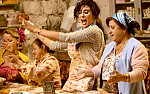 release Fr 14.Sep.11,
US 11.May.12, UK 22.Jun.12
11/France Pathe 1h50

---
CANNES FILM FEST
TORONTO FILM FEST
SUNDANCE FILM FEST

As with The Source, this ensemble film captures the energy and humour of a serious situation in a small village in the Arabic-speaking world as the women sort out their narrow-minded men. It's a bit simplistic, perhaps, but has a thought-provoking twist in the tale.

With an important bridge out, the residents of a Middle Eastern village are cut off from the sectarian violence going on around the country. Here, Christians and Muslims live happily together, although the women are worried that news from outside could spark things off again. Determined not to lose their sons to violence again, they come up with a variety of schemes to distract the men from their differences: sabotaging the TV feed, staging a phoney miracle, hiring a group of travelling Ukrainian strippers, lacing the pastries with hash.

Filmmaker Labacki vividly portrays life in this dusty, colourful village. And she undercuts the loose, slapstick tone with serious emotional moments, usually accompanied by the women breaking into heart-rending songs. Intriguingly, this approach turns the village into a fantasy setting, as the noble, poor-but-happy residents try to remain oblivious to violent clashes in neighbouring communities.

Along the way, a few women emerge as strong-willed, resourceful characters. Moussawbaa is terrific as a mother dealing with a particularly sad tragedy, Maalouf is hilarious as the resourceful wife of the bumbling mayor (Khalil), and Labaki has a sharp presence as a single mother reluctantly courting a nice-guy builder (Farhat). But most of the men are hapless, ignorant thugs who would rather throw a punch than talk to each other. So it's clear that these women have work to do.

By approaching this situation in such a loose way, Labaki simplifies it. Everything the women do is merely delaying the inevitable collision, treating the symptoms rather than the cause. As a result, the long middle act drags through several silly set pieces as we wait for the story to get to its point. Thankfully, things do come together in a clever final turn of events. It may be rather glib, but it stops the men (and us) in their tracks.
15 themes, language, violence
---
17.May.12


< < F O R E I G N > >
See also: SHADOWS FILM FESTIVAL

© 2012 by Rich Cline, Shadows on the Wall


HOME | REVIEWS | NEWS | FESTIVAL | AWARDS | Q&A | ABOUT | TALKBACK