dir-scr Christophe Honore
prd Pascal Caucheteux
with Chiara Mastroianni, Catherine Deneuve, Ludivine Sagnier, Louis Garrel, Milos Forman, Paul Schneider, Rasha Bukvic, Michel Delpech, Omar Ben Sellem, Dustin Segura Suarez, Guillaume Denaiffe, Clara Couste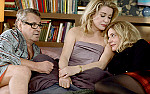 release Fr 24.Aug.11,
UK 11.May.12, US 17.Aug.12
11/France 2h19

---
CANNES FILM FEST
TORONTO FILM FEST

Adventurous French filmmaker Honore returns to the musical genre, but this film isn't as buoyant as the wonderful Les Chansons d'Amour (2007). No, this one is dark and rather grim. And it feels about an hour too long.

In 1964 Riems, Madeleine (Sagnier) accidentally begins moonlighting as a prostitute before falling in love with a client, the charming Czech doctor Jaromil (Bukvic). He whisks her off to Prague, until the Russian invasion of 1968 and Jaromil's infidelity drive her back to France with daughter Vera. Madeleine remarries, but never loses her feelings for Jaromil. Even some 40 years later (now played by Deneuve and Forman), they're meeting in secret, while Vera (now Mastroianni) is struggling with the fact that she has fallen in love with the wrong man (Schneider).

As in the previous film, Alex Beaupain's songs are low-key internalised musings, either monologues or duets that let the characters express their private feelings. They're also performed live as dialog, not as big set-pieces, and are usually quite melancholic, which makes the whole film feel somewhat drab and gloomy. These are all people who make a mess of their romantic lives as they struggle to cope with lingering feelings toward each other.

The plot is so sprawling, with such a wide range of characters followed over so many decades, that watching it feels like reading a novel. People come in and out of each others' lives, usually causing additional problems. Vera's American boyfriend in London says he's gay but can't keep his hands off her, while the Frenchman (Garrel) who loves her watches on haplessly. Which of course echoes the way Madeleine's second husband (Delpech) sees Jaromil.

Is Honore's point that true love is a feeling that runs so deep that it can derail your life? The central lyrical theme seems to be, "I can live without you, but not without loving you", which becomes more than a little bleak when the film stretches on for more than two hours. At least it's beautifully shot and edited, and the cast is extremely watchable even if they play a bunch of mopers. But in the end, there's just too much of it to keep us interested.
15 themes, language, sexuality, violence
---
2.Apr.12

R E V I E W B Y R I C H C L I N E
Even the Rain


MUST

SEE También la Lluvia
dir Iciar Bollain
scr Paul Laverty
prd Juan Gordon
with Luis Tosar, Gael Garcia Bernal, Juan Carlos Aduviri, Karra Elejalde, Raul Arevalo, Carlos Santos, Cassandra Ciangherotti, Milena Soliz, Leonidas Chiri, Ezequiel Diaz, Pau Colera, Vicente Romero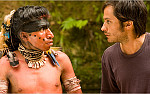 release Sp 5.Jan.11,
US 18.Feb.11, UK 18.May.12
10/Spain 1h43

---
TORONTO FILM FEST


This ambitious film weaves three plot elements into an overall narrative about colonialism and greed. And it's rather startling how well it comes together, daring to set a historical story straight while revealing telling aspects of our world today.

Costa (Tosar) is producing a Spanish film that's shooting on location in Cochabamba, Bolivia. Writer-director Sebastian (Garcia Bernal) is insisting on raw authenticity to recount the story of Christopher Columbus' first encounter with Native Americans, and subsequent dealings between locals and the priests and conquistadores. For a lead role, he casts the indigenous Daniel (Aduviri), who spends his spare time campaigning against a British-American corporation that controls Bolivia's water, including poor people's right to collect rain water. And the brewing riot could disrupt the film's schedule.

There are three essential stories: actors rehearsing and filming scenes from 16th century Santo Domingo, filmmakers trying to get their movie shot on budget, and Daniel drawing Costa into the Cochabamba Water Wars of 2000. In historical documents, Columbus admitted how easy it was to plunder the natives' gold and take them into slavery, even as the priests knew that this was wrong. The filmmakers are only too happy to exploit the disparate economies between Europe and South America. And Bolivia's privatisation of its water supply was brutally unjust.

Director Bollain and writer Laverty tell these intertwined stories with a documentarian's eye, keeping events grounded in facts while recreating scenes with breathtaking realism. At times during the period scenes and especially the water riots, we feel like we're watching actual events unfold. And we're gripped because the film lets complex, engaging characters live out the politics rather than preach about them.

All of the actors are earthy and natural, and even the side roles offer scope for surprising moments as the situations escalate. The actors in the film-within-a-film get the chance to shine, delivering the more issue-based dialog through the actual words of Columbus and his contemporaries. And when the riots overshadow the film production, Tosar has the stand-out role as Costa navigates a tricky series of events that gets our pulses racing. Especially since the film carries such a strong final kick.
15 themes, language, some violence
---
12.Mar.12

R E V I E W B Y R I C H C L I N E
Polisse


dir Maiwenn
prd Alain Attal
scr Maiwenn, Emmanuelle Bercot
with Karin Viard, Joeystarr, Marina Fois, Nicolas Duvauchelle, Maiwenn, Karole Rocher, Emmanuelle Bercot, Fredeic Pierrot, Jeremie Elkaim, Riccardo Scamarcio, Sandrine Kiberlain, Louis-Do de Lencquesaing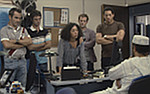 release Fr 19.Oct.11,
US 18.May.12, UK 15.Jun.12
11/France 2h07

---
CANNES FILM FEST

With a strong blast of real-life, this sprawling film explores the Paris child protection unit from every conceivable angle. Shot like a fly-on-the-wall documentary, the actors and situations are so authentic that it's often uncomfortable to watch.

The officers working to protect children in Paris form a close-knit team that deals with huge pressures every day. To survive requires a cynical sense of humour, a fiery dose of righteous rage and an ability to hold your drink on stress-releasing nights out. This kind of police work demands full attention and a lot of passion, but it also takes a personal toll: Nadine (Viard) has left her husband for her colleague Iris (Fois), and Fred (Starr) is both infuriated by and attracted to team photographer Melissa (Maiwenn).

The film is shot in an intimate style, with the cameras right in the faces of the cops as they banter in the office, let off steam after hours and dive into seriously tense situations, including a dawn raid on a gypsy camp and an undercover operation in a shopping mall. They talk nonstop, which makes reading the subtitles sometimes exhausting, especially as they dive into heated arguments about politics, policing methods and personal issues.

But throughout the talky chaos, the skilled cast is able to create complex, engaging characters, letting us understand the real-life strains these people live with. There isn't a weak performance in the film, and that includes a large number of child actors playing victims in the most horrific situations imaginable (including a couple of heart-wrenchingly emotive sequences), plus the adults who are accused of terrible crimes against them.

Nothing is ever simplified, so the film doesn't have a traditional narrative structure. It's an extended slice-of-life covering nearly a year, which means that it's rather meandering and aimless. This leaves it feeling much longer than its extended running time. Even though there are potent sequences along the way, as well as some underlying plot threads that take surprising turns, it takes a lot of patience to stay focussed through it all. In the end we're relieved we don't have to face this kind of thing in our everyday life. But we're sure glad someone does.
15 themes, language, violence, nudity
---
30.Apr.12

R E V I E W B Y R I C H C L I N E
The Source


La Source des Femmes
dir Radu Mihaileanu
scr Alain-Michel Blanc, Radu Mihaileanu
prd Luc Besson, Denis Carot, Gaetan David, Andre Logie, Pierre-Ange Le Pogam,Marie Masmonteil, Radu Mihaileanu
with Leila Bekhti, Saleh Bakri, Biyouna, Hafsia Herzi, Malek Akhmiss, Hiam Abbass, Mohamed Majd, Karim Leklou, Saad Tsouli, Sabrina Ouazani, Amal Atrach, Zinedine Soualem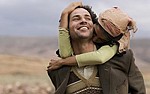 release Bel 9.Nov.11,
UK 18.May.12
11/Belgium 2h15

---
CANNES FILM FEST

Strikingly well-made on a big scale, this film takes on some important issues without ever preaching at us. Instead, the filmmakers remain rooted in the vivid characters, which adds depth to the involving story and the pointed message.

Leila (Bekhti) is an outsider in her village, married to the suspiciously intelligent schoolteacher Sami (Bakri). And when she speaks out about the injustice, and danger, of women scaling a treacherous path every day to get water, everyone tells her to remain quiet. Eventually, she manages to convince the women to go on a "love strike", withholding sex until their husbands stop sitting around and get water piped into the village.

Set in the present day in a village that could be anywhere in North Africa or the Middle East, the film has a lively energy that sharply conveys the personalities of the characters. Bekhti and Bakri stir in layers of chemistry as well as a complex collision of marital attitudes as their characters are pushed in a variety of directions. And around them are stand-out performances from Biyouna as an older woman called Mother Rifle who has given up playing nice; Leklou as Sami's old friend, who feels left behind; and of course the always-terrific Abbass as Sami's disapproving mother.

The film does slightly strain our patience is in its wide range of subplots, including Leila's former boyfriend (Akhmiss), who arrives as a journalist investigating "infinitesimally small" insects (metaphor alert!), and Sami's little sister Loubna (Herzi), who has a secret romantic pen-pal and calls herself "Esmeralda" after the Mexican soaps the women watch.

There are several other things going on around the central events of the love strike, and all of them are finely observed with earthy camerawork, snappy editing, realistic performances and a lovely sense of the importance of music in the lives of these people (much of the important dialog is sung). So in the end, not only do we have a better understanding of the culture, but the film also reveals some remarkably telling truths about Islam as well. Which makes it vitally important as well as thoroughly entertaining.
12 themes, language, brief violence, sexuality
---
14.Mar.12


< < F O R E I G N > >
See also: SHADOWS FILM FESTIVAL

© 2012 by Rich Cline, Shadows on the Wall


HOME | REVIEWS | NEWS | FESTIVAL | AWARDS | Q&A | ABOUT | TALKBACK