dir Jo Baier
prd Regina Ziegler
scr Jo Baier, Cooky Ziesche
with Julien Boisselier, Joachim Krol, Andreas Schmidt, Roger Casamajor, Armelle Deutsch, Chloe Stefani, Gabriela Maria Schmeide, Sven Pippig, Sandra Huller, Hannelore Hoger, Ulrich Noethen, Devid Striesow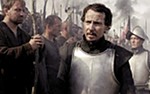 release Ger 4.Mar.10,
US May.10 siff,
UK 4.Jul.11 dvd
10/Germany 2h35

---
BERLIN FILM FEST

This epic story from the 16th century is as raucous and violent as we expect, with colourful characters plotting their way through massive conspiracies. It's a slightly lacklustre film, but still holds our interest effortlessly.

As war between the Catholics and Huguenots rages in 16th century France, a political marriage is arranged between the sensitive, handsome Henri (Boisselier) and the seductive vamp Margot (Deutsch). As Henri fights for peace, everyone indulges in political manoeuvring, betrayal, seduction and murder. At the centre are the manipulative Catherine de Medici (Hoger) and the snivelling king Charles IX (Noethen). And Henri's life-or-death clashes with the de Medici family don't end with Catherine.

The narrative gallops full-speed through the meaty story, encompassing huge events over several decades. It's a big, epic-style movie, although made on a budget. So maximum effort is given to beefing up the characters, and they're a riot of outrageous personalities. The level of conspiracy is astounding, squeezing in on the characters in ways that we can vividly feel. And while some of the cast members overact wildly, it helps to be able to see who's on which side.

Director Baier films this with a lot of style, creating chaotic battle sequences with fast cutting and lots of slow motion while helping us feel every twist and turn of the political tide. This includes threats from the Pope, who seems to be pulling all of the strings from Rome. And when Henri sets out to improve the lives of his people, he realises that he's bankrupt from all of the warring. Which of course has an eerie resonance today.

Frankly, the film is rather over-ambitious, telling a hugely complex story that covers a long timeframe. But there's real power in the themes and characters, and Baier keeps us gripped throughout the long running time, which is punctuated by assassinations, mass murder, sieges, outrageous battlefield conflicts and lots of bedroom politics. All of this more than makes up for the sometimes iffy sets and crowd scenes. And it vividly gives us a taste of what life was like in this seriously nasty period in history.
15 themes, violence, sexuality
---
21.Jun.10 eiff

R E V I E W B Y R I C H C L I N E
Krabat


aka: Krabat and the Legend of the Satanic Mill
dir Marco Kreuzpaintner
scr Michael Gutmann, Marco Kreuzpaintner
prd Jakob Claussen, Nick Hamson, Uli Putz, Lars Sylvest, Bernd Wintersperger, Thomas Wobke
with David Kross, Daniel Bruhl, Christian Redl, Robert Stadlober, Paula Kalenberg, Hanno Koffler, Anna Thalbach, Charly Hubner, Moritz Grove, Tom Wlaschiha, Sven Honig, Stefan Haschke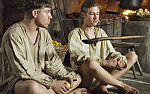 release Ger 9.Oct.08,
US Jul.09 siff,
UK 8.Aug.11 dvd
08/Germany Fox 2h00

---
TORONTO FILM FEST
BERLIN FILM FEST

With gorgeous settings and a very dark story, this tale of swords and sorcery is like a nasty twist on the Harry Potter premise. Which of course makes it rather a lot of fun to watch, helped by the fact that it's beautifully filmed and acted.

As the plague sweeps through Europe, orphaned teen Krabat (Kross) is offered a home by an old mill keeper (Redl) who is clearly a mentor for the young men who live and work there. But Krabat immediately notices something strange is going on. Indeed, the master is a sorcerer training his boys in the dark arts. But trouble arises when Krabat and his new friend Tonda (Bruhl) meet two girls (Kalengerg and Thalbach) from a local village. To the master, having a girlfriend is a fatal transgression. And there's only one way to escape.

The plot unfolds gradually, as we unravel secrets along with Krabat, which not only heightens the mystery surrounding this strange community but also adds to the thrill as Krabat discovers his own supernatural powers. These include out-of-body expeditions, levitations and shape-shifting into a raven to soar through the Alpine landscape. There are also a few extremely odd events that are never explained, which is rather daring for the filmmakers but really adds to the intrigue.

As a result, we are able to experience the emotions along with the characters, and this beefs up the intensity as Krabat discovers that these new powers come with a terrible cost. And then there's the issue of who he can trust. Despite the excellent cast, only a few of the boys ever become distinct characters. But as the story continues, there's a complexity to the situation that really grabs our imagination.

So it's inexplicable that this film wasn't a bigger hit when it was released, even with two high-profile festival screenings. Because it boasts a talented director in Kreuzpaintner, who skilfully guides the story with impeccable visuals, both the settings and the effects. The clunky alternative English title hints that it could have been a franchise, but that seems unlikely now.
12 themes, violence
---
18.May.11

R E V I E W B Y R I C H C L I N E
The Princess of Montpensier


La Princesse de Montpensier
dir Bertrand Tavernier
scr Jean Cosmos, Francois-Olivier Rousseau, Bertrand Tavernier
prd Frederic Bourboulon, Laurent Brochand, Eric Heumann
with Melanie Thierry, Lambert Wilson, Gregoire Leprince-Ringuet, Gaspard Ulliel, Raphael Personnaz, Michel Vuillermoz, Philippe Magnan, Judith Chemla, Cesar Domboy, Anatole de Bodinat, Eric Rulliat, Samuel Theis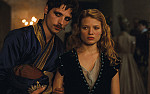 release Fr 3.Nov.10,
US 15.Apr.11, UK 8.Jul.11
10/France StudioCanal 2h19

---
CANNES FILM FEST


Veteran filmmaker Tavernier approaches this 16th century drama with a fresh touch. It has everything you hope for: swashbuckling, romantic intrigue, heaving bosoms. But a blast of realism continually catches us off guard.

The Marquis of Mezieres (Magnan) is only mildly annoyed that his daughter Marie (Thierry) has fallen for suave warrior Henri (Ulliel), even though she's promised to his brother (Domboy). Then a better offer comes along, and the Marquis offers her to Prince Philippe (Leprince-Ringuet), son of the Duke of Montpensier (Vuillermoz). Leaving Marie with his loyal mentor Chabannes (Wilson), Philippe rejoins battle alongside his old friend Henri in the war between the Catholics and the Huguenots. But Philippe soon becomes jealous of Henri, as well as the flirtatious Duke of Anjou (Personnaz).

Tavernier's earthy style makes the story feel thoroughly contemporary even as period details are impeccably recreated. We vividly sense what it would be like to live in these damp castles or in the gossipy Parisian Court. Horse-riding scenes bristle with energy, as do panicky battles that often descend into muddy fistfights. In other words, Tavernier makes us vividly experience each setting and engage with each character.

Meanwhile, the plot is like a teen TV series, as romantic relationships shift and wobble while people guess who loves whom. The cast play this beautifully, avoiding melodrama to catch dark edges of emotion in a time when marriage was a business proposal rather than a love-match. Thierry is strong, stubborn and sexy; we can see why she causes such a stir. And the men drawn to her are played with gritty honesty by terrific actors who manage to earn our sympathy even though we know it can't end happily for everyone.

Even though the central plot swirls in circles over the long running time, each scene is so packed with tension and intrigue that we fall deeper and deeper into the messy situation. It's absolutely riveting as we recognise the societal limitations and clearly understand which men are honourable and which clearly aren't. And perhaps the film's point is that, in the end, the same fate befalls both.
12 themes, violence, sexuality
---
17.May.11

R E V I E W B Y R I C H C L I N E
Tomboy


dir-scr Celine Sciamma
prd Benedicte Couvreur
with Zoe Heran, Jeanne Disson, Malonn Levana, Sophie Cattani, Mathieu Demy, Yohan Vero, Noah Vero, Cheyenne Laine, Rayan Boubekri, Christel Baras, Valerie Roucher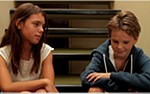 release Fr 20.Apr.11,
US Jun.11 laff,
UK 16.Sep.11
11/France 1h24

---
BERLIN FILM FEST


This thoughtful and complex drama tackles a big subject without ever becoming an issue movie. This is because it tightly maintains its perspective, letting us see the world through the eyes of a child who doesn't realise her life is an "issue".

After her family moves to a new neighbourhood, 10-year-old Laure (Heran) introduces herself as Mikael to a new friend Lisa (Disson), who simply assumes that she's a boy. All of the other kids do as well, letting Laure join the boys in football matches, roughhouse in the woods and play king of the raft when swimming. So when Laure's little sister Jeanne (Levana) discovers the secret, Laure is suddenly in a panic. What if her parents (Cattani and Demy) find out? And that's nothing compared to being outed to her new friends.

By sticking so closely to Laure's point of view, we immediately understand her deeply felt yearning and constant ingenuity at coming up with ways to further her own reality. Her parents are warm and loving, open and honest with their kids and as accepting of Laure's boyish haircuts and dress sense as they are of Jeanne's girly ballet dreams. They're also expecting a new son soon, and we can feel Laure's mixed emotions about this, even as they are never overtly expressed.

In fact, the film takes such a beautifully subtle approach to its subject matter that we are surprised at how strongly we react along with Laure as things begin to get out of control and then collapse in on her. Writer-director Sciamma takes a strikingly intimate approach that captures the physicality in extremely clever ways. We acutely feel the closeness and camaraderie between the characters as well as Laure's opinion of her own body.

Performances are excellent across the board, and the cast of children is remarkably strong. Heran is revelatory as Laure, seemingly never aware of the camera. In fact, each of the children has a strong on-screen presence as Sciamma directs them to underplay scenes for maximum impact. This not only makes them hugely endearing, but also puts us firmly on their sides when real life takes some intense turns. And of course we know that this is just the beginning.
U themes, some violence
---
16.Jun.11 eiff


< < F O R E I G N > >
See also: SHADOWS FILM FESTIVAL

© 2011 by Rich Cline, Shadows on the Wall


HOME | REVIEWS | NEWS | FESTIVAL | AWARDS | Q&A | ABOUT | TALKBACK