dir Susanne Bier
scr Anders Thomas Jensen
prd Sisse Graum Jorgensen
with William Johnk Juel Nielsen, Markus Rygaard, Mikael Persbrandt, Trine Dyrholm, Ulrich Thomsen, Simon Maagaard Holm, Kim Bodnia, Elsebeth Steentoft, Martin Buch, Anette Stovelbaek, Toke Lars Bjarke, Wil Johnson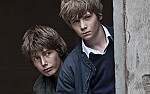 release Den 26.Aug.10,
US 1.Apr.11, UK 19.Aug.11
10/Denmark Zentropa 1h59

---
TORONTO FILM FEST
SUNDANCE FILM FEST

This gorgeously assembled Oscar-winning Danish drama explores the nature of violence in a deeply unsettling way. Watching the events unfold is often painfully intense, as we see through the eyes of a variety of conflicted characters.

After his mother dies, 12-year-old Christian (Nielsen) and his father Claus (Thomsen) move from London back to Denmark. Christian is angry at the world, and lashes out at the bully (Holm) in his new school. He befriends the bullied Elias (Rygaard), whose parents Marianne and Anton (Dyrholm and Persbrandt) are splitting up, partly because Anton spends large periods of time working as a doctor in rural Africa. Then after a local bigot (Bodnia) slaps Anton, Christian hatches a plan to get revenge in a very violent way.

Indeed, the original title means "revenge", and the film explores how far the five central characters can go before they snap. Each of these people is so complex that we're never quite sure what they might do as they're pushed to the brink by things like everyday peer pressure, rampant machismo and encounters with authorities in school and society. And while the scenes in Africa seem like an aside, they add a startling slant on the film's overall theme.

The film is beautifully shot and edited, with a subtle musical score and quietly clever direction that continually rattles us. This intimate approach brings out staggering performances, revealing inner resilience in complex situations. Nielsen has the most difficult role, walking a fine line between a grieving boy and a full-on sociopath. Will he grow up to be a thoughtless idiot like Bodnia's thug, or can he learn from his mistakes?

Bier assuredly shifts the film's tone from warm drama to dark intensity to all-out horror, while never abandoning the tight focus on the characters. Scenes atop a local silo are fraught with potential tragedy, while scuffles between children are echoed in scarier clashes between adults. Each relationship is a bundle of expectations and recriminations that are never simplified. And as the events escalate, the film never overstates its central message about Western society and the culture of revenge that we are falling into.
15 themes, language, violence, grisliness
---
8.May.11

R E V I E W B Y R I C H C L I N E
Sea Purple


Viola di Mare
dir Donatella Maiorca
scr Donatella Maiorca, Pina Mandolfo, Mario Cristiani, Donatella Diamanti
prd Maria Grazia Cucinotta, Giovanna Emidi, Silvia Natili, Giulio Violati
with Valeria Solarino, Isabella Ragonese, Ennio Fantastichini, Giselda Volodi, Marco Foschi, Alessio Vassallo, Corrado Fortuna, Sergio Vesperino, Maria Grazia Cucinotta, Lucrezia Lante della Rovere, Ester Cucinotti, Giovanni Moschella


release It 16.Oct.09,
US Jun.10 fff,
UK 20.Jun.11 dvd
09/Italy 1h45


Based on a true story, this film feels more like some sort of heightened literary romance as it follows characters struggling against a repressive system. It's a bold story that's slightly overwrought but also thoroughly involving.

In 19th century Sicily, feisty tomboy Angela (Solarino) has fallen in love with her best friend Sara (Ragonese), who's more than a little shocked. Sara's already preparing to marry the fisherman Tomasso (Foschi), but she's now beginning to return Angela's feelings. Then Angela's harsh father (Fantastichini) offers her hand to his employee Ventura (Fortuna) as a reward for his work at the quarry. And it's up to her longsuffering mother (Volodi) to find an outrageous solution. Intriguingly, Angela's father accepts it; it takes longer for Angela and Sara to come round.

This is a society that simply doesn't listen to women, and yet it feels intriguingly current due to a modern-day sensibility in the filmmaking. It's pretty shocking to see Angela's father lock her in the basement, demanding that she do as she's told. So it's fascinating to watch her rise to new challenges as she becomes a leader at her father's quarry, something she's rather good at.

The writers and director cleverly make the story intensely resonant, letting us understand the characters' feelings in a very moving way. We're never quite sure why Angela has fallen so hard for her friend, but we believe it thanks to Solarino's full-bodied performance. Ragonese's Sara is a little less defined, but still emerges as a well-rounded character. And the men are fascinating, confident of their place in this world and humanised by their yearnings.

The rugged, seaside landscape provides a terrific setting; it's beautifully shot with bright sunshine and deep shadows, and sharply edited to reveal personalities and cultural details. There's a strong sense of physicality throughout the film, both in the sweaty quarry workers and the central characters. And even through some of the plot's overdramatic turns, the storytelling remains strongly grounded and believable. And it leaves us thinking about how much has really changed.
15 themes, violence, sexuality
---
11.Jun.11

R E V I E W B Y R I C H C L I N E
A Separation


MUST

SEE aka: Nader and Simin, A Separation
dir-scr-prd Asghar Farhadi
with Peyman Moaadi, Leila Hatami, Sareh Bayat, Shahab Hosseini, Sarina Farhadi, Merila Zare'I, Ali-Asghar Shahbazi, Babak Karimi, Kimia Hosseini, Shirin Yazdanbakhsh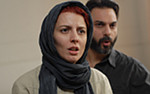 release Irn 16.Mar.11, UK 1.Jul.11
11/Iran 2h06

---
BERLIN FILM FEST


• BEST FILM
• BEST WRITER
• SUPPORTING ACTRESS
SAREH BAYAT

This award-winning film from Iran is a stunning piece of work, beautifully telling a raw human story with expert writing, direction, photography, editing and acting. It's so hugely involving that it's impossible to get it out of your head afterwards.

When his wife Simin (Hatami) leaves him, Nader (Moaadi) hires Razieh (Bayat), a woman he barely knows, to help look after his senile father (Shahbazi). Struggling to care for both his father and his 11-year-old daughter Termeh (Farhadi), who's studying for her exams, Nader is thrown completely off balance when Razieh lets him down. And things get worse when her volatile husband Hojjat (Hosseini) enters the scene, accusing Nader of violence against his wife. This has ramifications for everyone in Nader's life, as integrity and honesty are put on trial.

Filmmaker Farhadi tells this story without flinching; there is no music or sentimentality to ratchet up the emotion. Instead we feel every moment through the eyes of these realistic characters: suffering from each insult, recoiling from each assault, clinging to every expression of compassion. Watching this film is a full-on experience, as we ricochet through the events, feeling every emotional blow as if it hit us square on the nose.

And the acting is flawless, with each character conveying a complexity we rarely see on screen. Moaadi's Nader is ostensibly the hero of the piece, abandoned by his wife and accused by this stranger. But he's not actually any better than anyone else; he lies when he has to, and he refuses to play the game just as everyone does when faced with a legal system that seems tilted against them. Meanwhile, Bayat and Hosseini add complexity to the shadier characters, much more religious than Nader and Simin and also more prone to cultural issues that prevent the truth from coming out.

Watching Razieh blatantly lie to the judge makes our blood boil, but Farhadi has some surprises up his sleeve that reveal our own hypocrisy along with the characters' imperfections. This is bold, urgent, staggeringly skilful filmmaking that cuts right to the core of our own values. It also shows that Farhadi's previous film, the excellent About Elly..., was merely a warning shot. This one positions him as one of the most gifted filmmakers working today.
PG themes, violence, language
---
26.May.11

R E V I E W B Y R I C H C L I N E
Truth About Men


Sandheden om Mænd
dir Nikolaj Arcel
scr Nikolaj Arcel, Rasmus Heisterberg
prd Meta Louise Foldager, Louise Vesth
with Thure Lindhardt, Tuva Novotny, Rosalinde Mynster, Signe Egholm Olsen, Henning Valin, Karen-Lise Mynster, Malin Tani, Hans Henrik Voetmann, Mads Reuther, Emma Leth, Rikke Louise Andersson, Rasmus Botoft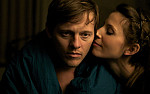 release 7.Oct.10 Den,
UK Jun.11 eiff
10/Denmark Zentropa 1h31

---


Both an insightful look at the male psyche and a witty exploration of the creative process, this Danish film varies between high comedy and heavy drama. And even through the low moments, the charming central character stays remarkably sympathetic.

Mads (Luindhardt) has an easy life: writer on a hit TV show and a loving 10-year relationship with the gorgeous Marie (Novotny). But in a moment of self-doubt, he throws away both job and girlfriend, embarking on a quest for a more dynamic life as a screenwriter with an idealised girlfriend. But of course reality doesn't cooperate. He admires the carefree single lives of his best friends (Olsen and Valin), but struggles to make it work for himself. And new relationships with Cilla (Tani) and Julie (Mynster) take him to extremes.

The film is narrated by Mads with a post-modern twist: he imagines scenes as he hopes they'll play out or replays his past as he wished he'd handled things. He also merges everything with his writing projects, including three films (an animated hit, a crime caper and a period romance) and the cop TV series. So the film has an amusing visual sensibility that keeps us laughing even when the story takes some dark turns.

One of these bleak sections goes on a bit too long, so the film drags before the final series of events, but even this sequence allows for a witty conclusion to the running gag about the standard plot structure of movies and TV episodes. And of course when Mads realises that he's living in this cliched structure, that's the moment that he might also be able to break out of it and become an authentic human being.

Along the way, frequent hilarious touches help us enjoy the ride. Lindhardt is cute and a bit goofy, with a vulnerability that's deeply endearing. And the people around him all break out of their stereotypes. Even more intensely resonant is the film's razor-sharp exploration of how men think in a variety of situations, which helps to highlight why relationships are so difficult. So besides being entertained, the film also leaves us thinking.
15 themes, language sexuality
---
15.Jun.11 eiff


< < F O R E I G N > >
See also: SHADOWS FILM FESTIVAL

© 2011 by Rich Cline, Shadows on the Wall


HOME | REVIEWS | NEWS | FESTIVAL | AWARDS | Q&A | ABOUT | TALKBACK