---
CANNES FILM FEST
TORONTO FILM FEST


Like a companion piece to last year's Restrepo, this film intimately documents the six-month deployment of four Danish soldiers in Afghanistan. But it's shot like a dramatic feature, so we are pulled into the action in a startlingly private way.

As four young soldiers get ready to travel from their homes in Denmark to their assignment at Forward Operating Base Armadillo in Helmand Province, their feelings of excited anticipation clash with the fear their parents and girlfriends feel. Mads is ready to put his combat practice to the test; Daniel is a lively tattooed guy with boundless physical energy; Rasmus is the ambitious young platoon commander; and Kim is the group's no-nonsense medic. Over the next six months, days of boredom are punctuated with sudden violent attacks from the Taliban and awkward conversations with locals caught in the crossfire.

Intriguingly for a documentary, the soldiers show no awareness of the cameras, which capture all of their movements intimately. It's impossible to tell how the filmmakers managed this; the camera is right on the fields with them, in the line of fire. So we see it all from their perspective, and we also see the instant reactions on their faces. In other words, it seems like these must be actors performing these roles in recreated scenarios. So since these are real people in real situations, we experience everything with them.

And as it progresses, we also get a fascinating exploration of the war mentality, from machismo and camaraderie to raw fear and the gnawing desire for more action. There's also a real sense that these guys are sensitive to the plight of the local population, who are forced at knifepoint to cooperate with the Taliban and don't like them any more than they like the invading Western military tramping through their fields and killing their cows. And children.

Yes, it's all pretty harrowing, and there's also a vivid look at how these young guys deal with the concern from their parents and girlfriends back home. Fortunately, there are frequent moments of gallows humour and stress release through sport, music and porn. And the film's most telling segment involves a terrifying shootout followed by the adrenaline rush of survival, the reality of their injuries and then the moral questions about their actions.
15 themes, language, violence
---
28.Mar.11

R E V I E W B Y R I C H C L I N E
Rent Boys


Die Jungs von Bahnhof Zoo
dir-scr-prd Rosa von Praunheim
with Daniel, Ionel, Nazif Miro, Daniel Rene, Romica, Sergiu Grimalschi, Peter Kern, Lutz Volkwein, Master Patrick, Klaus, Holger, Wolfgang Werner, Claudia Thomas, Achim, Oliver, Uli Menzel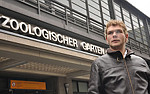 release Ger 24.Feb.11,
UK Apr.11 llgff
11/Germany 1h24

---
BERLIN FILM FEST

This straightforward documentary never comments on its subject matter, the male sex trade in Berlin. It merely lets people speak for themselves, capturing the stories on camera without emotive editing or narration.

Filmmaker von Praunheim follows four men: Daniel grew up in an abusive home then went from foster parent to care facility while falling deeper into drugs, crime and prostitution. Ionel comes from a poor village in Romania that sends many of its young men to Berlin to earn money ostensibly playing music in public, but they make more having sex with men. Nazif was a Bosnian refugee who was introduced to sex at age 12. And Daniel Rene fell into the hands of a prostitution ring at age 6, and was cast aside in his late teens.

There are other stories too, including clients (Kern and Master Patrick), charity workers (Grimalschi, Volkwein, Werner and Thomas) and the managers of boy bars (Achim, Oliver and Menzel). All of them talk openly about their involvement in the lives of these young men, including some extremely frank discussions of things that have happened to people they know. We also meet other hustlers, including Romica, who openly supports his wife and child by working the streets.

Intriguingly, most of these guys are straight, although some have had romances with their clients. Most of them come from horrific childhoods and continue to struggle with drug abuse. The cameras follow Daniel back to the homes he lived in over the years, reuniting him with his favourite care worker (Holger) for some very telling reminiscences. And the filmmakers also follow Ionel home to his colourful, lively home village in Romania.

The film has a sober, serious tone, simply following these men with on-location interviews and lots of old photos. It feels somewhat dry, even if the stories are deeply emotional and often shocking. And we also see how the sex trade has shifted drastically since Berlin's reunification, with boys now coming from further east. But like the 1960s and 70s, they still find hustling easier and safer than stealing cars or robbing tourists. Although it's not so easy to talk about with their families or girlfriends.
18 themes, language, violent and sexual images
---
6.Apr.11 llgff

R E V I E W B Y R I C H C L I N E
A Small Act


dir-scr Jennifer Arnold
prd Jennifer Arnold, Patricia Lee, Jeffrey Soros
with Chris Mburu, Hilde Back, Jane Wanjiru Muigai, Patrick Kimani Nyambura, Caroline Gaceri, Ruth Wairimu, George Kihara Thang'wa, Mary Wanjiku, Joel Kariuki, Sarah N Munenge, Nancy Wambui Ndua, Inga Bjork-Klevby

release US Jan.10 sff,
UK 15.Apr.11
10/US HBO 1h28

---
SUNDANCE FILM FEST


This multi-layered documentary couldn't be more inspirational if it tried. As it shows the ripple effect of an act of charity, we begin to understand that anything we can do might actually help.

Chris grew up in Kenya in a mud house, but even though he was the top student he couldn't stay in school without sponsorship money through a Swedish charity. He always wondered about this sponsor, a schoolteacher named Hilde Back. So after studying human rights at Harvard then going to work for the UN, he set out to find Hilde, whose sponsorship set his entire life in motion. He'd even named his educational foundation after her. Once he finds her, he takes her back to Kenya, where she's overwhelmed by the community's reaction.

Meanwhile, Chris' cousin Jane was also sponsored, which helped her escape the pregnancy cycle that starts for most girls by 15. With Chris, she runs a village school that helps children like Kimani, Caroline and Ruth, who are eager to make the most of their education but struggle with their family situations. Most people in this part of the world just stay home all their lives, trapped in poverty without the opportunity to study or work. Education is a life and death issue here, so watching them wait for grades is agonising. As is watching Kenya dissolve into post-election violence.

With a gentle, organic pace, the film is beautifully photographed, with rich colours and an emphasis on the expressive faces. There's a bit of padding with scenic montages and arty slow-motion shots, accompanied by a floaty music score, all of which makes us think it could have been a tighter one-hour doc. But the various elements of this story weave together in a way that's genuinely moving.

And Hilde's story is wrenching as well. She grew up Jewish in Germany and was sent to Sweden to escape the Nazis. But her parents killed in the camps. And it's her simple observation that gives the film its centre: there's so much need in the world that you wish you could do something. And the best thing about this film is that it vividly shows us how easy it is to make a real difference.
12 some themes, disturbing images
---
21.Mar.11

R E V I E W B Y R I C H C L I N E
We Were Here


dir-prd David Weissman
with Paul Boneberg, Guy Clark, Eileen Glutzer, Daniel Goldstein, Ed Wolf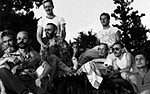 release US Jan.11 sff,
UK Apr.11 llgff
11/US 1h30

---
SUNDANCE FILM FEST
BERLIN FILM FEST

Almost overwhelming in its emotional kick, this documentary about the San Francisco Aids epidemic is so intensely personal that it's sometimes difficult to watch. Which is why it's so important.

Speaking with five people who lived through the arrival of Aids in the late-70s and the devastation of the 80s and early 90s, filmmaker Weissman paints an intimate portrait of what it felt like to live through a time when virtually all of your friends suddenly died around you. And in the early days, it was completely inexplicable. As America's religious right shouted hatred and pushed for violent political intervention (like quarantines), the gay community reached out with creative compassion, crossing barriers within the subculture.

This unfussy doc never hides or exploits the emotions of these five witnesses. Ed is a counsellor who sat with thousands of men as they died. Eileen is a nurse who defied fear to care for her patients. Daniel is an artist who watched helplessly as two partners died. Guy is a florist who watched the neighbourhood reel with pain. And Paul hitchhiked to San Francisco in to join the "crazy dreamers" before tragedy descended all around him. Those years were like a warzone to them all: "We never knew where the bomb was going to drop next."

Intriguingly, only one of these people talks about their own experience as an Aids patient; the other men seem a little shocked that they survived at all, since everyone they knew grew horribly ill and died. "Survival isn't courageous," one says. Filmed in their homes, the interviews often catch them on the verge of tears. Fortunately, they're also sharp, interesting people who have a hopeful perspective on life, so they undercut the film's maudlin tone with humour, telling observations and a terrific wealth of reminiscences.

Illustrating this is an astonishing range of photographs and home movies that show us both the happy times and the horror of diseases that came along with Aids. The film also touches heavily on the political issues, from community attitudes on promiscuity to the fight for recognition and equality. And of course for research into fighting Aids. Watching this is seriously wrenching, but it also makes sure we never forget what happened in this specific place. And hopefully keep it from ever happening again.
PG some themes
---
5.Apr.11 llgff


< < D O C S > >
See also: SHADOWS FILM FESTIVAL

© 2011 by Rich Cline, Shadows on the Wall


HOME | REVIEWS | NEWS | FESTIVAL | AWARDS | Q&A | ABOUT | TALKBACK