dir David Yates
scr Steve Kloves
prd David Barron, David Heyman, JK Rowling
with Daniel Radcliffe, Emma Watson, Rupert Grint, Ralph Fiennes, Bill Nighy, Rhys Ifans, Alan Rickman, Helena Bonham Carter, Jason Isaacs, Tom Felton, Peter Mullan, Nick Moran, Brendan Gleeson, Imelda Staunton, David Thewlis, Robbie Coltrane
release UK/US 19.Nov.10
10/UK Warner 2h26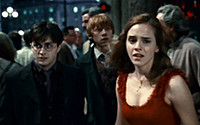 On the run: Radcliffe, Grint and Watson








• BEST SUPPORTING ACTOR
Jason Isaacs

---
See also:
THE PHILOSOPHER'S STONE (2001)
THE CHAMBER OF SECRETS (2002)
THE PRISONER OF AZKABAN (2004)
THE GOBLET OF FIRE (2005)
THE ORDER OF THE PHOENIX (2007)
THE HALF-BLOOD PRINCE (2009)
THE DEATHLY HALLOWS: PART 2 (2011)

R E V I E W B Y R I C H C L I N E
Cranking up the action and emotion, JK Rowling's Harry Potter saga moves into the first half of its extended grand finale. It's a relatively harrowing film punctuated by real violence, and it cleverly starts weaving together both the plot and the relationships.

After the tragic events of the previous school year, Harry (Radcliffe) and his pals Ron and Hermoine (Grint and Watson) know that they can't go back to normal. Instead, they're on the run from Voldemort (Fiennes) and his fearsome Death Eaters. They also have an overwhelming task: collecting the horcruxes that Voldemort has hidden to ensure his immortality. But where to look? And when they find one, how do they destroy it? Then a rebel journalist (Ifans) tells them the story of the Deathly Hallows, which makes their quest even more urgent.

The plot has a very different structure, as our three heroes are propelled by startling events into increasingly uncertain situations. Persistently chased by the bad guys and unable to trust anyone, they are profoundly alone and constantly in danger. We strongly feel their lonely desperation all the way through the film, so when another nasty thing happens to push them further along, it's genuinely unsettling.

Although it feels far too long, Yates and Kloves thankfully mix the dark drama with lighter comedy, allowing the characters to grow organically. Over seven films the story has grown increasingly gloomy but, despite the relentless anxiety, this chapter has an insistent pace, which is helpful since pretty nightmarish things are happening. There's also some subtext in the political storyline, as the villains seize control first of the media and then the government.

By now, the three central actors have settled solidly into their roles, adding subtle edges in every scene. Intriguingly, Grint has emerged as the most complex performer, but all three are excellent. And the who's who of British acting talent around them is fantastic. Stand-outs this time are Nighy (as a slippery politician), Isaacs (as a disgraced baddie) and Mullan (as a vicious security guy). But several others get a chance to shine as well, and of course there's a lot more action to come in Part 2.
| | | |
| --- | --- | --- |
| | themes, violence | 12.Nov.10 |