R E V I E W B Y R I C H C L I N E
dir Mike Newell
scr Steven Kloves
with Daniel Radcliffe, Emma Watson, Rupert Grint, Michael Gambon, Brendan Gleeson, Ralph Fiennes, Maggie Smith, Alan Rickman, Miranda Richardson, Robbie Coltrane, Robert Pattinson, Stanislav Ianevski, Clemence Poesy, Matthew Lewis, Pedja Bjelac, Frances de la Tour, Timothy Spall, David Tennant, Shirley Henderson, Jarvis Cocker
release UK/US 18.Nov.05
05/UK Warner 2h37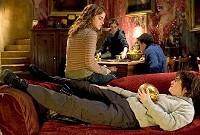 Teenagers: Watson and Radcliffe






THE PHILOSOPHER'S STONE (2001)
THE CHAMBER OF SECRETS (2002)
THE PRISONER OF AZKABAN (2004)
THE ORDER OF THE PHOENIX (2007)
THE HALF-BLOOD PRINCE (2009) THE DEATHLY HALLOWS: PART 1 (2010)
THE DEATHLY HALLOWS: PART 2 (2011)


For this fourth Harry Potter adventure, Newell skilfully maintains the dark, gritty edge Alfonso Cuaron added to the series, while adding a stream of gentle-but-funny Four Weddings-type romantic comedy. This isn't quite as introspective as Part 3, but it's hugely entertaining.

We get straight into the plot without even a glimpse of Harry's miserable muggle summer: the Lord You Know Who is still haunting Harry's dreams. This year Hogwarts is hosting the Triwizard Cup, for which Harry is surprisingly enlisted. At 14, he's under-aged, competing against much stronger wizards (Pattinson, Ianevski and Poesy). But more terrifying than battling dragons or underwater creatures is the need to ask a girl to the Christmas dance. And those sinister dreams won't stop.

This feels like a much bigger film than previous instalments. The story has an epic horror scope; we know from the beginning that something seriously awful is afoot, and Newell deftly avoids the mistake of making a kids' movie in which even the worst threat feels safe. He also focuses on characters, not effects, so that as it reaches the frighteningly nasty climax, there's a huge rush of unexpected emotion. And as Harry and pals Hermione and Ron (Watson and Grint) continue to grow up, they're facing real adolescent and adult issues.

Radcliffe handles the dramatic scenes beautifully, shows reluctant-but-dashing flair in the thrilling action sequences, and even gets a couple of beefcake moments. Watson and Grint are also allowed to develop their characters even further than JK Rowling does in her books. Of the returning teachers, Gambon gets the most screen time, while Smith and Rickman get the scene-stealing moments. The new cast's stand-outs include Richardson's pesky journalist and Fiennes as Voldemort incarnate (although his look is a little extreme). The film's star, though, is the wonderful Gleeson as Mad-eye Moody, investing each scene with a devilishly gleeful twitch.

Technically, these films get better and better. The effects are nearly seamless, and the story rockets along like Harry on his Firebolt. Newell balances the comedy and thrills expertly, and dares to notch it up, reflecting the fact that these kids are maturing. Which bodes well for the even darker times ahead.
| | | |
| --- | --- | --- |
| | themes, innuendo, violence | 23.Oct.05 |


Lenard Arthur, along the equator:

"Even for someone who has not read the books, the narrative is choppy. It felt rushed although it ran for more than 120 minutes." (17.Nov.05)

Laurie T, Minneapolis: "What can I say - this was the one book I really remember very little of, though I know I read it. But the movie, which is long, barely felt long. Before it began, the theatre was noisy, and I really worried the audience would not quiet down enough to hear the movie - several families had brought very young children, babies even. However, once the movie took over, it took over. I enjoyed this movie. Lots of special effects and action. I have gotten enjoyment out of the whole Harry Potter series so far, ever since I picked up the first book in paperback to figure out what the big deal was. Go see this on the big screen to get the full effect." (20.Nov.05)

Thomas Hertle, Germany: "Since I have read all volumes of Harry Potter and seen all the films so far, I would like to say my opinion about Goblet of Fire: It was not my favourite one. First of all the story has been shortened too much. The Quiddich-match for example is not shown except for the very beginning, which looks very promising. The spectator of the film is disappointed when he learns how exciting the match was, which he was not allowed to see. Other amusing little ideas from the book have been left out, too. For example, I would have been keen on Hagrid's toads. Secondly, I also asked myself why the supposedly most difficult test consists only of finding the right way through a maze. Again all the good stuff has been taken out." (8.Mar.06)