dir David Yates
scr Steve Kloves
prd David Barron, David Heyman
with Daniel Radcliffe, Rupert Grint, Emma Watson, Michael Gambon, Jim Broadbent, Tom Felton, Bonnie Wright, Alan Rickman, Maggie Smith, Helena Bonham Carter, David Thewlis, Helen McCrory, Evanna Lynch, Frank Dillane, Robbie Coltrane, Julie Walters
release UK/US 15.Jul.09
09/UK Warner 2h23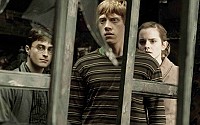 On a mission: Radcliffe, Grint and Watson






---
See also:
THE PHILOSOPHER'S STONE (2001)
THE CHAMBER OF SECRETS (2002)
THE PRISONER OF AZKABAN (2004)
THE GOBLET OF FIRE (2005)
THE ORDER OF THE PHOENIX (2007)
THE DEATHLY HALLOWS: PART 1 (2010)
THE DEATHLY HALLOWS: PART 2 (2011)

R E V I E W B Y R I C H C L I N E

Darker and a whole lot drearier, this sixth Harry Potter adventure centres on a slow-developing mystery, and the filmmakers clearly struggle to give it much pace. It's well-made and watchable, but feels like an intake of breath before the frantic finale.

After the horrific conclusion of their fifth year at Hogwarts, Harry (Radcliffe) has a solitary summer before being drafted by headmaster Dumbledore (Gambon) into the ongoing war between the wizarding forces of light and darkness. And as year six starts, Dumbledore assigns Harry to get some important information from new potions professor Slughorn (Broadbent) about the Dark Lord's background. He of course does this with the help of pals Ron and Hermione (Grint and Watson), who with Harry are also caught up in conflict more typical for 17-year-olds: raging hormones.

The title refers to the previous owner of Harry's potions textbook, who scribbled rather too-helpful notes in the margins, although this is actually an aside in the story, so the revelation of the prince's identity is a bit of a letdown. The hormonal farce is also an aside, as Harry dodges the attentions of Romilda (Anna Shaffer) so he can keep an eye on Ginny (Wright), who already has a boyfriend (Alfie Enoch). Meanwhile, Ginny's big brother Ron is being pursued by the adoring Lavender (Jessie Cave), which sparks pangs of jealousy for Hermione, who's the object of affection for the new Quiddich hunk Cormac (Freddie Stroma).

All of this provides a welcome relief from the plot's otherwise gloomy goings-on, which are photographed in shadowy drabness while eye-catching digital trickery distracts us from the pedestrian directing and editing. Fortunately, this murky-nightmare look adds to the film's creepy undercurrent of foreboding doom, which effectively bursts forth in the film's final half hour, when the marauding Death Eaters (led by an effectively bonkers Bonham Carter) launch a nasty confrontation that sets up the saga's final chapter.

In other words, this is Harry Potter's The Empire Strikes Back, in which loads of information emerges while not much actually happens. But it gives the actors some seriously meaty material, including effective emotional moments for Radcliffe, Watson and Grint. Meanwhile, Felton and Wright get character-deepening moments all their own, and Gambon, Rickman and especially Broadbent are terrific in pivotal roles. It certainly sets everyone up perfectly for the more action-packed two-part conclusion. Bring it on.
| | | |
| --- | --- | --- |
| | themes, violence, some innuendo | 13.Jul.09 |