R E V I E W B Y R I C H C L I N E

Columbus overcomes several of the first film's problems with this much darker, slightly more edgy sequel. But the include-everything approach still overweighs the film.

It's Harry's (Radcliffe) second year at Hogwarts School for Witchcraft and Wizardry and it doesn't take long before things start getting strange, starting with the warnings of the strange little house elf Dobby. Soon, Harry and his friends (Grint and Watson) are prowling the halls of the castle after hours trying to solve the mystery with the help of a moaning ghost (Henderson), the wise headmaster (Harris), the kindly hulk gamesman (Coltrane), a helpful teacher (Smith) and a vain new professor (Branagh). Meanwhile, enemies of Harry plot against him, including sinister Professor Snape (Rickman, reduced to a cameo here), school rival Draco (Felton) and his even more vile dad Lucius (Isaacs).

First the good news: The film is a lot creepier, with a rather terrifying, adrenaline-pumping Quiddich match early on and some dark and frightening stuff later. The effects are less attention-seeking, and there's a refreshing stream of nasty humour running through the film. But there's still far too much plot, as every scene crams in so much information that you can never quite latch on to the characters, no matter how good the cast is.

Radcliffe continues to shine among the kids, letting Harry grow up a bit and making him both odd and likeable. On the other hand, Grint is turning into the shamelessly mugging sidekick. Thankfully, the adults are a who's who of fine actors reduced to playing minor characters with wacky costumes and hair. Branagh steals the show completely--he's absolutely hilarious in every scene (and it's worth waiting through the long credit roll for one more).

This is a vast improvement over the bland first film, but it still cries out for more personality. Once again, this is efficient, crowd-pleasing filmmaking, but a technical rather than artistic achievement. At least we have wit and energy this time. If we get some character depth in Part 3 then maybe there's hope for these films after all.
| | | |
| --- | --- | --- |
| | themes, violence, language | 7.Nov.02 |
dir Chris Columbus
scr Steve Kloves
with Daniel Radcliffe, Rupert Grint, Emma Watson, Kenneth Branagh, Jason Isaacs, Richard Harris, Shirley Henderson, Tom Felton, Robbie Coltrane, Maggie Smith, Alan Rickman, Julie Walters, Mark Williams, John Cleese, Miryam Margolyes, Fiona Shaw
release UK/US 15.Nov.02
Warners
02/UK 2h35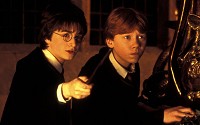 Heroes. Harry and Ron (Radcliffe and Grint) take on the bad guys...



THE PHILOSOPHER'S STONE (2001)
THE PRISONER OF AZKABAN (2004)
THE GOBLET OF FIRE (2005)
THE ORDER OF THE PHOENIX (2007)
THE HALF-BLOOOD PRINCE (2009)
THE DEATHLY HALLOWS: PART 1 (2010)
THE DEATHLY HALLOWS: PART 2 (2011)



"This was a very satisfying film - a touch darker, quite a bit funnier and with some brilliant characters. There is more of the Weasley family - Julie Walters' role as Mrs Weasley is more substantial here, and we meet Mr Weasley (Mark Williams) for the first time - he is just as you imagined he would be! Lucius Malfoy (Jason Isaacs) is nicely nasty, but I really think that Kenneth Branagh steals the show with the absurd Gilderoy Lockhart. It's a great film - good entertainment that you don't really want to end. Although I didn't like the spiders!" --Jo Caswell, West Sussex 12.Nov.02

"Since I became a fan after reading the books, of course I had to see the second - and am glad I did. This is no doubt even better than the first - the special effects are quite awesome, and I really did enjoy it. I think all Harry Potter fans will enjoy this movie. A side note however: My husband, who did not read the books, said it was a bit complicated to follow - so I am not sure if it was easier because I have read the books or not. And I am willing to bet that most who see this movie have read the books, so I think he is in the minority on that. I guess he is not a TRUE fan. But this is a must-see for Harry Potter fans, and I suspect it will add more fans after they have seen this movie." --Laurie T, Minneapolis 8.Dec.02