R E V I E W B Y R I C H C L I N E
dir David Yates
scr Michael Goldenberg
with Daniel Radcliffe, Rupert Grint, Emma Watson, Imelda Staunton, Michael Gambon, Gary Oldman, Ralph Fiennes, Evanna Lynch, Matthew Lewis, Katie Leung, Alan Rickman, Maggie Smith, Julie Walters, Mark Williams, Brendan Gleeson, Jason Isaacs, Helena Bonham Carter, Emma Thompson, Robbie Coltrane, Fiona Shaw
release US 11.Jul.07, UK 12.Jul.07
07/UK Warner 2h18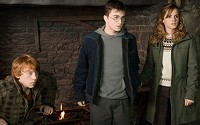 Secret society: Grint, Radcliffe and Watson






THE PHILOSOPHER'S STONE (2001)
THE CHAMBER OF SECRETS (2002)
THE PRISONER OF AZKABAN (2004)
THE GOBLET OF FIRE (2005)
THE HALF-BLOOD PRINCE (2009) THE DEATHLY HALLOWS: PART 1 (2010)
THE DEATHLY HALLOWS: PART 2 (2011)


Harry continues to grow up in this darker and more action-oriented fifth film. The story is told with bracing efficiency and clever humour, and features solid acting from the expanding cast.

It's year five at Hogwarts, and Harry (Radcliffe) is the subject of a smear campaign claiming that he's lying about the return of Lord Voldemort (Fiennes). His friends Ron and Hermoine (Grint and Watson) believe him, as do a group of students who gather in secret to practice defending themselves against evil attacks, since the meddling new Dark Arts teacher (Staunton) is only teaching theory. Meanwhile, the secretive Order of the Phoenix continues to fight Voldemort's evil gang of Death Eaters. And the ensuing battle looks likely to seriously upset the school year.

This episode of the story is firmly set in modern-day Britain, with the backdrop of high-rise London and the growing threat of terror, which will build right through the final two films in the series. As Harry matures, so do the films, and this story focuses on ethics and personal responsibility, loyal friendships and developing the ability to discern between true good and evil, regardless of the faces they show. Pretty serious stuff for what's considered a kids' movie.

The central trio of actors is increasingly solid, with newcomer Lynch (as the quirky Luna) adding an intriguing wrinkle to the group. As the adult cast grows, their roles are limited to key scenes, but each gets a chance in the spotlight. The exception is Staunton, whose character takes over the school and walks off with the film. Her smiling, pink-clad, kitten-loving villainess will surely become a cinematic icon, and her performance is awards-worthy.

Without the bracing artistry of Alfonso Cuarón's Prisoner of Azkaban or the raucous energy of Mike Newell's Goblet of Fire, this more straightforward thriller focuses on inner emotions and disturbing revelations. The effects work is superb, although some animated characters are a little iffy. But the script is loaded with witty asides and sharp observations, as well as encounters that are genuinely thrilling and surprisingly touching. The final sequence in the Ministry of Magic is simply jaw-dropping, and bodes extremely well for Yates' continuing work on part six.
| | | |
| --- | --- | --- |
| | themes, violence | 19.Jun.07 |