R E V I E W B Y R I C H C L I N E
dir Alfonso Cuarón
scr Steven Kloves
with Daniel Radcliffe, Rupert Grint, Emma Watson, David Thewlis, Gary Oldman, Michael Gambon, Alan Rickman, Maggie Smith, Robbie Coltrane, Emma Thompson, Timothy Spall, Tom Felton, Mark Williams, Julie Walters, Richard Griffiths, Fiona Shaw, Matthew Lewis, Julie Christie, Dawn French, Pam Ferris
release UK 31.May.04, US 4.Jun.04
Warners
04/US 2h16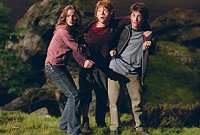 Now post-pubescent! Watson, Grint and Radcliffe.






THE PHILOSOPHER'S STONE (2001)
THE CHAMBER OF SECRETS (2002)
THE GOBLET OF FIRE (2005)
THE ORDER OF THE PHOENIX (2007)
THE HALF-BLOOD PRINCE (2009) THE DEATHLY HALLOWS: PART 1 (2010)
THE DEATHLY HALLOWS: PART 2 (2011)


You can tell from the opening moments that this third film is darker, edgier and more artful than its predecessors. What's even more surprising is that it's actually very good, with a compelling story, emotional depth and solid performances. So what's changed? Well, a proper director (Y Tu Mama Tambien's Cuaron) has taken the reins.

In his third year at Hogwarts, Harry (Radcliffe) is haunted by news that the man who betrayed his parents, Sirius Black (Oldman), has escaped from Azkaban prison. This threat taints his usual adventures at school with buddies Ron and Hermoine (Grint and Watson). And as time ticks away, this heroic teen trio must draw on unknown strengths to get through it. They're helped (or hindered) by the school faculty: a new professor with a dark secret (Thewlis), the burly and put-upon Hagrid (Coltrane), the knowingly mischievous headmaster (Gambon), the sinister Snape (Rickman), the ditsy divinations teacher (Thompson) and so on.

Cuaron gets the tone exactly right. Unlike the over-lit, precious design of the first two films, he darkens and desaturates everything, combining a cheeky sense of humour with moments of strong comedy and real suspense. The magical world is much more offhanded--amazing things happen around the edges of the screen, but they're mere details that add to the story, not the main focus. And this lets the set pieces come to life much more vividly, from Harry's outrageous journey across London in the Knight Bus to his encounter with his ferocious Monster Book of Monsters. Even the Quiddich match is something different--here played in a raging thunderstorm while fearsome Azkaban guards prowl the clouds.

This shift puts characters more central and makes the plot more coherent. Cuaron discovers three excellent young actors in the central roles; nothing in the first two films suggested that Radcliffe, Grint and Watson could deliver such solid performances as they do here! There are some moments that take the breath away, most notable are the delicate scenes between Radcliffe and Thewlis. And the stellar supporting cast also find untapped shadings in their characters.

An emphasis on character and story over gimmicks also gives the animals and computer generated characters much more life and personality. Harry's owl Hedwig and especially Hagrid's doomed hippogriff Buckbeak actually have authentic emotional life. Meanwhile, the settings are reimagined in service of the story--from the crumbling edges of Hogwarts to a general messiness in hair and costumes, all of which adds texture and mood. This is not only funnier, more imaginative, more exciting, sexier and scarier than the previous two Harry Potter films, it's one of the best kids' movies of the year.
| | | |
| --- | --- | --- |
| | themes, suspense, some violence and language | 25.May.04 |


Philip, England:

"it's the best! better then any films i've seen this year! daniel, emma and rupert have really grown up. this one is much darker and has a real story to it. you learn so many new thing about all the characters!" (29.May.04)

Karol, London:

"A thoroughly enjoyable film which brought me to tears and made me laugh (although the comedy moments went above the heads of the children in the audience). Fantastic adaptation of the book - choosing the right material to include and omitting the unnecessary. Go see!" (7.Jun.04)

Laurie T, Minneapolis:

"A great adaption of the book - I loved the books, am loving the movies. This one is scarier than the others, however, so parents may want to see it first before taking the kids. But what can I say - it was fun - and I will gladly see it again. I am just impressed with the originality - and I like these movies!" (8.Jun.04)