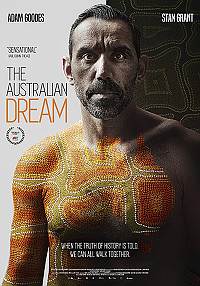 dir Daniel Gordon
scr Stan Grant
prd Sarah Thomson, Nick Batzias, Virginia Whitwell, John Battsek
with Adam Goodes, Stan Grant, Nicky Winmar, Brett Goodes, Natalie Goodes, Tracey Holmes, Eddie McGuire, Andrew Bolt, Nova Peris, Paul Roos, Gilbert McAdam, Michael O'Loughlin
release Aus 22.Aug.19,
US Aug.19 tff, UK 12.Jun.20
19/Australia 1h45

---
TORONTO FILM FEST

---
Watch it now...

---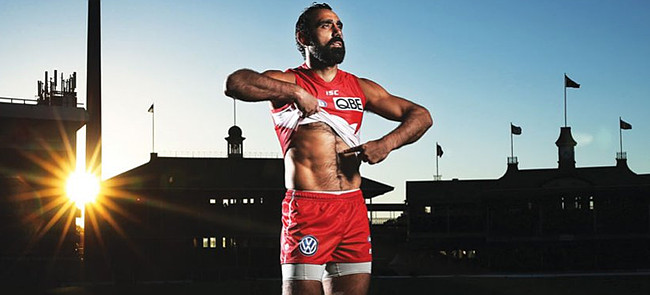 Strikingly well-produced, this documentary takes a deep dive into systemic racism in Australian society through the salient perspectives of football legend Adam Goodes and journalist Stan Grant. This is a vivid look at how racist thoughts and language are implanted in young people, leading to generations who don't notice the impact of their words. And this staggeringly moving film just keeps digging further into the urgency of the topic.
---
Raised by a single Aboriginal mother, Australian Football League icon Adam was bullied throughout his life. At the peak of his career in 2013, a 13-year-old girl called him an "ape" during a match, and he had her ejected from the stadium. The backlash against him was swift and viciously racist. Adam replied with sympathy, but the media created a swarm around this child, leading to a barrage of hideous online abuse. And the attacks on him continued, simply because he dared to speak out on the issue.
---
The film opens with an exploration of Australia Day, which evokes sadness to the nation's Aboriginal people because it celebrates the invasion of the oldest continuous surviving culture on earth. And Britain cruelly declared the land theirs, marginalising the natives for two centuries while hoping they would just disappear (North Americans will recognise this tactic). It took a referendum in 1967 to give the Aboriginals citizenship. Aussies forget this history, seeing themselves as a friendly, egalitarian nation. But racial injustice has been endemic, with vicious name-calling a casual reality.

Relaxed, straight-talking interviews with range of people trace Adam's rising-star career as a player of Aussie Rules, which is actually an Aboriginal game. He loved the "blood culture" that binds players together, and became one of the most acclaimed players ever. The film seems to spend too much time on his career, but director Gordon is carefully building to that pivotal moment, establishing his mental and physical resilience, on a collision course with history.

Writer Grant's approach cleverly makes this movie a powerful profile of a top sportsman, a look into a nation's soul and a wider exploration of the impact of racially-charged words. The film unflinchingly discusses the vile names and threats deployed out of ignorance, revealing deeper bigotry and fear. So the clear path forward is through education: face the truth and resolve the questions of history. And we need more people like Adam Goodes and Stan Grant who use their profiles to make a real difference.
| | | |
| --- | --- | --- |
| | themes, language | 9.Jun.20 |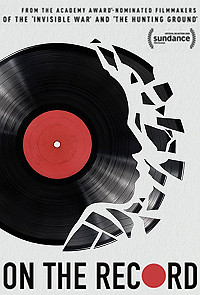 dir Kirby Dick, Amy Ziering
scr Kirby Dick, Amy Ziering, Sara Newens
prd Jamie Rogers, Amy Herdy, Kirby Dick, Amy Ziering
with Drew Dixon, Tarana Burke, Sil Lai Abrams, Sheri Sher, Jenny Lumet, Miguel Mojica, Gary A Watson, Kierna Mayo, Joan Morgan, Bim Adewunmi, Michele Wallace, Kimberle Crenshaw
release US 27.May.20,
UK 25.Jun.20
20/US 1h35

---
SUNDANCE FILM FEST
---
Watch it now...

---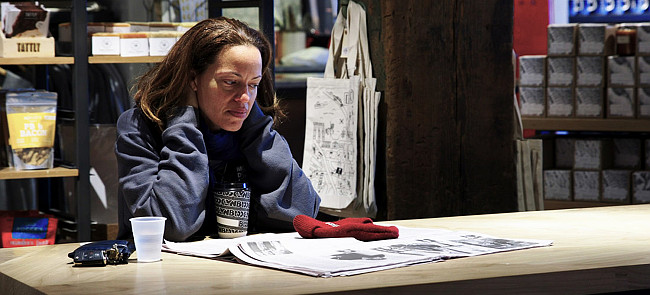 Expertly assembled to create an involving narrative momentum, this documentary adds a powerful personal angle to the #MeToo movement. The women interviewed make essential comments about their experiences, offering a striking reminder that abusive situations are often entwined with wider societal issues. Specifically in this film, filmmakers Kirby Dick and Amy Ziering are speaking with black women whose harassment reveals the endemic sexism in the music industry.
---
Living in Washington DC, Drew Dixon became fascinated by rap music's combination of art and politics, seeking a job developing new talent in the 1990s. Then when Def Jam icon Russell Simmons offered her a job, she knew she'd made it. But even as she quickly began to shine with hits and Grammys, she was also confronted by the acceptance of rampant misogyny in the company. Initially pestering and pathetic, Simmons eventually refused to take no for an answer and raped her. She told her friends, but knew the police wouldn't believe her.
---
On camera, Drew candidly discusses how she felt when the Harvey Weinstein stories started breaking, knowing that as a black woman she would simply be shamed (see Anita Hill and Desiree Washington). She also recounts another experience as LA Reid derailed her career for refusing to sleep with him. The filmmakers document her revealing interview with the New York Times, putting her work and reputation at risk, as well as the healing she's found with her husband and children. And then she has to face the media fallout.

Dick and Ziering edit Drew's story with sensitivity and care, never shying away from the horrific details but also avoiding sensationalism. Interviews are thoughtful and bracingly honest. Drew has no game plan; she's visibly shaken recounting it on camera now. Interviewees include journalists, colleagues and Simmons' other victims, each revealing deeply personal factors that resonate in a bigger picture. So without ever shouting, this documentary points a finger at black culture specifically and US society at large.

Drew makes the important observation that it's the victim who has to describe vile acts and use vulgar language in court, while the assailant can act shocked and simply deny everything. As Drew meets up with other women who have made similar accusations, they all speak about how coming forward has transformed them from victims to warriors. So if it sometimes overplays the emotion and drifts off-course, the film feels like a brave act of confession from these women, and a passionate plea for justice.
| | | |
| --- | --- | --- |
| | themes, language | 24.Jun.20 |