dir Matt Wolf
prd Stacey Reiss
with John Allen ... Johnny Dolphin Kathelin Gray, Marie Harding, William Dempster, Mark Nelson, Linda Leigh, Sally Silverstone, Roy Walford, Tony Burgess, Kathy Dyhr, Larry Winokur, Margaret Augustine
release UK/US 8.May.20
20/US 1h55

---
SUNDANCE FILM FEST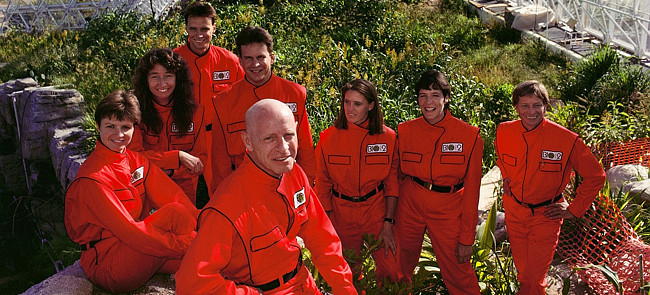 With a straightforward structure, this documentary chronicles a movement that feels like a mix of groovy theatricality, prescient science and cult-like devotion. The escalating scale of the mission is incredible, as these intrepid young people aspire to do what has never been done. Mixing new interviews with wonderful archive footage, filmmaker Matt Wolf tells the story simply, letting facts grab the interest while highlighting important issues from unusual angles.
---
In 1991, eight people moved into a futuristic biosphere in the Arizona desert, where they lived for two years in a precursor to interplanetary travel. The project began 25 years earlier in San Francisco, when Kathelin and her neighbour John, a Harvard MBA, gathered a group of counterculture friends to start a drug-free collective combining science, art and business. Fleeing commercialism, they first moved to New Mexico and built a ranch, then later a ship that sailed around the world, climaxing in their Biosphere 2 project in Arizona, where outside pressures began to cause problems.
---
The film carefully traces this movement from the inside, with telling reactions from the media and their sponsors. Far ahead of his time, John predicted climate change problems in the late-60s, so stressed sustainability, collectivity and inclusivity. Over the following decades, the team gained numerous skills (from ship construction to animal husbandry), feeling free to pursue knowledge. They also funded themselves through long-term businesses established around the world. But rumours swirled that this was a cult, because of John's naturally compelling charisma. But John refused to allow followers into the group: he only wanted free, independent thinkers.

Over the decades, their work was carefully and beautifully documented on film. Inside the biosphere, their research made important environmental discoveries, but the media began to debunk the work, treating it as a stunt. And evasive project spokespeople made journalists even more suspicious as issues with food and oxygen created problems. Two years after completing the mission, the biosphere was taken over by bankers (ironically under the control of Steve Bannon) looking for profit rather than science.

The film has a slightly sleepy tone, recounting the story without flourishes. But the participants tell witty anecdotes. It's also haunting that the media threw out the ecological message to sensationalise this as a doomsday cult. So these people feel that their life's work was stolen from them. This is a scary depiction of that point in history when everyone knew what needed to be done to repair the planet, then money changed the agenda, ramping up destruction instead. But all of the biospherians are still a "high-functioning family" working on earth-healing projects.
| | | |
| --- | --- | --- |
| | language, language | 6.May.20 |