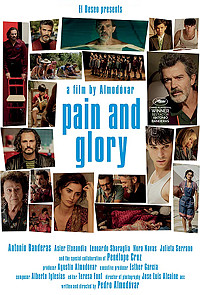 dir-scr Pedro Almodovar
prd Agustin Almodovar
with Antonio Banderas, Asier Etxeandia, Penelope Cruz, Julieta Serrano, Leonardo Sbaraglia, Asier Flores, Nora Navas, Cesar Vicente, Cecilia Roth, Raul Arevalo, Pedro Casablanc, Susi Sanchez
release Sp 22.Mar.19,
UK 23.Aug.19, US 4.Oct.19
19/Spain 1h53

---
CANNES FILM FEST
TORONTO FILM FEST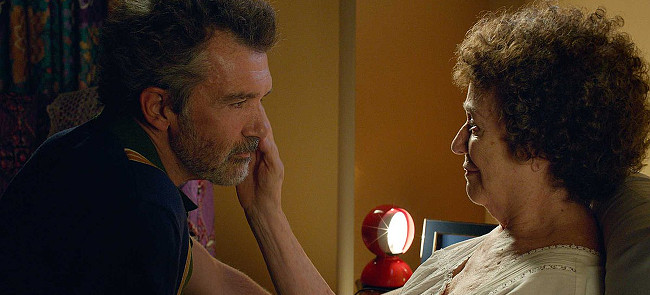 At age 69, Pedro Almodovar delivers on of his most intimate, powerfully inventive films, a striking rumination on the nature of artistic creation in the story of a filmmaker looking back on his life and work, neither of which are quite finished yet. The movie is of course visually sumptuous, but there's also a confident maturity in the storytelling that makes several moments drop-dead gorgeous. It's, quite simply, a stunner.
---
In his late 50s, Madrid-based filmmaker Salvador (Banderas) is suffering from a life of physical and emotional pain. He's only recently been able to see why one of his first films is so beloved by critics and audiences, so after 32 years he's finally willing to speak to lead actor Alberto (Etxeandia). As they reconnect, Alberto teaches Salvador to smoke heroin to relieve his pain. This sparks memories of his life as a boy (Flores) growing up with his hard-working mother (Cruz then Serrano). It also creates an unexpected connection with a long-lost lover (Sbaraglia).
---
The film brings together Almodovar's trademark touches in ways that are strikingly well-integrated, from the luridly bright colours of the sets and costumes to the bright quirks in the characters. As usual with his films, instead of heightening reality, these elements deepen it. Scenes overflow with thoughts and feelings, as Salvador's mind ripples through his life. A sequence in which Alberto performs Salvador's confessional monologue is particularly vivid.

Banderas has never appeared quite like this on camera: exhausted and wracked with pain but full of life, his mind alert even if his body is struggling to keep up. The images in his mind's eye are changing the way he looks at his present situation, and Banderas captures this in a continual stream of nuanced reactions. The cast around him is also award-worthy, with Cruz and later Serrano adding pungent layers as his mother, Etxeandia and Sbaraglia bringing gasps of different emotions as old friends, and the wonderful Flores as him as an expressive observational child.

Even as it swirls around through Salvador's past and present, the film is building a driving sense of narrative momentum. These experiences and memories are pushing this man into making some important decisions about himself, and perhaps they'll reawaken his muse. Almodovar is taking a staggeringly honest look at how life and art infiltrate each other, keep each other company and ultimately perhaps become indistinguishable from each other. It's fitting that, in exploring this idea, he has created another masterpiece.
| | | |
| --- | --- | --- |
| | themes, language, violence, nudity | 30.Jul.19 |

dir-scr Rodrigo Bellott
prd Rodrigo A Orozco, Rodrigo Bellott, Elisa Lleras
with Oscar Martinez, Fernando Barbosa, Rossy de Palma, Dominic Colon, Jose Duran, Quim del Rio, Benjamin Lukovski, Luis Gamarra, Ana Asensio, Rick Cosnett, Babak Tafti, Robb Sherman
release US Jul.19 off
19/US 1h50

---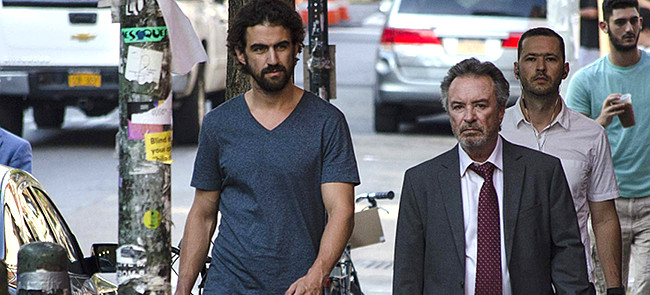 Adapting his own play, Bolivian writer-director Rodrigo Bellott explores grief from a variety of perspectives while taking a provocative, knowing look at attitudes toward homosexuality in Latin American society. It's a finely written and directed film, packed with clever observations and engaging characters in the present, surreal flashbacks and looking forward to the groundbreaking play, which changed the law in Bolivia. It's also a beautiful, staggeringly moving film.
---
Wealthy Bolivian businessman Jorge (Martinez) is sure that his late son Gabriel was corrupted when he moved from Bolivia to New York, initially blaming Gabriel's shocked boyfriend Sebastian (Barbosa) for ruining Gabriel's life. To try to make sense of this, Jorge travels to New York, determined to learn who his son was after years of denying his identity. As Jorge learns about Gabriel's life away from home, getting to know his friends, Sebastian struggles to come to terms with his own past, eventually deciding to channel his emotions into a play.
---
The title is French for "I miss you" (most dialog is in Spanish), while four actors play Gabriel (Duran, del Rio, Likovski and Gamarra), echoing how survivors struggle to remember a loved one's face. Bellott also effectively recounts common experiences for gay Latinos through a series of overlapping interviews with actors auditioning for the provocative play Sebastian is putting on back home in Bolivia to memorialise Gabriel. Thankfully, amid the seriousness, there are also scenes in which characters rattle off hilarious truths about sexuality and gay culture.

Performances are relaxed and realistic, with honest comical elements woven into each role. Barbosa is charming in light-hearted, loved-up flashbacks that recount his story with Gabriel, and he's even stronger in his serious present-day scenes. Meanwhile, Martinez gives the film its kick of emotion with a wrenchingly introspective performance as a man who has always been sure of the world around him, but now feels like he needs to start over from scratch.

The script takes on beliefs and attitudes unflinchingly, exploring in a complex way how religion and society force people to hate themselves by giving them an impossible choice. The salient point is that we can never really see other people until we look at them through their own eyes. What people hide is usually the most important thing about them. And when we learn something new about someone, we're the ones who have changed, not them. Even more simply, love is love, and should never be met with fear or hatred.
| | | |
| --- | --- | --- |
| | themes, language, sexuality | 11.Aug.19 |