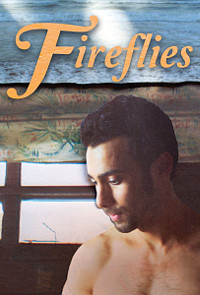 dir-scr Bani Khoshnoudi
prd Elsa Reyes, Bani Khoshnoudi
with Arash Marandi, Edwarda Gurrola, Luis Alberti, Eligio Melendez, Ishbel Mata, Uriel Ledesma, Eduardo Mendizabal, Nima Hosseininia, Amaury Rafael, Vicente Perez, Aristoteles Bonfil, Geovani Cortez
release Mex Oct.18 mff,
US Mar.19 miff, UK 24.Jun.19
18/Mexico 1h28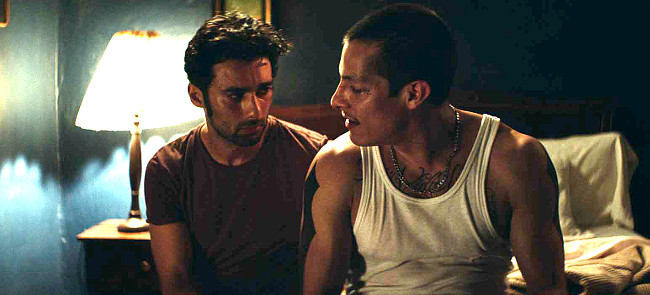 From Mexico, this open-handed drama explores the immigrant experience from an unusual angle. Filmmaker Bani Khoshnoudi takes an introspective approach, revealing thoughts and feelings quietly to bring the viewer into the story, even if nothing much happens along the way. This is a warmly provocative film that touches on big issues in personal ways, adding nice textures to the connections people make between each other.
---
After fleeing from persecution in Iran, Ramin (Marandi) inadvertently ends up halfway around the world in Veracruz. Separated from his boyfriend Hessam (Hosseininia), he's trying to find a way back to Turkey, earning money from a variety of odd jobs. He's also learning some Spanish from his landlady Leti (Gurrola), who has personal issues of her own. And he's painfully lonely, so he enjoys meeting migrant workers from Honduras who are heading north. One of these is Guillermo (Alberti), with whom he strikes up a friendship that he hopes will become closer.
---
The film has a gritty, dark visual tone, which combines with the thoughtful characters to make it feel a little over-serious. But there are sparks of life woven into each scene, including sparky humour and a sense of hopefulness. Glimpses of scars from Ramin's imprisonment and torture are shocking, so it's unsurprising that Ranmin is reluctant to admit his secret. Guillermo was also scarred by gangsters, and his protective macho skin is even thicker. Both are in need of healing.

Performances are earthy and transparent, as the three central figures face a life that hasn't gone as planned. Marandi beautifully captures Ramin's youthful joy mingled with a sense that he's out of place and unsure what to do next. His connection with Gurrola's Leti is cleverly played in hesitant English and Spanish, with added dancing, while Leti worries about the return of her swaggering ex (Mendizabal). Alberti has the more difficult smaller role, layering Guillermo's sensitivity far beneath his tough-guy attitude.

The trajectory of the narrative is both gentle and surprising, as scenes unfold in realistic ways without taking the usual plot turns. It's easy to identify as they grapple with a variety of personal issues while yearning to find a way to move forward, rather than turning back. And by combining the journeys of Middle Eastern and Latin American migrants, Khoshnoudi has made a film that vividly speaks to the idea that we are all one. And that home is where we find love, in whatever form it takes.
| | | |
| --- | --- | --- |
| | themes, language, violence | 22.Jun.19 |
---
Love Blooms L'Amour Debout
Review by Rich Cline |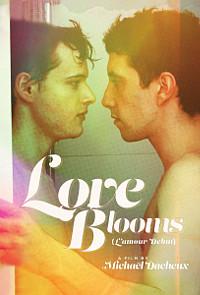 dir Michael Dacheux
prd Gaelle Jones
scr Michael Dacheux, Francois Prodromides
with Paul Delbreil, Adele Csech, Samuel Fasse, Jean-Christophe Marti, Thibaut Destouches, Shirley Mirande, Pascal Cervo, Francoise Lebrun, Claude Moreau, Camille Plagnet, Jeanne Delafosse, Gaston Plagnet
release Fr 30.Jan.19,
UK 12.Jul.19
18/France 1h23

---
CANNES FILM FEST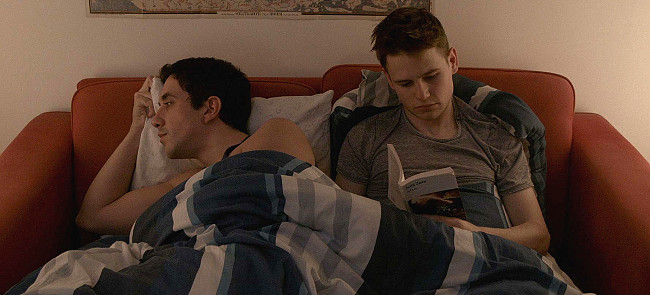 There's an earthy, understated quality to this French drama, which allows the characters to slowly grow on the audience. Conversations are loose and meandering, realistically drifting from chitchat to deeper themes without pushing the point. This makes the characters rather passive, and leaves the film feeling like it is skating alongside the story rather than diving fully into it. But it's packed with moments of resonance.
---
At 25, Martin (Delbreil) follows his recently ex-girlfriend Lea (Csech) to Paris, where she's working as a tour guide. Martin runs into his school friend Tristan (Destouches), who offers him a place to stay, and Martin begins teaching film studies. When Lea begins a romance with eccentric older musician Jice (Marti), Martin realises there's no point in trying to get her back, and begins to think about getting his own boyfriend. Then on a weekend in the country he meets Bastien (Fasse). But both Martin and Lea are struggling with the idea of growing up.
---
Filmmaker Dacheaux deliberately takes an askance viewpoint, for example never actually showing the sites Lea points out on her tours. In other words, this is a film about reactions. Martin seems unbothered whether he's with a girl or a boy, awkwardly telling Tristan about his bisexuality but insisting he's not making a move. In response, Tristan confesses he's a virgin. The film is full of random discussions like this, realistic details that speak for themselves without necessarily leading anywhere.

Performances are deliberately subdued, offering glimpses of an internal spark in the eyes as well as some gently witty interaction. Each of these people has strong hopes for their lives, but they're not doing much to push things forward. Even so, they're so relaxed that they're engaging. Delbreil brings a quiet curiosity to Martin that perks up here and there. Csech gives Lea a hint of yearning. Destouches plays Tristan as a science-minded guy who is literally sleepwalking through life.

The cinematic world in which Martin lives and works adds what feels like an autobiographical tone (including a screening of 1973's classic La Maman et la Putain with Lebrun offering a Q&A before joining this film's narrative). Indeed, Dacheaux almost seems to know Martin too well, understanding that his aimlessness is a direct result of his resistance to let people into his life. But then Lea's journey is just as introspective, gliding along through this involving, languid movie while themes gurgle in the undercurrent.
| | | |
| --- | --- | --- |
| | themes, language, sexuality | 5.Jul.19 |
---
Never Look Away Werk Ohne Autor
Review by Rich Cline |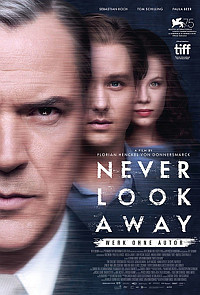 dir-scr Florian Henckel von Donnersmarck
prd Florian Henckel von Donnersmarck, Jan Mojto, Quirin Berg, Max Wiedemann, Christiane Henckel von Donnersmarck
with Tom Schilling, Sebastian Koch, Paula Beer, Saskia Rosendahl, Oliver Masucci, Ina Weisse, Cai Cohrs, Evgeniy Sidikhin, Hans-Uwe Bauer, Hanno Koffler, Lars Eidinger, Ben Becker
release Ger 3.Oct.18,
US 30.Nov.18, UK 5.Jul.19
18/Germany 3h09

---
VENICE FILM FEST
TORONTO FILM FEST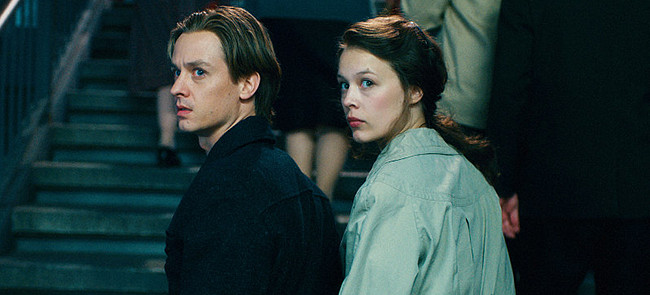 Gorgeously shot by Caleb Deschanel, and written and directed with artistry and attention to detail by Florian Henckel von Donnersmarck, this powerful drama explores the ramifications of oppressive governments over 30 years. Watching all three hours of it is like binging a particularly compelling miniseries. It's so well-made that it never feels dull. And while some elements are much stronger than others, the pungent issues pique the interest.
---
In 1937 Dresden, 6-year-old Kurt (Cohrs) is encouraged by his Aunt Elisabeth (Rosendahl) to appreciate art the rising Nazis criticise as degenerate. She urges him to never look away from the truth. Meanwhile, eugenics become the law, giving Dr Carl (Koch) the power to bestow life or death. After the war, Dresden is in ruins and Carl gets a surprise reprieve. But Kurt discovers the ruling Soviets have even more limited art appreciation. As years pass, art student Kurt (now Schilling) meets Carl through his daughter Ellie (Beer), and eventually they escape to the West.
---
In the second half, the film delves into the nature of art, truth and freedom, as Kurt struggles to find his distinctive creative voice. These thematic touches are more provocative and lingering than the relational melodramas. By keeping the story so personal, it's easy to get deeply involved with the characters, even if it's clear that there's a rather enormous shoe that needs to drop at some point. Thankfully, the script handles this with subtle skill.

Performances are earthy and edgy, as Schilling and Beer get offhanded moments awash with humour and romance. Their story gives the film its central momentum, and they're thoroughly engaging in an understated way. Others are much sharper, most notably Koch, who adds a sinister shadow to each scene he appears in (as his wife, Weisse is refreshingly secretive and warmly understanding). Carl clearly took that Nazi philosophy to heart, so remains unapologetically villainous throughout.

An extraordinarily grim tone makes this film powerfully compelling, tracing events that feel eerily familiar less than a century later. The rise of irrational, tyrannical regimes, first from the right and then from the left, is sharply depicted through Kurt's eyes. Although the parallel between a controlling government and a controlling father is a little obvious. Still, it's a clever look at the difference between free-thinkers and those who follow the party line, regardless of ideology or what they you to endorse.
| | | |
| --- | --- | --- |
| | themes, language, violence, sexuality | 29.Jun.19 |
---

< < F O R E I G N > >
See also: SHADOWS FILM FESTIVAL

© 2019 by Rich Cline, Shadows on the Wall


HOME | REVIEWS | NEWS | FESTIVAL | AWARDS | Q&A | ABOUT | TALKBACK