---
Roobha
Review by Rich Cline |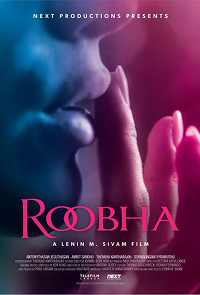 dir-scr Lenin M Sivam
prd Warren Sinnathamby
with Antonythasan Jesuthasan, Amrit Sandhu, Thenuka Kantharajah, Sornalingam Vyramuthu, Cassandra James, Daniel Bertolini, Bhavani Somasundaram, Rajeev Seelan, Tharsiny Varapragasam, Ishwaria Chandru, Angela Christine, Sudhagar Subramanyam
release Can Oct.18 rff,
UK Jun.19 liff
18/Canada 1h31

---
LONDON INDIAN FILM FEST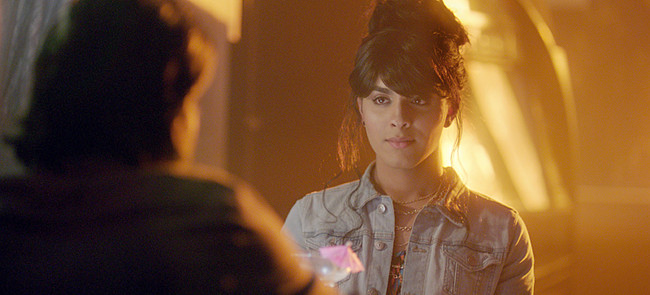 Set in Toronto's Tamil community, this sensitive drama is beautifully shot and edited to recount the story of two people who feel on the outside of their lives, trapped by the strictures of society. Writer-director Lenin Sivam takes a gently understated approach to the topic, building a depth of emotion around the journeys of both a middle-aged married man and a 20-something trans woman.
---
Diagnosed with a weak heart, Anthony (Jesuthasan) needs to clean up his life but is more concerned with his debts, his dry marriage to Pavun (Kantharajah) and responsibilities to his daughters and in-laws. Then while working in his bar he's distracted by charismatic young customer Roobha (Sandhu). Their flirtation leads to a harsh confrontation when he discovers that she's a trans woman trying to save up to go to Thailand for her operation. But an unexpected relationship develops. And both Pavun and her brother Sasi (Seelan) begin to suspect something's up.
---
The second act is an extended flashback to six months earlier, offering a provocative and moving glimpse into Roobha's family, and why she had to leave. Her journey through desperate prostitution and building her own family is perhaps more important than Anthony's story. It's certainly more involving. By contrast, Anthony's odyssey provides the film with a series of driving plot points. He's is a poet confronting his own mortality, while Roobha has struggled with her identity all her life.

Performances are internalised and powerful. Jesuthasan cleverly underplays Anthony as a man who has refused to face his reality. So the way he opens up to Roobha is surprising and complex. Sandhu brings a raw intensity to Roobha, who softly says to her mother (Somasundaram), "You never had a son." As her father, Vyramuthu is darkly thoughtful but stuck in his Sri Lankan culture, controlled by feelings of disgrace rather than love for his child. And Kantharajah makes the most of a smaller role, giving Pavun a prickly edge that keeps this from being just the thankless wife role.

Photographed in deep colours by Arsenij Gusev, the film is visually sumptuous. Even some more horrific scenes are played in a way that has a striking beauty, which adds to the visceral impact. This is an unusually textured story that never simplifies things as it mixes big societal themes with profoundly human emotions. Sivam is taking on a big issue in a remarkably sympathetic way that pulls the viewer right into the centre of the story, challenging us with our reactions.
| | | |
| --- | --- | --- |
| | themes, language, violence, sexuality | 23.Jun.19 |
---
Sincerely Yours, Dhaka
Review by Rich Cline |

MUST

SEE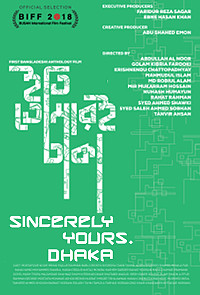 prd Abu Shahed Emon
release UK Jun.19 liff
18/Bangladesh 1h30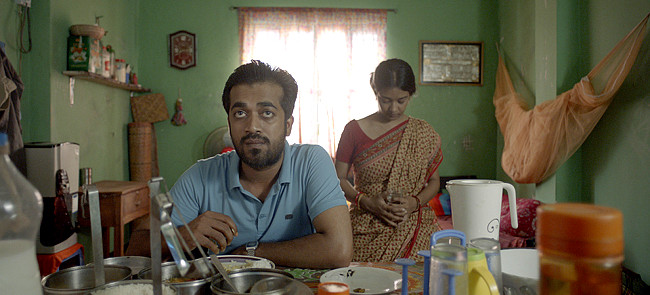 This collection of seven short films offers a pointed look at life in the Bangladeshi capital. Each segment features a political angle, exploring class, ethnicity and gender. There's no attempt to provide a comprehensive portrait (no mention of sexuality, for example), but each short is strikingly well made, involving and provocative. They explore issues relevant in Dhaka, and will also connect with global audiences.

The Background Artist
dir-scr Nuhash Humayun
with Mostafizur Noor Imran, Fazlur Rahman Babu

---
Filmmaker Humayun uses lively visuals to recount the story of an extra who plays everything from dancers to mobsters. But he's never been a hero. He gets the chance in real life, playing a father to help a child get into a private school, because a tailor's son could never attend this school. The film is witty and rather silly, but the energetic tone catches some striking emotions.

Cheers
dir Syed Ahmed Shawki
scr Rafiqul Islam Poltu
with Orchita Sporshia, Tanin Tanha

---
A teen comedy-drama, this film centres on a girl whose boyfriend cruelly broke up with her, so she and her best pal plot revenge. But they need to get their hands on some alcohol, and no one will sell it to a woman. Worried that men are watching them in this quest ("No, it's because we have boobs"), they need to think laterally. It's a funny, very sharply pointed little film.

Maghfirat
dir Robiul Alam Robi
scr Thanvir Chowdhury, Robiul Alam Robi
with Shamol Mawla, Farhana Hamid

---
This one is surreal with thoughtful moments, as it follows a man who is feeling badly overheated. He spends all his cash to buy an air conditioner for his small flat, something his patient wife can't understand. Working as a driver, he makes up little stories for his clients to get through the day, and is generally grumpy and dismissive. But maybe the city is just overwhelming him. The title means absolution.

Where, Nowhere
dir-scr Tanvir Ahsan
with Tropa Majumdar, Shahnaz Sumi

---
With an urgent tone, this short drama is set in crowded, chaotic rooms as a young woman with a rude tough-guy boyfriend works with her frazzled mother to get her brother out on bail. Under the thumb of society, they're grasping for any hope they can find. Edgy filmmaking in real locations provides an adrenaline rush, as this mother and daughter discover that justice is only available at a cost. "Survival is the new order."

M for Money/Murder
dir-scr Abdullah Al Noor
with Iresh Zaker, Gousul Alam Shaon

---
Shot in black and white, this noir thriller unfolds in first person as a beleaguered bank employee discusses being betrayed by his boss, asked to take the fall for a crime he didn't commit. So he decides to plot a murder. Boldly visual with sharp editing, this is a stylish, clever exploration of everyday corruption. Although some symbolism might be a bit vague, it carries a pungent twist in the tale.

Jinnah Is Dead
dir-scr Krishnendu Chattopadhyay
with Lutfur Rahman George, Mostafa Monwar

---
Opening in a documentary style, this film plunges the viewer into a neighbourhood where Bihar refugees have lived for 47 years. Cramped and bustling, the film follows a series of characters who continually shout at each other, hilariously angry about even the most basic things. At the core are ethnic tensions, speaking Urdu at home, but Bangla in public. The intolerance is out of control, a tinderbox that has already begun to explode.

Juthi
dir Syed Saleh Ahmed Sobhan
scr Robiul Alam Robi, Monirul Islam Rubel
with Nusrat Imrose Tisha, Rawnok Hasan

---
LONDON INDIAN FILM FEST
---
Finally, this drama centres on a couple in a tacky hotel that clearly caters to hookers. This man and woman are planning to get married, but he wants to wait, and she's fed up with this. Worried that he only wants sex, not a relationship, she sets a test for him. It's a stunning little drama with a wry sense of real-life humour and a staggering punchline. Contained and simple, and essential.
| | | |
| --- | --- | --- |
| | themes, language, violence | 25.Jun.19 |
---
Saturday Afternoon
Review by Rich Cline |


dir-scr Mostofa Sarwar Farooki
prd Abdul Aziz, Anna Katchko, Mostofa Sarwar Farooki
with Zahid Hassan, Nusrat Imrose Tisha, Parambrata Chattopadhay, Eyad Hourani, Mamunur Rashid, Iresh Zaker, Intekhab Dinar, Syed Gousul Alam Shaon, Nader Chowdhury, Manoj Kumar, Golam Rabbani Mintu, Milon Bhattacharjee
release UK Jun.19 liff
19/Bangladesh 1h26

---
LONDON INDIAN FILM FEST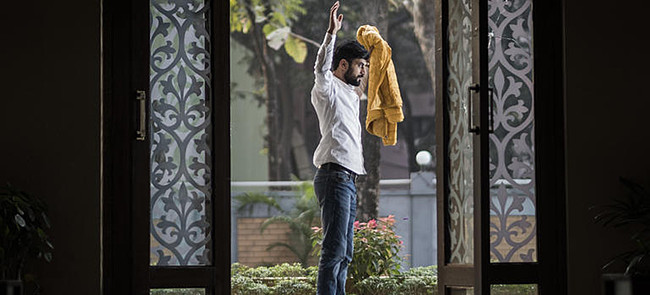 This taut Bangladeshi thriller by Mostofa Sarwar Farooki explores religious divisions in southern Asia in a bold, unflinching way. Loosely based on an actual 2016 terrorist attack in which 22 people died, it's shot in real-time in one location with densely thematic dialog. So it feels like an urgent, wrenching stage play. And it powerfully exposes religious fanatics as frauds.
---
In Dhaka during Ramadan, a foreigner is overseeing a terrorist mission in a restaurant that turns into a shootout with the cops. The staff and patrons are panicking, and rightly so. As Bangladeshi terrorist Polash (Chattopadhay) works his way through the hostages one-by-one, anyone who isn't recognisably Muslim is executed, whether they're locals or visitors, male or female. While challenging the victims' beliefs and lives, the trigger-happy gunmen become increasingly agitated, threatening to kill everyone. Especially any Shias, who are even more hated than Christians or atheists.
---
After a scene-setting opening montage, cinematographer Aziz Zhambakiyev shoots the next 85 minutes in a single complex take, capturing the horror as smoothly as the quieter moments. It's clear that these are very bad guys, deaf to the hostages' pleas and capable of cold-blooded murder. At gunpoint, captives engage killers in conversations about religious and political ideology. But the terrorists plainly have no proper understanding of their faith, speaking in shallow terms about "them" and "us" and how they only want to protect Islam.

The relentless tension is sharply well-played, with gunmen acting impulsively and irrationally, and hostages desperately trying to survive. Each actor is on-set right through the stand-off (the story opens after the initial assault and ends before the police raid). The most vivid moments are when hostages challenge terrorists, protecting each other from certain death. Standouts include Hassan as a salesman trying to help everyone he can and Tisha as an articulate 26-year-old woman with a strikingly steely backbone. And as a businessman, Rashid manages to deliver some painfully obvious dialog with a real kick.

This is a harrowing depiction of how people with guns control the world, rather than those who are right or just. The way the killers dismiss their hostages is terrifying, interrupting their pleas with bullets. In other words, Farooki is revealing that despite their proclamations, these aren't Muslims at all, but rather politically motivated thugs. Unnervingly, the film has been banned in Bangladesh because it could "damage the country's reputation", but actually this cry for religious tolerance is just what the region needs.
| | | |
| --- | --- | --- |
| | themes, language, violence | 22.Jun.19 |
---

< < F O R E I G N > >
See also: SHADOWS FILM FESTIVAL

© 2019 by Rich Cline, Shadows on the Wall


HOME | REVIEWS | NEWS | FESTIVAL | AWARDS | Q&A | ABOUT | TALKBACK