SHADOWS ON THE WALL | REVIEWS | NEWS | FESTIVAL | AWARDS | Q&A | ABOUT | TALKBACK

Shadows off the beaten path
Indies, foreigns, docs, revivals and shorts...
On this page: GOOD MANNERS | WESTERN
< < F O R E I G N
last update 8.Apr.18
See also: SHADOWS FILM FESTIVAL
---

R E V I E W B Y R I C H C L I N E
Good Manners


As Boas Maneiras
dir-scr Marco Dutra, Juliana Rojas
prd Frederic Corvez, Clement Duboin, Sara Silveira
with Isabel Zuaa, Marjorie Estiano, Miguel Lobo, Cida Moreira, Felipe Kenji, Nina Medeiros, Andrea Marquee, Hugo Villavicenzio, Neusa Velasco, Gilda Nomacce, Eduardo Gomes, Adriana Mendonca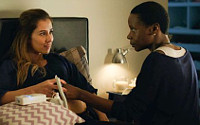 release US Sep.17 ff,
UK Oct.17 lff, Br 7.Jun.18 17/Brazil 2h15

---
LONDON FILM FEST


An extraordinary fairy tale that mixes comedy, horror and personal drama, this Brazilian film so resolutely challenges expectations that it's almost impossible to describe the plot without spoiling it. Lushly shot and acted with deep emotion, this film provokes the audience as much as it entertains, taking us on an outrageous journey that's both fantastical and properly grounded. It leaves us shaken and oddly satisfied.

In Sao Paulo, Clara (Zuaa) applies for a job as a nanny to wealthy young Ana (Estiano), who hires her even though she has no experience. Ana is pretty hopeless, so Clara begins running her life. And as they bond in the final months of Ana's pregnancy, Clara feels like she has finally found a home. But once a month during the full moon, Ana spends four nights sleepwalking, and what she gets up to becomes increasingly disturbing for Clara. So when something unspeakably crazy happens, even Clara is surprised by what she does.

The story continues seven years later, following Ana's son Joel (Lobo) as he begins to exert his independence. And nothing about his story happens as expected. Suffice it to say that the moon features heavily, as do a couple of his school friends (Kenji and Medeiros), a nutty landlady (Moreira), some emotional musical numbers, a secret room and a bag of diamonds. And despite the epic length and major shifts in tone, Filmmakers Dutra and Rojas skilfully lead the audience through the story.

Within the heightened settings, Zuaa delivers a raw, earthy performance as the sardonic Clara, who instantly spots when someone is being disingenuous and calls them on it. Her interaction with both Estiano's ditzy Ana and Lobo's curious Joel conveys emotional attachment and a fierce sense of protective caution. So these relationships resonate even when they're not on-screen. And side characters all feel like outsiders, as if they aren't in on the joke.

The filmmakers set this in a fantastical atmosphere, with the city's glass towers gleaming across the river like Oz in the distance. And they evoke the more outlandish elements with effects that are subtle and largely realistic. But what's most impressive is how they generate nervous laughter even when something truly horrific is happening. This is because the story's emotional core is so solid that we are just as conflicted as Clara is about what needs to be done. And what she does is, frankly, awesome.
15 themes, language, violence, sexuality
---
30.Mar.18
---

R E V I E W B Y R I C H C L I N E
Western


dir-scr Valeska Grisebach
prd Maren Ade, Jonas Dornbach, Valeska Grisebach, Janine Jackowski, Michel Merkt
with Meinhard Neumann, Reinhardt Wetrek, Syuleyman Alilov Letifov, Veneta Fragnova, Vyara Borisova, Kevin Bashev, Aliosman Deliev, Momchil Sinanov, Robert Gawellek, Jens Klein, Waldemar Zang, Detlef Schaich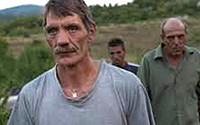 release Ger 24.Aug.17,
US 16.Feb.18, UK 13.Apr.18
17/Germany 2h01

---
CANNES FILM FEST
VENICE FILM FEST
TORONTO FILM FEST


The title of this contemporary German drama refers to an attitude rather than the genre. And director Valeska Grisebach cleverly keeps scenes sun-drenched and dusty in a rural Bulgarian wilderness near a small village, where riding horseback is the easiest mode of transport and evenings wind down around a campfire. And over the course of this slow-burn drama, the tensions rise incrementally, hinting that there will have to be a final showdown.

A group of German workers are constructing a hydroelectric plant in a mountainous setting. Life here is an adventure, but they clash with locals when they start picking plums, riding stray horses and flirting with women like Vyara (Borisova). Team member Meinhard (Neumann) watches this with annoyed detachment, especially the offensive behaviour of his colleague Vincent (Wetrek). So Meinhard is an outsider both in this foreign land and among his own compatriots. But he tries to befriend local official Adrian (Letifov) to soothe the tensions, teaching Adrian's nephew (Bashev) to ride a horse.

Grisebach's writing and directing are razor-sharp, taking a subtle approach to a series of high-intensity encounters. Even the most meandering scene ripples with aggressive behaviour, mostly tiny insults and manipulations that go largely unremarked as these people try to exert control over each other. With a German flag flying over their accommodation, there's a sense that these visiting workers are staking a claim here. And they aren't ignorant of the nasty past between their countries, which has understandably left locals wary of interlopers.

The actors all deliver gritty, earthy performances that feel sometimes startlingly authentic. This means that most of the dialog feels improvised, with the language barrier adding layers of intrigue (and witty subtitles) in encounters between Germans and Bulgarians who can't understand each others' words but know full well what the underlying meaning is. Looking like a Western hero, the lean, tall, craggy-faced Neumann has a calming presence that puts everything into perspective, mainly because he so resolutely refuses to share the narrow mindset of his chucklehead colleagues.

Grisebach and cinematographer Bernhard Keller observe everything carefully, just as Meinhard does, which offers welcome glimpses of positive connections between these communities, including warm friendships and even a hint of romance. And even though the story unfolds very slowly over a rather long running time, the gradually building antagonism between these outsiders and the villagers is seriously unnerving, especially when they start wearing guns on their belts.
12 themes, language, violence
---
5.Apr.18
---


< < F O R E I G N
See also: SHADOWS FILM FESTIVAL

© 2018 by Rich Cline, Shadows on the Wall


HOME | REVIEWS | NEWS | FESTIVAL | AWARDS | Q&A | ABOUT | TALKBACK