TORONTO FILM FEST

With an earthy authenticity and a wry sense of humour, this Israeli comedy-drama is packed with disarmingly likeable characters who simply refuse to play by the rules. Writer-director Maysaloun Hamoud creates an atmosphere that allows the characters to become deeply involving within scenes that are both realistically lively and darkly introspective.

In Tel Aviv, Salma (Jammelieh) is fed up with the string of suitable men her family keeps parading her in front of her. And she and her party girl cohort Laila (Hawa) are taken aback when their new flatmate Nour (Kanboura) turns out to be a devout Muslim. But as Laila falls for the sexy-sensitive Ziad (Shalabi), she finds a way to bond with Nour, whose fiance Wissam (Andrawes) is pushing her to live another kind of life. And Salma begins an unexpected, forbidden relationship with her neighbour Dunia (Canaan).

Loose and funny, but with some startlingly bleak undercurrents, this is a story about three smart young women trying to be themselves in a society that piles on expectations. And it catches men in vile expressions of macho hypocrisy that reveal how trapped they are too. A chef and a lawyer, Laila and Salma are modern and worldly, rebelling against their Arabic family traditions. In these roles, Hawa and Jammelieh are likeable and colourful, finding little textures in each scene to reveal conflicting inner feelings.

Meanwhile, Nour has the most powerful narrative arc as a good girl who begins to understand that the trajectory planned for her might not be ideal. In this sense, Kanboura has the most complex character, beautifully letting the audience feel her emotions, especially when things turn nasty. All three young women continually find themselves constrained by outside pressures that try to mute who they really are. What they want or need is irrelevant in this culture, so they feel increasingly trapped, in search of a way out.

As the story continues, the three interlocked storylines get heavier as the intense pressures squeeze in on the characters. It's sometimes a little nerve-wracking to think where events might lead, but Hamoud's understated writing and directing are refreshing as they sharply reveal seriously pungent angles on the lives of young women in this community, and of course anywhere on earth. Without preaching, but also without hedging it, the film carries an important message about how you can't actually love something without respecting their life choices.
15 themes, language, violence, drugs
---
17.Sep.17

R E V I E W B Y R I C H C L I N E
ManHunt


dir John Woo
prd Gordon Chan, Chan Hing-kai
scr Hing Kai Chan, Jame Yuen, Gordon Chan, Itaru Era, Miu Ki Ho, Maria Wong, Sophie Yeh
with Zhang Hanyu, Masaharu Fukuyama, Wei Qi, Ha Jiwon, Angeles Woo, Jun Kunimura, Hiroyuki Ikeuchi, Yasuaki Kurata, Tao Okamoto, Nanami Sakuraba, Naoto Takenaka, Tao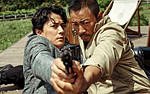 release Chn 24.Nov.17
17/Japan 1h46

---

TORONTO FILM FEST
LONDON FILM FEST

John Woo returns to his roots with this rampaging action movie, which also pays homage to the history of Japanese cinema as an innocent man tries to clear his name. Set in the present but shot in cheesy 1970s style, the film is a lot of fun with its convoluted plot and breathtakingly choreographed action scenes. It also features all the Woo trademarks, from shattered glass to fluttering doves. And bullets, lots of bullets.

As Osaka pharmaceutical CEO Sakai (Kunimura) prepares to step down in lieu of his son (Ikeuchi), the company lawyer Du (Zhang) wakes up next to a dead body and is accused of murder. Running for his life with the help of a femme fatale (Wei) and a spry old man (Kurata), he manages to convince Inspector Yamura (Fukuyama) of his innocence. But now they're being pursued by unstoppable assassins Rain and Dawn (Ha and Woo) as they try to stop the company from developing a drug that creates unstoppable killing-machine soldiers.

Almost a parody of Woo's filmmaking style by the man himself, the movie at times feels a little too self-referential, dropping in gleefully enjoyable touches at every opportunity. In addition, the goofy 70s style leaves the actors looking hammy, especially when struggling to deliver dialog in English, the common language between Japanese and Chinese characters. Thankfully, Woo never lets the energy flag, and the action choreography is thrillingly inventive.

At the centre, Zhang and Fukuyama make a terrific duo as two guys ostensibly on opposite sides but forced to cooperate, including one terrific fight sequence in which they're handcuffed together. Both characters have just enough back-story to offer some emotional resonance, and they also both develop tetchy relationships with women. Indeed, this is a rare Asian action movie with several strong female roles; Ha and Woo are especially good as tag-team killers.

It's a little frustrating that Woo is quoting from his back catalogue while reliving his early action-chaos days. There may be a gentle jab at big pharma along the way, but subtext is conspicuously absent. The whole point is the fights, gunplay and chases, all of which are spectacularly entertaining. And it's also an enjoyable mash-up of the cat-and-mouse and police mystery genres, with comedy and drama popping up in every scene and a silly premise that's essentially science-fiction. So it's impossible to watch this without a smile on your face.
15 themes, language, violence
---
8.Sep.17 vff
---

R E V I E W B Y R I C H C L I N E
On Body and Soul


Teströl és Lélekröl
dir-scr Ildiko Enyedi
prd Erno Mesterhazy, Andras Muhi, Monika Mecs
with Geza Morcsanyi, Alexandra Borbely, Zoltan Schneider, Ervin Nagy, Reka Tenki, Itala Bekes, Eva Bata, Pal Macsai, Zsuzsa Jaro, Nora Rainer-Micsinyei, Barnabas Horkay, Tamas Jordan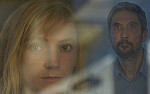 release Hun 2.Mar.17,
UK 22.Sep.17
17/Hungary 1h56

---
BERLIN FILM FEST
Call this an extreme rom-com. This award-winning Hungarian film takes an unusual route through a seriously offbeat love story, exploring the convergence between real life and dreams and the disparate worlds of animals and humans. It's artful and uneven, and not always easy to watch with its sleepy pacing and somewhat pigeonholed characters. But it's also finely crafted and utterly mesmerising.

At a meat-packing plant in the city, Endre (Morcsanyi) is a middle-aged financial director who has stopped thinking about women since he lost the use of his left arm. But there's something about new young quality control officer Maria (Borbely) that catches his interest. She's clearly on the autism spectrum, a stickler for detail who fears human contact. So when they discover that they both share dreams in which they're deer in a snowy forest, they are oddly drawn to each other. Intrigued, they both begin to emerge from their shells.

Writer-director Enyedi underscores each scene with brittle humour, either in the awkward interaction between Endre and Maria or the rather colourful people around them, including Endre's gossipy friend (Schneider), a sexy and invasive shrink (Tenki), and the macho new employee (Nagy), whom Endre thinks is all wrong for a job slaughtering cows. Meanwhile, the filmmaker never flinches from the gut-wrenching documentary footage following big-eyed cows through the abattoir. Or Maria's curiosity about porn. There's also a mystery plot as Endre tries to work out which staff member is stealing meds.

Performances are offhanded and engaging, including the characters who are evasive, confused or abrasive. At the centre, Morcsanyi has a scruffy charm that's disarmingly relaxed, a man who has accepted his lot in life and is bemused by this inexplicable turn of events. Borbely has a tougher role, as Maria is increasingly defined by her mental state, staring implacably in the face of big emotions and ultimately succumbing to them in a way that's both overstated and difficult to understand. Although that's the point.

Throughout this slow-moving, often almost silent film, Enyedi makes intriguing connections between between the interaction of animals and humans, refusing to sentimentalise either people falling in love, deer frolicking in the woods or cows being sent to slaughter. The point seems to be that life has its elemental side, instincts and urges that we can't explain, no matter how hard we try. And also that happiness can sometimes easily reside alongside voyeurism, jealousy and misunderstanding.
18 themes, language, sexuality
---
27.Jul.17

R E V I E W B Y R I C H C L I N E
Racer and the Jailbird


Le Fidèle
dir Michael R Roskam
scr Thomas Bidegain, Noe Debre, Michael R Roskam
prd Pierre-Ange Le Pogam, Bart Van Langendonck
with Matthias Schoenaerts, Adele Exarchopoulos, Kerem Can, Sam Louwyck, Jean-Benoit Ugeux, Igor van Dessel, Stefaan Degand, Corentin Lobet, Gael Maleux, Guray Nalbant, Charley Pasteleurs, Dimitry Loubry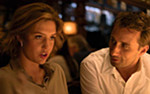 release Bel 4.Oct.17,
UK Oct.17 lff
17/Belgium 2h13

---

TORONTO FILM FEST
LONDON FILM FEST
Filmmaker Michael Roskam reteams once again with Matthias Schoenaerts for this personal drama set against the criminal scene in Belgium. More of an epic romance than a thriller, the film has plenty of emotional moments that draw the audience into the central romance. Although it's all perhaps a bit too dark for its own good, as the film runs out of hope before we're ready to give up on these people.

Known to his friends as Gigi, the orphaned Gino (Schoenaerts) is a charming man who easily wins over race driver Benedicte (Exarchopolous), who's called Bibi by her friends. She enjoys meeting his rowdy group of buddies, and he bonds with her family in return. But he's hiding the truth that he and his mates are actually a high-tech bank heist gang, and by the time she figures this out he's been caught by the cops. The question is whether they'll be able to wait out his sentence so they can start a family properly.

Where this story goes is twisty and unpredictable, encompassing at least three other film genres (to list them would be spoilery). But the collision of various themes and tones demands a lot from the two lead actors, and both are excellent at creating coherent, convincing characters who are happy, conspiring, wounded, determined and resigned, not necessarily in that order. These gyrations of the plot make the movie's scale a lot bigger than expected.

Schoenaerts is terrific as the charismatic bruiser with the ability to melt the will of anyone he speaks to. Gigi's darker urges seem like conditioning, rather than true nature, which sets him apart from the usual movie hardman. And Exarchopolous also adds surprising textures to her role as a tomboy racer with a gift for speed and also for accepting whatever life throws at her. Together they make a great couple, so it's frustrating that their journey is so fraught.

Indeed, life throws rather a lot at Bibi in particular. And in its final moments, the script drops a loudly clanging hint that leaves us wondering what we've just seen. But before this, there are all kinds of enjoyably offbeat moments and lively characters to keep us entertained. It's a slickly produced film that's unafraid to combine a full-out heist sequence with some very grim emotions. And it's also brave enough to go for an arthouse ending.
15 themes, language, violence, sexuality
---
7.Sep.17 vff
---


< < F O R E I G N > >
See also: SHADOWS FILM FESTIVAL

© 2017 by Rich Cline, Shadows on the Wall


HOME | REVIEWS | NEWS | FESTIVAL | AWARDS | Q&A | ABOUT | TALKBACK