SHADOWS ON THE WALL | REVIEWS | NEWS | FESTIVAL | AWARDS | Q&A | ABOUT | TALKBACK

Shadows off the beaten path
Indies, foreigns, docs, videos, revivals and shorts...
On this page: I AM NOT MADAME BOVARY
SLACK BAY | SUNTAN | TOMCAT
< < F O R E I G N > >
last update 20.May.17
See also: SHADOWS FILM FESTIVAL
---

R E V I E W B Y R I C H C L I N E
I Am Not Madame Bovary


dir Feng Xiaogang
scr Liu Zhenyun
prd Hu Xiaofeng
with Fan Bingbing, Guo Tao, Da Peng, Zhang Jiayi, Yu Hewei, Yin Yuanzhang, Feng Enhe, Liu Xin, Zhao Yi, Li Zonghan, Zhao Lixin, Zhang Yi

release Chn 29.Sep.16,
US 18.Nov.16, UK 26.May.17
16/China 2h18

---
TORONTO FILM FEST

Despite its epic length, this Mandarin film is a nimble political satire, playfully exploring the power balance between a baffling woman who stubbornly holds her ground and male officials who are only interested in self-preservation. Filmmaker Feng Xiaogang recounts this take with visual panache that makes it essential to watch on a big screen.

In a provincial town, restaurant owner Lian (Fan) launches legal action to declare her divorce from Qin (Li) invalid, because they only split to get a flat, and then he married someone else. But Justice Wang (Da) throws the case out. Her appeals escalate until she travels to Beijing to see her chef friend Zhao (Guo) and confront someone higher up. This causes chaos throughout the political layers for 10 years. Finally, the mayor (Zhang Jiayi) and county chief (Yu) team with Wang to find a solution, perhaps with the help of Zhao.

Scenes play out in a circle in the middle of the screen (or a square in Beijing), which creates strikingly gorgeous compositions, as if we're watching only part of the story through a keyhole. When combined with director Feng's knowing narration, watching the film feels like reading a very old storybook. On a big screen, it's easy enough to see the gorgeous detail in the costumes, sets and performances. On video this will be a challenge.

Performances are focussed and engaging, creating intriguingly enigmatic characters with all kinds of edges to them. Everyone clearly has a life off-screen, only showing part of themselves to others. At the centre, Fan is fascinating as Lian, a woman who is initially infuriating and then increasingly sympathetic as she refuses to be pushed around by these arrogant men. And they continually learn lessons from the intractable Lian, only to again prove their relentless self-interest.

While the story is satirical, it's sarcastic rather than funny. Still, there are amusing sequences, wonderful speeches and hilariously astute comedy. Lian's absurd quest never quite makes sense as an attempt to clear her name from accusations of infidelity (as the title suggests), although a startling final explanation adds emotional truth. Basically, this is a clever look at how impossible it is for politicians to avoid corruption, and for people to understand the tedious details of the law. It might even offer a cautionary warning about dictatorial governments and the weaknesses of democracy, but then the entire world is shouting that message rather loudly at the moment.
12 themes, violence
---
10.May.17

R E V I E W B Y R I C H C L I N E
Slack Bay


Ma Loute
dir-scr Bruno Dumont
prd Rachid Bouchareb, Jean Brehat, Muriel Merlin
with Fabrice Luchini, Juliette Binoche, Valeria Bruni Tedeschi, Jean-Luc Vincent, Brandon Lavieville, Raph, Didier Despres, Cyril Rigaux, Laura Dupre, Thierry Lavieville, Caroline Carbonnier, Manon Royere, Laurena Thellier


release US 28.Apr.17,
UK 16.Jun.17
16/France 2h02

---
CANNES FILM FEST

Provocative filmmaker Dumont shifts his tone for this hilariously offbeat but darkly pointed comedy. Populated by a range of cartoonish characters in a variety of ages and social standings, this turn-of-the-century comedy has the tone of a classic French holiday farce. But while this is a fiendishly silly movie in which every moment is underscored with pointed commentary about inequality.

On France's north coast in 1910, Brufort and his son Ma Loute (Thierry and Brandon Lavieville) ferry visitors across the lagoon whenever the family isn't gathering mussels. The latest arrivals are Andre and Isabelle (Luchini and Tedeschi), who bring their extended family to their imposing summer villa, including Andre's histrionic sister Aude (Binoche). And Inspector Machin (Depres) also arrives from Calais with his sidekick Malfoy (Rigaux) to investigate a series of missing tourists, failing to notice that the Bruforts are eating them. Amid all of this, Ma Loute falls for Aude's gender-nonspecific child Billie (Raph).

There's a riotous contrast between the bickering locals and the giddy interlopers, with both the tourists and police adding plenty of slapstick wackiness. Everything is wildly heightened, from the Brutfort family diet and the buffoonery of the detectives to the ceaseless admiration the posh people have for the natural setting and the earthy working classes. Dumont packs the film with sight-gags, plays on words, edgy politics and unexpected emotion. And while the plot is freewheeling and seemingly unfocussed, it has its own internal logic.

Even if these people often seem like sketch-comedy figures, the fine cast gives them a startling underlying dignity. Each person has his or her own yearning, with motivations explained partly by their backgrounds. It's Ma Loute and Billie who bridge the gap, alternating between cracking the wealthy family's facade and puncturing the nobility of the natives. Lavieville and Raph also get to play the most complex, engaging roles as young people seeking acceptance outside their circles.

The nuttiness is rather relentless, but it definitely keeps the audience on its toes, especially as the script plays around with some seriously dark themes. And there are plenty of deranged moments to keep us chuckling. Dumont gleefully layers every moment with telling detail, often elements that undermine each other to reveal truthful attitudes and feelings. It looks spectacular, with witty costumes and beautifully raw settings. And a lighter-than-air element in the bonkers final act adds a touch of magic.
12 themes, violence, nudity
---
26.Apr.17

R E V I E W B Y R I C H C L I N E
Suntan


dir Argyris Papadimitropoulos
scr Argyris Papadimitropoulos, Syllas Tzoumerkas
prd Phaedra Vokali, Argyris Papadimitropoulos
with Makis Papadimitriou, Elli Tringou, Dimi Hart, Hara Kotsali, Milou Van Groesen, Marcus Collen, Yannis Tsortekis, Pavlos Orkopoulos, Syllas Tzoumerkas, Kostas Gouzelis, Maria Kallimani, Yannis Economides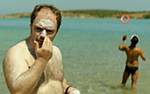 release Gr 31.Mar.16,
US 10.Mar.17, UK 28.Apr.17
16/Greece 1h44

---
EDINBURGH FILM FEST

Greek filmmaker Argyris Papadimitropoulos uses a naturalistic style to follow a middle-aged man embarking on the youthful antics he never had, then realising he may have bitten off more than he can chew. Clever filmmaking highlights all kinds of intriguing issues, but in the end the drama itself begins to feel rather simplistic.

Shy 42-year-old Kostis (Papadimitriou) is the new doctor on the small Greek island of Antiparos. With a population of 800, everyone is on a first-name basis here, and they welcome him with advice about healthy living and hedonistic pleasures. When summer arrives, lively community parties give way to all-out depravity involving visiting tourists. His clinic also gets much busier. One patient is Anna (Tringou), a 21-year-old who sparks his interest. Soon he's partying with Anna and her pals (Hart, Kotsali, Van Groesen and Collen). But is he too old for all of this?

After a rainy, wintry prologue, the sunshine brings raucous energy to the film along with the crowds of visiting revellers. The movie also cleverly contrasts the responsibilities of Kostis' day job with his foray into a world of endless flirting and partying. Of course, he doesn't recover from a hangover as quickly as he used to do. But the real issue is that there's clearly something in his past that has left him a bit unstable when it comes to romantic entanglements, and as his feelings turn darker, so does the film.

The contrast between characters is sharply observed, both physically and in their attitudes and emotions. Papadimitriou is perfectly cast as Kostis, pudgy in his baggy trunks, hat and heavy suncream on a beach surrounded by young naked sunbathers. The actor nicely plays his ludicrous naivete. He's old before his time, and only vaguely aware of how ridiculous he looks surrounded by 20-year-olds. By contrast, Tringou's Anna and her pals are lively and free-spirited, unable to understand why Kostis takes everything so seriously.

As the story progresses, there's an oddly moralistic tone that emerges, repeatedly hinting that fun and sex should be left to lithe, tanned youngsters, while anyone older than 40 should settle down and start a family. That Kostis' partying starts to affect his job seems obvious. As does the fact that his feelings for Anna are deeper than hers for him. Still, it certainly isn't easy to watch as the film shifts from breezy coming-of-age into something that's deeply disturbing.
18 themes, language, violence, sexuality
---
27.Apr.17

R E V I E W B Y R I C H C L I N E
Tomcat


Kater
dir-scr Handl Klaus
prd Antonin Svoboda, Bruno Wagner
with Lukas Turtur, Philipp Hochmair, Thomas Stipsits, Manuel Rubey, Gerald Votava, Gabriela Hegedus, Brigitte Pototschnig, Oswald Kohler, Simon Hatzl, Richard Obermayr, Vitus Weiser, Magdalena Kronschlager


release UK 12.May.17
16/Austria 2h04

---
BERLIN FILM FEST
With offhanded realism, this slow-churning Austrian film offers a nice portrait of an artistic gay couple facing a startlingly unexpected crisis in their relationship. After the relaxed first half hour, the arrival of a major plot point is extremely jarring, especially as it shifts the film from a sweet drama into a psychological thriller. It's a bold movie that never offers easy answers.

In Vienna, Stefan and Andreas (Turtur and Hochmair) have a happy life together with their tomcat Moses. Both work for a local orchestra, socialising with their colleagues, including clarinet player Lorenz (Stipsits), who's having a secret romance with another musician (Rubey). Then a moment of impulsive violence shifts Stefan and Andreas' relationship, pushing them to the breaking point. Deeply shaken, Andreas tries to get some help for Stefan, who is feeling overwhelmed by what has happened. The question is whether they can ever regain their equilibrium. Or do they need to start all over again?

Shooting in a documentary style, filmmaker Klaus captures this couple's warm, sexy home-life as well as their camaraderie with their musical colleagues. So when things take such a dark turn, it's genuinely shocking. The sense of loss is overwhelming, and where the story goes from here is unnerving since it never dodges the more difficult aspects of the subject matter. And as it depicts this couple trying to rebuild their relationship, the film takes some clever, telling turns. Some feel a little moralistic, but it's all thoughtfully provocative.

Performances are earthy and honest, with dialog that feels overheard rather than expository. This makes the cat into a main character in the story, especially since he's always up to something, hunting for critters in the garden or offering his opinion on what's happening in the home. In the opening act, Turtur and Hochmair have such easy physicality and lusty chemistry that where the story goes feels wrenchingly painful. Their interaction shifts and changes in complex directions that are skilfully expressed emotionally, mentally and physically.

Essentially, Klaus is exploring the fragility of trust, and how one momentary lapse can undermine even the most solid relationship. No, this isn't always easy to watch, and the film's unflinching, eerily intimate approach makes it increasingly challenging. Even more unsettling is the way it grapples with the idea of impulse control, one of the more horrifying aspects of being human, which we would much rather never think about. Thankfully, the movie finds hope in the power of a deeper connection.
18 themes, violence, sexuality
---
7.May.17
---


< < F O R E I G N > >
See also: SHADOWS FILM FESTIVAL

© 2017 by Rich Cline, Shadows on the Wall


HOME | REVIEWS | NEWS | FESTIVAL | AWARDS | Q&A | ABOUT | TALKBACK