SUNDANCE FILM FEST
CANNES FILM FEST
See also:


This follow-up to Al Gore's urgent 2006 documentary traces developments relating to climate change over the past decade, and the surprise is that it's not all bad news. While still stressing the need for immediate action as the planet changes so dramatically, this film also explores the things people and nations are doing that offer hope for future generations.

The filmmakers take a fairly aggressive approach to the material, creating a narrative that builds to the 2015 Paris climate conference while cutting to footage shot both earlier and later. On-screen graphics declare the chronology, but close attention is required to understand how events feed into each other. At the centre is Gore, a charismatic figure who speaks the truth with humility, stripping away political nonsense to talk about the morality of making the world a cleaner, healthier place.

This avoidance of arguing using facts is intriguing, and climate-change deniers are given time to state their case, clearly influenced by corporate interests rather than what's best for people. As Gore vividly demonstrates, solar and wind-powered energy makes economic sense: saving money, boosting profits and creating jobs. Indeed, his efforts to explain this to India's officials are what helped make the Paris accord unanimous, a moment of solidarity in the wake of a terrorist attack.

The film is skilfully assembled with gorgeously shot footage as cameras also follow Gore around the globe. He explores melting glaciers in Greenland, the aftermath of a devastating typhoon in the Philippines, attempts to clean the air in China, the increased high-tide flooding in Miami, third-world frustration in India. He draws lucid lines between various natural catastrophes and violent unrest, and notes that the crisis is one of democratic action. We can't sit around hoping someone invents a miracle when there are things we should do right now.

The narrative flows naturally from topic to topic without losing the thread of how important it is to treat the planet with the respect it deserves. Gore repeatedly asks why America is abdicating leadership to China and India, giving in to financial interests that deceive the public to protect profits. He seems exhausted by the politicisation of the issue, weary at Bush-Cheney's undermining of positive action, and then Trump's even more overt rejection of the facts. So why don't US politicians care about the people? The solutions are common sense, financially lucrative and just plain right. This is a war for truth.
PG themes
---
9.Aug.17
---

R E V I E W B Y R I C H C L I N E
London Symphony


MUST

SEE
dir Alex Barrett
scr Rahim Moledina
prd Katharine Round
with Adam Hickey, Pamela Hutchinson, Phil Abel, Grace Parry, Siobhan Callas, Natalie Thomas, Zena Howard, Tim Robey, Keiron Marshall, Hannah White, Matthew Jure, Gunalp Kocak

release UK 3.Sep.17
17/UK 1h12

---
EDINBURGH FILM FEST
In four musical movements, this silent movie takes what it calls "a poetic journey through the life of a city". Edited to an original score by James McWilliam, this is a remarkably comprehensive cross-section of a vast city and the eclectic people who call it home. It's a terrific collage for anyone who knows London or wants to know how it feels to live here. And it's a rebuke to Hollywood movies that only show two or three landmarks.

Director Alex Barrett shoots London in black and white, so the footage looks timeless. Each shot captures a detail, blending old and new, history and progress, art and technology. Londoners will constantly recognise places, and yet they're shot and juxtaposed to make them fresh. For example, a segment on the Tube network catches the intriguing mix of modern developments alongside features from the previous 150 years, with a hilarious variety of people forced into close proximity.

Clips crisscross the city without geographic comment, darting from posh mansions to tower blocks to run-down squats to high-tech offices. Of course, the Thames is a recurring character, running right through everything, and there's even a witty segment playing with Monopoly place names. Another recurring theme is transport, with trains, busses, trams, boats, bicycles and of course feet. And a segment on sport segues via a rower into a look at aspects of life on the water.

Barrett spent years putting this together, and his work shows. He peers down from tall buildings and landmarks. He admires imposing historical buildings and expanses of parkland teeming with wildlife. And he captures the variety of bustling shops, eateries, market stalls, museums, schools, places of worship, theatres and nightclubs. And it seems pointed that some notable landmarks are missing entirely. Through all of this, it's striking to see people endure the city's stresses to make the most of everything it offers.

A time-capsule snapshot of early 21st century London, this film celebrates the city's staggering diversity. As a 25-year Londoner, I enjoyed spotting familiar scenes, places I've never encountered and locations that don't exist anymore. Several shots taken near my home, and I know a few people captured on-screen (I kept expecting to see myself walk by). Full disclosure: I know Barrett too, and I think his film is an essential document about London at a pivotal point in its history. It's also plaintively beautiful, and most Londoners will want a copy simply to remind us why we love this city so much.
U themes, some imagery
---
15.Aug.17

R E V I E W B Y R I C H C L I N E
The Untold Tales of Armistead Maupin


dir Jennifer M Kroot
prd Gerry Kim, Jennifer M Kroot, Mayuran Tiruchelvam
with Armistead Maupin, Laura Linney, Ian McKellen, Olympia Dukakis, Jonathan Groff, Christopher Turner, Jane Maupin Yates, Neil Gaiman, Amy Tan, Kate Bornstein, Charles Busch, Richard Thieriot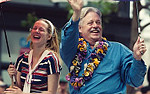 release US Mar.17 sxsw,
UK Mar.17 flare
17/US 1h31

---


A lively and revealing documentary, this film weaves together details from the life and writings of the beloved storyteller who crushed stereotypes and taboos in 70s-80s San Francisco. Armistead Maupin's journey from the conservative South to perhaps overconfident gay icon is fascinating, and it's moving to see how his writings have inspired millions to stand up for themselves and live a more positive life.

After a right-wing upbringing in Raleigh, Maupin served in the Navy during Vietnam then settled in San Francisco, where his fictional daily column Tales of the City started in The Chronicle in 1976. A reflection of the city's diversity, his writing upended expectations by mixing real people and situations with the spectrum of race, religion and sexuality. Eventually these columns were turned into a popular series of novels and a TV series starring Linney and Dukakis. And he's still telling stories.

The film includes a few bombshells, such Maupin's fling with Rock Hudson, whom he outed when he was dying of Aids to help stop ignorance surrounding the disease. And Maupin's meeting with McKellen in the 1980s precipitated the actor's coming out. Filmmaker Kroot tells the story out of sequence, circling back to Maupin's childhood and roaming through his career to recount separate narratives with animated chapter titles. Together they build into a moving picture of a man who has entertained millions while living an honest, outspoken life.

Maupin comes across as more radical variation on Garrison Keillor, chronicling the minutiae of American life with an eye for telling detail. His willingness to explore areas of society that are often considered transgressive has made his work vitally important around the world, bringing human truth out into the light in a way that's warm, funny and hugely resonant. It's like he's shining a light into the corners of society some people would rather not know exists, saying, "Look, we're just like you, really."

Kroot assembles this in a way that's engaging, constantly undermining any bolder commentary with wry humour and warmth. The film could easily have become bogged down in nostalgia over the good old days of free love in San Francisco, or the horrific events of the Aids epidemic. Both of these are here, and both are represented meaningfully in Maupin's writing. What the film does is put them into a larger context, both for a nation and for a man whose job has been to tell the stories.
15 themes, language
---
25.Mar.17
---


< < D O C S > >
See also: SHADOWS FILM FESTIVAL

© 2017 by Rich Cline, Shadows on the Wall


HOME | REVIEWS | NEWS | FESTIVAL | AWARDS | Q&A | ABOUT | TALKBACK