dir-scr Rebecca Miller
prd Damon Cardasis, Rachael Horovitz, Rebecca Miller
with Greta Gerwig, Ethan Hawke, Julianne Moore, Bill Hader, Maya Rudolph, Travis Fimmel, Mina Sundwall, Jackson Frazer, Ida Rohatyn, Monte Greene, Alex Morf, Wallace Shawn
release US 20.May.16, UK 8.Jul.16
15/US Sony 1h38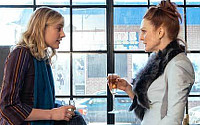 The other woman: Gerwig and Moore



---
TORONTO FILM FEST
SUNDANCE FILM FEST
BERLIN FILM FEST
EDINBURGH FILM FEST
R E V I E W B Y R I C H C L I N E

Witty and likeable, this New York comedy feels like a Woody Allen movie, with its snaky plot, vivid characters and farcical situations. On the other hand, it's also relentlessly cute, undermining the serious themes with silly plot points that feel rather contrived. But it's packed with such wonderful performances that no one will mind.

Maggie (Gerwig) has a plan to have a child using a donation from pickle entrepreneur Guy (Fimmel). Then just as she goes through the fertilisation procedure, she falls in love with her academic colleague John (Hawke), who's looking for a reason to leave his snooty wife Georgette (Moore). Three years later, Maggie and John are married with a daughter (Rohatyn), and Maggie is both supporting John as he continues to work on his epic novel and helping take care of his kids (Sundwall and Frazer) with Georgette. Then Maggie hatches another plan.

Gerwig has practically cornered the market on playing quirky New Yorkers with knotted romantic issues, and it's nice to see her in a slightly less frantic role than she usually writes for herself. Maggie is obsessive and rather thoughtless, which makes her sympathetic but not terribly easy to like. And Hawke's John is equally oblivious about his own self-obsession, so their relationship is fascinating. Their conversations are superb, and the way they go back and forth is eerily realistic.

Meanwhile, Moore steals the film as the hilariously high maintenance Georgette, flaunting her Danish accent as much as her wonderfully outrageous wardrobe of furs and head-engulfing scarves. Moore pours endless angles of complexity into what would normally be a rather one-note role, skilfully revealing Georgette to be the real star of the film. Indeed, her layered personality and position at the centre of the plot means that everyone else orbits around her.

Writer-director Miller's primary strength is the creation of characters who are each carrying around a bundle of hopes and insecurities. Even smaller side roles for the talented Hader and Rudolph (as Maggie's close friends) are packed with witty detail. So it's a bit annoying that the narrative hinges on an unnecessary deus ex machina. Maybe the point is that sometimes nature conspires to help us achieve even our most appalling goals. But combined with the film's general whimsy, it leaves the entire story feeling rather frivolous. Even though it's not.
| | | |
| --- | --- | --- |
| | themes, language, some sexuality | 18.Apr.16 |