dir-scr Hirokazu Kore-eda
prd Takashi Ishihara, Kazumi Kawashiro, Tsugihiko Fujiwara, Tom Yoda
with Hiroshi Abe, Kirin Kiki, Yoko Maki, Taiyo Yoshizawa, Soryo Ikematsu, Satomi Kobayashi, Lily Franky, Isao Hashitsume, Kanji Furutachi, Shono Hayama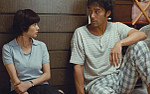 release Jpn 21.May.16,
UK Oct.16 lff, US Oct.16 ciff
16/Japan 1h57

---
CANNES FILM FEST
TORONTO FILM FEST


Japanese filmmaker Hirokazu Kore-eda continues his string of gently revelatory dramas with this story about a typical modern family. As they explore the connections between them, the characters ponder the past and the future, realising that they need to live in the present if they're ever going to be happy. There are no fireworks in this movie, but Kore-eda's writing and directing are simply beautiful, as always.

Once a novelist, now a private eye, Ryota (Abe) hates the fact that he didn't grow up to be the man he thought he'd be. His wife Kyoko (Maki) has left him, probably because he kept gambling away his money. While missing her and their 9-year old son Shingo (Yoshizawa), he reluctantly turns to his retired mother (Kiki) for financial help, but is too humiliated to ask directly. And with the 24th typhoon of the season approaching, he refuses to give up hope of reuniting with Kyoko, even though she has a new man.

Kore-eda has an uncanny ability to make movies about everyday people that reveal things we've never considered before. His characters are offhanded and realistic, shifting naturally between sharp humour and dark emotion. This film has even less narrative momentum than normal, merely capturing a slice of life in this fractured family unit, sticking mainly to Ryota's perspective. But the complexity of the character and their bracing honesty is riveting.

They're also strikingly well played without any dramatics. Abe is a likeable guy who is looking at 50 with the realisation that he's running out of time to achieve everything he wanted to do. His love is clear for his family (including the big sister he cruelly fictionalised in his award-winning novel 15 years earlier), but he needs something from each of them. Maki and Yoshizawa are both superb in understated but complex roles, while Kiki shines as the mischievous granny.

The script is packed with witty dialog that carries a sharp sting. "New friends at my age only mean more funerals," jokes Ryota's mother. There are also big dramatic points as the story meanders amiably from scene to scene, focussing on interaction rather than plotted events. Even the titular storm refuses to take on a metaphorical meaning; it's there merely to remind the characters of days gone by and days to come. And that while it's essential to have our dreams, what life actually brings might be even better.
PG themes, language
---
30.Sep.16 lff

R E V I E W B Y R I C H C L I N E
Being 17


Quand On a 17 Ans
dir Andre Techine
scr Celine Sciamma, Andre Techine
prd Olivier Delbosc, Marc Missonnier
with Sandrine Kiberlain, Kacey Mottet Klein, Corentin Fila, Alexis Loret, Mama Prassinos, Jean Fornerod, Jean Corso, Remi Garcia, Maite Arraiza, Francoise Gaillard, Gerard Labelle, Christelle Ripa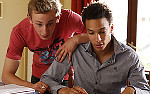 release Fr 30.Mar.16,
US 7.Oct.16, UK Oct.16 lff
16/France 1h56

---
BERLIN FILM FEST

An intriguing teaming of French filmmakers Andre Techine and Celine Sciamma, this drama tackles a series of emotive issues head-on with strong characters and striking honesty. The problem is that it feels like two good movies have been mashed together, so each storyline undercuts the power of the other one. Is this about the challenges of a community doctor whose husband works abroad? Or an edgy romance between two teen outcasts?

In a picturesque mountain village, general practitioner Marianne (Kiberlain) is raising her 17-year-old son Damien (Klein) while her husband Nathan (Loret) is an army pilot in a warzone. At school, Damien is bullied mercilessly, so he trains to fight with the veteran (Corso) who lives next door. Damien's main antagonist is Thomas (Fila), who lives on an isolated farm with his parents (Prassinos and Fornerod) and gets to know Marianne when she treats his mother. And things heat up between the boys when Thomas moves in with Damien to improve his grades.

The title suggests that the complex push and pull between Damien and Thomas is the main story. Their violent clashes are the result of distinct issues in each one's life, so where this leads is understandable and realistic. When Damien confesses that he's gay, Thomas isn't surprised, but while he's battling himself over this issue he's certainly not ready to meet Damien there. Both actors bring a fiery inner strength that makes the characters vivid and likeable.

But as the top billing suggests, Kiberlain's journey continually steals focus from this story. Marianne is a fascinating character, a strong-willed woman who mixes intelligence with compassion. She understands the potential dangers Nathan faces every day, and she also quietly watches out for both Damien and Thomas. The layered nuances of her interaction with Thomas' mother could be a movie on its own, especially when combined with the hugely emotional final act.

Strangely, these two storylines never merge into a single narrative, so they're constantly disrupting each other. Both are strongly involving, emotionally engaging and packed with provocative themes. And the film has a lot to say about the nature of bullying, the power of parenthood and the dangers of using violence to resolve conflict (both between two teen boys and between two nations). But by going two ways at the same time, neither plot thread is able to deliver its emotional kick.
15 themes, language, violence, sexuality
---
9.Oct.16 lff

R E V I E W B Y R I C H C L I N E
The Ornithologist


O Ornitólogo
dir-scr Joao Pedro Rodrigues
prd Joao Figueiras, Gustavo Angel Olaya, Diogo Varela Silva
with Paul Hamy, Xelo Cagiao, Joao Pedro Rodrigues, Han Wen, Chan Suan, Juliane Elting, Isabelle Puntel, Flora Bulcao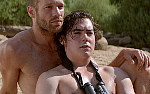 release UK Oct.16 lff,
US Oct.16 nyff,
Por 20.Oct.16
16/Portugal 1h57

---
TORONTO FILM FEST


This experimental film from Portugal starts promisingly, as it follows a bird-watcher on a trip into a spectacular wilderness. It's an intriguingly internalised odyssey, beautifully shot and played, with tantalising clues about a variety of issues. But as it continues, writer-director Joao Pedro Rodrigues drifts into pretentious metaphorical nuttiness that overwhelms any sense of narrative drama and loses the audience deep in the forest.

Fernando (Hamy) is hoping to spot an elusive black stork in the wilds of northern Portugal, but his kayak is swept into rapids. He's rescued by a pair of Chinese pilgrims (Han and Chan) who got lost while hiking to Santiago de Compostela, but things take a dark turn when their religious fervour kicks in. Escaping further into the woods, Fernando encounters a group of revelling pagans and a deaf-mute goatherd named Jesus (Cagiao) before having a transformative religious experience of his own.

Fernando's back-story is sketchy, essentially defined by a few attempts to phone a guy who reminds him to take his medicine. But do these drugs maintain his physical or mental wellbeing? If they're psychotropic, that might help explain the surreal insanity of the film's final act. But since Rodrigues never offers any information, he's clearly challenging the audience to work it out themselves. Perhaps the heavy symbolism centring on St Anthony will make more sense to a local audience.

Hamy is charismatic in the central role. He doesn't say a lot, but conveys Fernando's inner thoughts with an earthy physicality. This openness makes him easy to root for as long as his journey makes a semblance of sense. Once the film veers wildly off the rails, it's fairly impossible to care. No one else elicits much sympathy. Cagiao's Jesus is at least fascinating, even if his reactions feel irrational and inconsistent. And Rodrigues bewilderingly appears later as St Anthony himself.

What the filmmaker is trying to say remains stubbornly elusive, which is especially frustrating after being drawn in by the movie's engaging first half. The imagery remains vivid and eye-catching, and Rodrigues creates a palpable sense of dread and even horror along the way, plus a lot of homoeroticism (some of it fairly explicit). But as it goes along, the movie steadily unravels, becoming perplexingly random. And by the time a team of topless female archers appears, we have lost all sense of what's happening or what the point of this might be.
18 themes, language, violence, sexuality
---
9.Oct.16 lff

R E V I E W B Y R I C H C L I N E
The Untamed


La Región Salvaje
dir Amat Escalante
prd Jaime Romandia
scr Amat Escalante, Gibran Portela
with Simone Bucio, Ruth Ramos, Jesus Meza, Eden Villavicencio, Angela Peleaz, Oscar Escalante, Bernarda Trueba, Kenny Johnston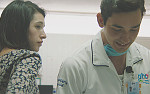 release Mex 15.May.16,
UK Oct.16 lff
16/Mexico 1h40

---

TORONTO FILM FEST


From Mexico, this defiantly original film mixes relational melodrama with an unusual kind of monster movie. As it circles around a group of people whose interconnections are seriously tortured, a primeval creature complicates things in very strange ways. As a result, the film is almost overpoweringly foreboding. But the strong group of characters and instantly recognisable situations make it impossible not to get sucked into the madness.

In the wilds of central Mexico, Veronica (Bucio) is meeting up with scientists (Escalante and Trueba) who are using her to study a primal creature they've discovered deep in the forest. When she gets injured, she meets emergency room nurse Fabian (Villavicencio) and his sister Alejandra (Ramos). What no one knows is that Ale's homophobic husband Angel (Meza) is secretly having a fling with Fabian. Seeing this family in crisis, Vero begins to think that maybe her cabin in the woods might be able to help them find a much deeper kind of happiness.

The main web of relational carnage is fairly soapy, and it's played for maximum emotional value. So what makes the movie gripping is the way the script grapples knowingly with small-town issues, most notably the superficially traditional religious values that try to obscure the fact that everyone is pretty much up to everything anyway, but they have to lie about it. This is a place without many options, so men indulge in physical horseplay and women seek satisfaction away from their macho-bully husbands. Throwing a fantasy element into this mix adds strikingly raw, natural overtones.

The film is photographed evocatively, as each shot pulls the viewer in closer to the drama. Escalante reveals the creature very slowly, each time offering a little more until we have perhaps seen too much. But we can't look away. And the more intense personal drama is equally jarring, including a night out dancing that takes a turn, or a continuing feud between Ale and her mother-in-law (Peleaz) for control of her own family.

The combination of real-life issues with an eerily believable supernatural being is very clever, forcing the audience to pay attention to things we refuse to admit are real in our own lives. All of the actors are bracingly natural, throwing themselves into their roles with body and soul, unafraid to reveal the characters' darker sides. And perhaps the film's most striking message is that all of us are a bit selfish when push comes to shove. As it were.
18 themes, language, sexuality, violence
---
4.Sep.16 vff


< < F O R E I G N > >
See also: SHADOWS FILM FESTIVAL

© 2016 by Rich Cline, Shadows on the Wall


HOME | REVIEWS | NEWS | FESTIVAL | AWARDS | Q&A | ABOUT | TALKBACK