---
Blackbird Blackbird Blackberry
Review by Rich Cline |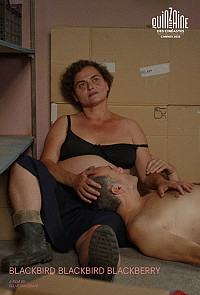 dir Elene Naveriani
scr Nikoloz Mdivani, Elene Naveriani
prd Thomas Reichlin, Britta Rindelaub, Ketie Danelia
with Eka Chavleishvili, Temiko Chichinadze, Pikria Nikabadze, Tamar Mdinaradze, Lia Abuladze, Anka Khurtsidze, Giorgi Kartvelishvili, Ani Mogeladze, Sopo Grigolashvili, Iako Tchilaia, Mariam Didia, Shota Sharvashidze
release UK Oct.23 lff,
US Oct.23 ciff
23/Georgia 1h51

---
CANNES FILM FEST

---
Is it streaming?

---
With deadpan charm, this Georgian film opens with a woman picking blackberries on the steep edge of a riverbank when a blackbird distracts her and she slips, imagining her death below. Filmmaker Elene Naveriani maintains a slow-burning vibe that ripples with underlying humour and tensions. The characters are wonderfully real, while the film has a colourful, sardonic Kaurismaki-like quality that's thoroughly winning. And the underlying message is hugely empowering.
---
In rural Georgia, middle-aged shopkeeper Etero (Chavleishvili) has chosen to live alone, so the surrounding villages gossip about how she grew up without a mother. One day she suddenly finds herself attracted to delivery man Murman (Chichinadze). He's surprised she feels this way too, but she swears him to secrecy. Next time, they meet in the woods and have a picnic. Then in a neighbouring town where no one will recognise them. Etero is enjoying this, but worries that she'll have to give up her independence. And what comes next is both scary and exhilarating.
---
Etero's all-consuming interest in Murman is hilarious, emerging out of nowhere to spark a passionate encounter. "There goes 48 years of virginity," she sighs. Her thoughts are frequently enacted on-screen in luridly theatrical cutaways. And when other women criticise her, she runs through an inventory of her assets that shuts them up. Or she interrupts them to recount an amazing story she's never told anyone. And the plot itself is packed with wry humour and big surprises.

Chavleishvili has a wonderfully expressive face, with piercing eyes that exude sass, silencing people without a word. Her Etero is complex, enjoying her own company and smaller things in life, preferring others don't know her business, which is a problem in a small community. She's also disarmed to find "a kind dog among all these wolves", and Chichinadze has a disarming charm as Murman. He's so sweet to Etero that she's unprepared for the various ways he will change her life.

Frankly, it's easy to see why Etero has sworn off romantic involvements, as most men in this village seem like mindless chuckleheads. The women sit around and laugh about Viagra, and Etero perks up because this topic now has relevance for her. She also quietly confesses that her only previous love was for the cool girl in school, partly because she knew the boys would use and abandon her. Watching her open her heart to Murman is lovely, mainly because it opens her to the world.
| | | |
| --- | --- | --- |
| | themes, language, sexuality | 11.Oct.23 |
---
The Lost Boys Le Paradis
Review by Rich Cline |


dir Zeno Graton
scr Zeno Graton, Clara Bourreau
prd Priscilla Bertin, Valerie Bournonville, Judith Nora, Joseph Rouschop
with Khalil Gharbia, Julien De Saint Jean, Eye Haidara, Jonathan Couzinie, Mateo Bastien, Samuel Di Napoli, Amine Hamidou, Nlandu Lubansu, Terry Ngoga, Audrey D'Hulstere, Laurence Oltuski, David Leclercq
release Bel 10.May.23,
UK 1.Dec.23
23/Belgium 1h23

---
BERLIN FILM FEST

---
Is it streaming?

---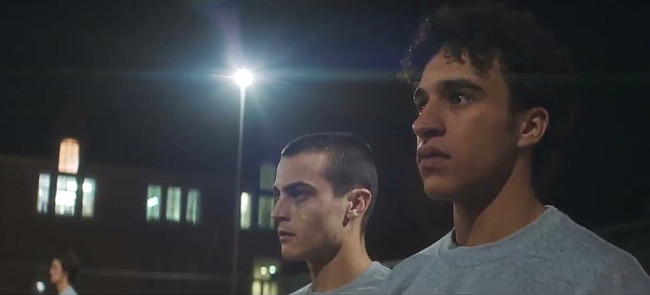 Set in a juvenile detention facility, this sensitive Belgian drama traces a romance between two teen boys with hushed sensitivity. It's a beautifully observed story that unfolds in earthy and sometimes tender interaction, skilfully directed by Zeno Graton to put us into the mindset of a powerfully engaging central character. And it manages to be authentic, hopeful and even occasionally grim without ever resorting to prison movie cliches.
---
Serving a six month sentence, Joe (Gharbia) gets himself in trouble after running away for a day at the seaside. But he makes a grovelling apology and remains on track to be released. Then he meets new inmate William (De Saint Jean), a tough kid with a reputation for violence. And the two young men discover an unspoken spark between them, secretly becoming friends and more when they can find a way to be alone. As he makes plans for his life on the outside, Joe becomes increasingly worried about telling William that he's leaving.
---
Where this goes isn't remotely straightforward, as these teens find their futures in jeopardy due to their inability to follow rules or control their tempers. But they are also learning to be respectful. Their guardians (Haidara and Couzinie) are tough, but they're also understanding and kind, genuinely trying to set them up to succeed outside. So tension comes as both Joe and William struggle to visualise a future together, simply because they can't imagine that it's possible.

Gharbia has terrific on-screen presence, allowing the camera to see into his thought processes, which sometimes gets unnerving. Joe is a smart guy with a very rough past, and it's his defensive behaviour that gets him in trouble. His chemistry with De Saint Jean is vivid but subtle, expressed in bursts of closeness. Because William is a bit enigmatic, De Saint Jean's performance has a wonderful lightness to it. So later on, it becomes difficult to imagine them happy without each other.

The film's thoughtful internalised tone turns dark and a bit gloomy as it goes along, but it also captures the artistic souls of both of these boys: Joe expressing his anger at bigots in his rap lyrics and William putting his fascination with the Viking concept of paradise (as reflected in the original title) into his tattoo designs. Their passionate romance in this masculine environment is properly powerful. And the ending is harsh and sweet at the same time.
| | | |
| --- | --- | --- |
| | themes, language, violence | 10.Oct.23 lff |
---
20,000 Species of Bees 20.000 Especies de Abejas
Review by Rich Cline |


dir-scr Estibaliz Urresola Solaguren
prd Valerie Delpierre, Lara Izagirre
with Sofia Otero, Patricia Lopez Arnaiz, Ane Gabarain, Itziar Lazkano, Martxelo Rubio, Sara Cozar, Miguel Garces, Unax Hayden, Andere Garabieta, Julene Puente Nafarrate, Marine Ibarretxe Frade, Aintzine Rey Zurimendi
release Sp 21.Apr.23,
US May.23 siff, UK 27.Oct.23
23/Spain 2h08

---
BERLIN FILM FEST

---
Is it streaming?

---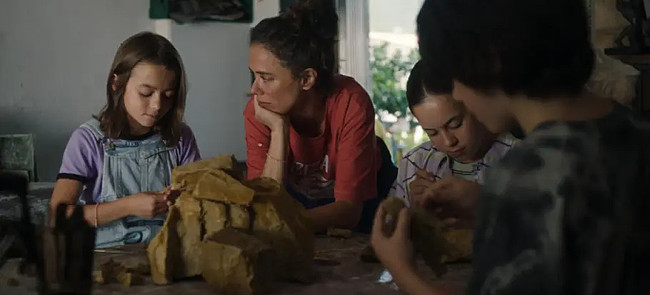 From the Basque Country, this loose drama circles around an important issue with honesty and emotion. But writer-director Estibaliz Urresola Solaguren makes it difficult to engage with the characters. Not only are there too many ill-defined people on-screen, but the meandering structure never offers a way in. That said, the film looks beautiful, skilfully using the setting and culture. And the cast is excellent across the board.
---
Living in France, Ane (Lopez Arnaiz) heads home to Spain with teen daughter Nerea (Garabieta), lively young Eneko (Hayden) and 8-year-old son Aitor (Otero), who is increasingly withdrawn. Ane's mother Lita (Lazkano) criticises Aitor for his long hair, but beekeeping Aunt Lourdes (Gabarain) recognises that Aitor identifies as a girl called Lucia. Cousin Niko (Puente Nafarrate) accepts with without quesiton. Ane and her husband Gorka (Rubio), who arrives later, have allowed her to dress as Lucia indoors. But things come to a head when Lucia asks to wear a dress to her baby cousin's baptism.
---
Along with this central story, Ane is struggling with her own identity as a sculptor whose inspiration has stalled. A strained relationship with her mother doesn't help, and Ane hopes she can find inspiration her late father's workshop. Then her frustration causes her to make a terrible decision. All of this plays out in an authentic way that mixes the boisterous family chaos with serene rhythms of nature.

Performances are open and honest. Young Otero is terrific as a child who thinks something must have gone wrong when she was in her mother's tummy. Just looking around, she knows she's different from everyone else. While Lopez Arnaiz and Rubio play preoccupied parents who go along with her, thinking it's just a phase, it's Gabarain's sensitive Lourdes who sees Lucia for who she is. And Puente Nafarrate's matter-of-fact Niko doesn't even flinch. These generational layers are beautifully played in very natural ways.

Because everyone chatters without really listening, this isn't an easy film to follow. A sense of creativity infuses this family, from the various sculptures to the beehives. Imagination is part of their everyday reality, seen in their religious faith and shared legends about mermaids. And the film's real power is in its reminder to listen to children, and refuse to let them live their lives in shame
| | | |
| --- | --- | --- |
| | themes, language | 13.Sep.23 |
---

< < F O R E I G N > >
See also: SHADOWS FILM FESTIVAL

© 2023 by Rich Cline, Shadows on the Wall


HOME | REVIEWS | NEWS | FESTIVAL | AWARDS | Q&A | ABOUT | TALKBACK