SHADOWS ON THE WALL | REVIEWS | NEWS | FESTIVAL | AWARDS | Q&A | ABOUT | TALKBACK

Shadows off the beaten path
Indies, foreigns, docs, revivals and shorts...
On this page: CHAINED FOR LIFE | MAYA
THE RAINBOW BRIDGE MOTEL | RAY & LIZ
< < I N D I E S > >
last update 29.Nov.18
See also: SHADOWS FILM FESTIVAL
---

R E V I E W B Y R I C H C L I N E
Chained for Life


dir-scr Aaron Schimberg
prd Daniel Patrick Carbone, Vanessa McDonnell, Matthew Petock, Dan Schoenbrun, Zachary Shedd
with Jess Weixler, Adam Pearson, Stephen Plunkett, Charlie Korsmo, Sari Lennick, Joanna Arnow, Cosmo Bjorkenheim, Will Blomker, Lauren Brown, Jon Dieringer, Daniel Gilchrist, Miranda Gruss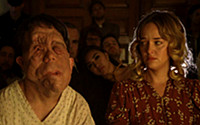 release US Jun.18 bcf,
UK Oct.18 lff
18/US 1h31

---
LONDON FILM FEST


There's a mash-up of references in this witty, pointed film, which continually subverts expectations with a tricksy narrative. Filmmaker Aaron Schimberg boldly plays with themes and styles from Todd Browning to David Lynch to Peter Strickland, blurring lines between the film and the film being made within it. It may not quite work, but it's a truly quirky original, exploring the concept of physical beauty and the fragility of friendships.

In an empty hospital wing, a European director (Korsmo) is making his American debut film starring Mabel (Weixler) as a blind woman seeking treatment from a mysterious doctor, played by Max (Plunkett). Then Rosenthal (Pearson) arrives, a facially deformed young actor with a sly sense of humour. He and Mabel hit it off, partly because she's the only person on-set who doesn't treat him like he's in a freak show. As she works with him on his acting, the script adjusts to take in their newfound chemistry. And life starts imitating art. Or does it?

Schimberg gleefully wrongfoots the audience, shifting between fact and fiction to make the plot almost irrelevant. This film has big ideas, even if its structure and characters make it difficult to know how to interpret it, complicated by the fact that there's a killer at large with distinct facial scars. Is this a black comedy? A romance? Political commentary? Psychological thriller? A rumination about life on a film set? Perhaps it's all of these.

The central idea seems to be the ephemeral nature of movie-set friendships, and the likeable Weixler and Pearson develop a superb connection that we hope translates into a lifelong bond. But can it? The cast is segregated, with the bearded lady, siamese twins, dwarf, giant and people with various disabilities staying apart from the "normal" actors. Cleverly, each performance is earthy and realistic in contrast to the riotously bonkers horror movie they're making.

The film opens with a quote from Pauline Kael about the advantages of being a beautiful actor, and the script is peppered with discussions of physicality and exploitation, plus a mad doctor who says, "I can fix all of you!" It's smart, funny and provocative, from a hilariously vapid TV interview to the director considering prosthetics to replace Rosenthal with a "real" actor. All the rug-pulling may muddle the ultimate message, but the film strongly urges us rethink attitudes to injuries, deformities and, basically, anyone who looks different.
15 themes, language, nudity
---
4.Nov.18 tiff

R E V I E W B Y R I C H C L I N E
Maya


dir-scr Mia Hansen-Love
prd Philippe Martin, David Thion
with Roman Kolinka, Aarshi Banerjee, Suzan Anbeh, Alex Descas, Judith Chemla, Pathy Aiyar, Johanna Ter Steege, Anjali Khurana, Pascal Hintablian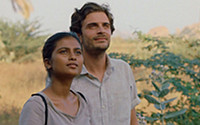 release UK Oct.18 lff
18/France 1h47

---
TORONTO FILM FEST
LONDON FILM FEST


There's a loose honesty to this film that makes it easy to watch, even if writer-director Mia Hansen-Love never quite sells the story. Springing from a powerfully topical premise, the film instead takes an extended sideroad that stubbornly refuses to get back on track. This means that the romance involving the title character feels incidental and unconvincing. And the deeper issue of post-traumatic stress remains essentially unexplored. Even so, it looks lovely.

After four months as a Daesh hostage in Syria, journalists Gabriel and Frederic (Kolinka and Descas) return home to Paris. After a warm reunion, Gabriel reminds his girlfriend (Chemla) that they broke up before he left. So he heads to India to see his mother (Steege) and work on an abandoned house he owns in Goa. Reconnecting with his godfather Monty (Aiyar), Gabriel meets Monty's now grown-up daughter Maya (Banerjee), and together they travel around having a series of mini-adventures. Then when a spark of attraction develops, Gabriel begins to think about his future.

The film opens with a telling sequence showing Gabriel's transformation from a bruised, damaged hostage into his clean-shaven self. This is a clever reminder that Gabriel's journey to health must go much deeper than the surface. The story unfolds with earthy, natural emotions as Gabriel experiences little rituals that reconnect him with himself, his childhood and his present. On the other hand, the script veers off into a love story that's rather unconvincing, mainly because Maya is so thinly drawn.

Newcomer Banerjee has presence, but character seems to come from nowhere. She's smiley and smart, unafraid to put Gabriel in his place, but their connection feels artificial. Meanwhile, Kolinka is a little too buttoned-up as a man who doesn't want to be a victim or a celebrity. His emotions are vivid, but they remain under the surface. Other characters basically speak in mini-sermons, explaining plot points and ranting about how tourism is ruining local customs.

The best sequence is a montage following Gabriel as he travels across India, stopping to take in various sights en route to a revealing visit with his mother in Mumbai, where she works with street children. This feels like a natural extension of the central themes in ways that Gabriel's scenes with Maya don't. The general looseness of Hanson-Love's filmmaking, the gently colourful cinematography and emotionally resonant themes offer angles to connect with. But Gabriel's dramas are so constructed, and the romance so low-key, that the powerful themes about professional ambition and personal trauma end up badly undercooked.
15 themes, language
---
10.Nov.18 tiff
---

R E V I E W B Y R I C H C L I N E
The Rainbow Bridge Motel


dir-prd J Garrett Vorreuter, Scott Rubin
scr Scott Rubin
with Cole Burden, Chris Modrzynski, Scott Rubin, Mel Gorham, Diane Gaidry, Wilson Heredia, Ruthie Alcaide, Josie DiVincenzo, Michael Sciabarrasi, Marisa Caruso, Xavier Harris, James Heffron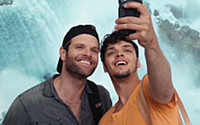 release US 20.Nov.18
18/US 1h40

---
There are some solid ideas in this film, but the writing and directing are far too broad, over-egging every mild gag to the point where nothing is funny and the characters are all wildly overplayed, so they're far too obnoxious to like. Scenes are so corny that they never feel remotely plausible, and the plot piles on one dopey twist after another.

Arriving in Niagara Falls from Phoenix, Darren and Dean (Burden and Modrzynski) discover that the dream gay wedding package Darren booked is at a fleabag motel nestled next to a chemical plant. And there are other complications as well, including visa questions, a not-quite exwife (Caruso), meddling mother (Gorham) and drunken friends (Heredia, Heffron and Harris). Plus a priest (Sciabarrasi) who can't marry them in his church. Meanwhile, hotel manager Shibbawitz (Rubin) is desperate to win over an inspector (Gaidry) to renew the hotel's licence.

Not much about Darren and Dean's relationship feels realistic, since they clash from the start about pretty much everything and don't really seem to know each other. The script lays in a steady stream of random nuttiness, but the jokes are so painfully obvious and forced that they inflict more pain than pleasure. And the way the film is edited together leaves scenes making very little logical sense. Characters and scenes seem to appear at random, and everyone is distracted by things that are neither interesting nor relevant.

Burden and Modrzynski are relatively likeable in the central roles, keeping the characters grounded even when things get increasingly absurd around them. Rubin is on-screen far too much in what should be a wacky side role, because a little bit of Shibbawitz is more than enough. Although he's nothing compared to Gorman's manic hamming it up as Darren's obstreperous mother. But then very few of the actors are allowed to create believable characters, so the ones who do stand out like a blast of fresh air.

The only thing that makes this film watchable is its playful attitude to sexuality, and especially the lengths people go to conceal it. This sometimes veers perilously close to bigotry, but at least that offers a hint of danger to a movie that's otherwise bizarrely timid about relationships (sex doesn't exist in this film aside from some jokey innuendo). As the plot gets increasingly convoluted, it's only the more relaxed characters that hold the interest. And while the climax is painfully ridiculous, it's also rather sweet.
15 themes, language, violence
---
20.Nov.18

R E V I E W B Y R I C H C L I N E
Ray & Liz


dir-scr Richard Billingham
prd Jacqui Davies
with Ella Smith, Justin Salinger, Patrick Romer, Joshua Millard-Lloyd, Deirdre Kelly, Tony Way, Sam Gittins, Sam Plant, Jacob Tuton, Callum Slater, Richard Ashton, James Eeles

release UK Oct.18 lff,
US Oct.18 nyff
18/UK BFI 1h48

---
TORONTO FILM FEST
LONDON FILM FEST


Finely crafted and beautifully observed, this anecdotal British drama dramatises family memories in a refreshingly honest way. Photographer Richard Billingham makes his writing-directing debut with this look into his childhood, creating vivid characters out of his eponymous parents and mischievous little brother Jason (he leaves his young self on the side looking in). It never tries to say much on a deeper level, but it's wry, funny and provocatively moving.

Just outside Birmingham, retiree Ray (Romer) is remembering the days when he and his fearsome wife Liz (then Salinger and Smith) lived in a council house with sons Richard (Tuton then Plant) and Jason (Slater then Millard-Lloyd). Ray's brother Lol (Way) comes to watch Jason one day, but their troublemaking lodger Will (Gittins) turns up to create havoc. Later living in a dumpy flat, Jason starts skipping school and has his own series of adventures. Meanwhile in the present day, Ray wonders if Liz will ever return. Probably only if she needs money.

The characters are so colourful that this feels like a TV sitcom played with Loach-style kitchen sink realism. Billingham recounts three episodes here, and through each one Liz is a force of nature no one dares to cross, while Ray is reliable and jolly. Everyone calls the goofy, loveable Lol "soft", and it's scary to see him so easily manipulated. Lodgers are up to a variety of antics. And the kids are left to get on with life themselves, something Jason seizes on with a vengeance.

Smith towers over the film, controlling everyone without breaking a sweat. Salinger is superb as the younger, eager-to-please Ray, while Romer continues the lively spark into isolated retirement, separated from Liz (now Kelly). Of the kids, Millard-Lloyd who has the biggest impact as the teen Jason. And the film's most gripping scene is the one in which Way and Gittins square off as a simpleton and sociopath, respectively.

Working with cinematographer Daniel Landin, Billingham creates a fierce visual style that captures characters and echoes the powerful drama in their interaction. Shooting on 16mm gives the film a grainy period authenticity. And production design is lurid but always realistic, with a sometimes eye-popping attention to detail. The result is a film that captures the ugliest sides of the characters while at the same time revealing the filmmaker's affection and curiosity. In other words, Billingham isn't just trying to shock us with his mother's outrageous behaviour, he's showing us why he loves her anyway.
15 themes, language
---
4.Nov.18 tiff
---


< < I N D I E S > >
See also: SHADOWS FILM FESTIVAL

© 2018 by Rich Cline, Shadows on the Wall


HOME | REVIEWS | NEWS | FESTIVAL | AWARDS | Q&A | ABOUT | TALKBACK