dir Jacques Audiard
scr Jacques Audiard, Thomas Bidegain
prd Pascal Caucheteux, Gregoire Sorlat, Michel Merkt, Michael De Luca, Alison Dickey, John C Reilly
with John C Reilly, Joaquin Phoenix, Jake Gyllenhaal, Riz Ahmed, Rebecca Root, Allison Tolman, Carol Kane, Rutger Hauer, Patrice Cossonneau, Ian Reddington, Aldo Maland, Theo Exarchopoulos
release Fr/US 21.Sep.18, UK 5.Apr.19
18/France Annapurna 2h01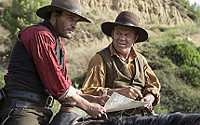 Heading south: Phoenix and Reilly



---
VENICE FILM FEST
TORONTO FILM FEST

R E V I E W B Y R I C H C L I N E

French master filmmaker Jacques Audiard takes on the American Western with this fiercely original adventure set in 1851 Oregon. It's a gritty tale told with a playful vibe, mixing black humour and nasty violence with a plot that twists unexpectedly along the way. It's a remarkably astute exploration of human vices, from sex and greed to the cycle of violence. And it's also darkly entertaining.

Eli and Charlie Sisters (Reilly and Phoenix) are hired by wealthy landowner The Commodore (Hauer) to hunt down Hermann (Ahmed), a Gold Rush prospector with a lucrative secret. He's being tracked by fastidious detective Morris (Gyllenhaal), who decides to ditch his mission and pitch in with Hermann in his goal to make a fortune and establish a pure democracy in Dallas. So now Eli and Charlie are chasing Morris too, but as they close in, they begin to question their lives as killers for hire and the only logical destination they have.

Audiard brings a remarkably light touch to the genre, giving actors space to create memorably quirky characters. The humorous undercurrent is augmented by Alexandre Desplat's terrific jazz-infused score, while Benoit Debie's cinematography captures the expansive drama of the landscapes (it was shot in Spain and Romania) as well as more offbeat details in the sets. So instead of stretching for that operatic Western vibe, everything and everyone is grounded firmly. And the dialog is fresh, loose and enjoyably intricate.

Reilly carries the film's moods beautifully as a straightforward man eclipsed by his hotshot younger brother. A bundle of past trauma and regret, Eli simply needs to take care of Charlie. Phoenix's role is also nicely layered, restlessly impatient about everything, including escaping his father's long shadow. Gyllenhaal has a lot of fun with Morris, a verbose observer. Ahmed shines in a role that's relaxed and intelligent. And Root, Tolman and Kane are wonderful in extended cameos.

The film sharply captures a realistic sense of lawlessness, as men go west to find their fortunes and escape society's rules. As these figures travel into California, this becomes a remarkable portrait of a singular time with attitudes that are almost too easy to identify with. So the film isn't about sex, greed or violence after all. It's about seeking freedom to pursue your dreams without worrying about what's right or wrong. So the ironic epilog carries a wickedly clever kick.
| | | |
| --- | --- | --- |
| | themes, language, violence, sexuality | 3.Dec.18 |