dir-scr Mike Leigh
prd Georgina Lowe
with Rory Kinnear, Maxine Peake, David Moorst, Neil Bell, Philip Jackson, Tom Gill, Lizzie Frain, Nico Mirallegro, Steven Wight, Robert Wilfort, Karl Johnson, Tim McInnerny, Alastair Mackenzie, Sam Troughton, John-Paul Hurley, Simona Bitmate
release UK 2.Nov.18, US 5.Apr.19
18/UK Film4 2h34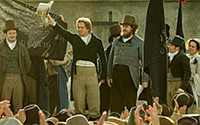 A stand for democracy: Kinnear and crew


---
VENICE FILM FEST
TORONTO FILM FEST

R E V I E W B Y R I C H C L I N E

Produced on a frankly awesome scale, this dramatisation of historical events from 1819 Britain wears out the audience with its endless speech-making, basing the narrative on ideas rather than a coherent sense of story. Each scene is fascinating, and it builds to a staggering climax, but the vast number of distinct characters and rambling structure leave it feeling somewhat dry. It's basically a spectacularly produced museum exhibition.

After Napoleon is defeated at Waterloo, attention in England turns to an internal struggle, as residents of Lancashire demand representation in the national government. But of course the ruling class discounts the needs of the public. Orator Henry Hunt (Kinnear) is brought to Manchester by local activists (including Bell, Jackson and Gill), but spies are helping the wealthy land and business owners to disrupt the rally Hunt will address at St Peter's Field. And when more than 60,000 people turn up, peacefully asking for their rights, the government cracks down.

Leigh recounts the events through the eyes of a wide range of characters, including everyday families, armchair activists, callous military leaders and local politicians. No one dominates the story to lead the audience through it, which leaves this a film the audience observes without getting involved. But it's staged and performed expertly, with such an earthy sense of authenticity, that it intrigues from the start, setting the stage for the climactic conflict. And when that arrives, it's devastating, shot doc-style to maximum effect.

Even though there's no focal lead character, each of the performances is strong. If there's a standout, it's Peake as a thoughtful woman who knows her place but makes her feelings clear. Kinnear is also terrific as a blustering, well-known rabble rouser who is continually wrong-footed by the local activists who have invited him to speak to their gathering. And the cabal of posh owners watching the action from an upper room are perfectly horrific, yearning to crush these peasants with an attitude that's frighteningly recognisable today.

Each of the story fragments has something the audience can identify with as we watch the tumble of events leading to a massacre in which soldiers brutally attack a peaceful gathering of people. So it's not surprising that the press ironically coined the name "Peterloo" to describe it. And instead of cleaning up its act, the government responded by passing a series of acts that prevented protests. The acts were repealed and the government changed, but here we are again.
| | | |
| --- | --- | --- |
| | themes, language, violence | 17.Oct.18 lff |