dir Wash Westmoreland
scr Richard Glatzer, Wash Westmoreland, Rebecca Lenkiewicz
prd Christine Vachon, Stephen Woolley, Elizabeth Karlsen, Pamela Koffler, Michel Litvak, Gary Michael Walters
with Keira Knightley, Dominic West, Fiona Shaw, Denise Gough, Al Weaver, Ray Panthaki, Robert Pugh, Dickie Beau, Eleanor Tomlinson, Aiysha Hart, Johnny K Palmer, Jake Graf
release US 21.Sep.18, UK 25.Jan.19
18/UK Killer 1h51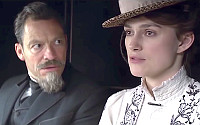 It's my life: West and Knightley

SUNDANCE FILM FEST
TORONTO FILM FEST

R E V I E W B Y R I C H C L I N E
Much more than a period biopic, this inventive film digs beneath the surface of its people and situations to offer both a refreshing angle on history and a bold comment on the world today. Finally, it ends up feeling bracingly current, exploring both gender issues in ways that are both honest and understated. And it's beautifully written, directed and performed.

In rural France in 1893, Colette (Knightley) marries her admirer Willy (West) and moves to Paris. Willy is a famed author whose work is ghostwritten by Schwob and Veber (Weaver and Panthaki), and when they fail to come up with something new, Collette has a go. Her first Claudine novel is a sensation, spawning sequels and a stage play. Willy revels in "his" success, but gambles away the cash and commands her to write more books. Meanwhile, Colette begins to wonder about what she wants, falling for the cross-dressing Missy (Gough) and questioning Willy's motives.

Director Westmoreland recounts this in a deceptively straightforward way, quietly peeling back layers. So what starts as a typical high-end period drama, with sumptuous sets and costumes, especially vivid cinematography (by Giles Nuttgens) and surging music (by Thomas Ades), becomes increasingly subversive. The themes deepen along with the characters, shifting from an exploration of a woman's place in early 20th century France to an astute look at the quiet push and pull of gender roles.

The script allow the actors space in which to create particularly vivid characters. Knightley grows visually more confident as the story progresses and Colette begins to live on her own terms. It's a remarkably likeable performance that avoids the usual pitfalls (romantic plotlines evolve naturally, as do interpersonal clashes). West is also wonderfully textured in a role that could easily have been villainous; he's surprisingly endearing as a man whose one talent appears to be bluster.

As it goes along, the ingeniously structured screenplay brings Colette's life into shining relief as a champion for women who are no longer willing to quietly allow men steal credit for their achievements, even if that's the way it's always been. And as the film affirms the value of all people, there are also subtle but potent comments about issues within the gay and trans communities. In other words, the film provokes us about bigotries we may not be aware we have, even as Colette's story remains engaging and entertaining.
| | | |
| --- | --- | --- |
| | themes, language, sexuality, violence | 24.Sep.18 |