TORONTO FILM FEST


The title of this film may seem weakly generic, but this is a sharply pointed drama that uses an allegorical structure to strong effect. With a range of characters and emotions and a plot that unfolds in real time, this is an engaging, sometimes harrowing profile of a suicide bomber. It maybe somewhat arch, but it's also thoughtful and powerful in its yearning for truth.

As Baghdad's main train station prepares to reopen in December 2006, Sara (Ghandour) stands in the ticket hall ready to ignite her explosive vest. But she's surrounded by people: timid shoe-shine boy Ali and his annoying flower-seller sister Mona (Hayder and Huda And Al Ameer), a musician (Khassaf) and his lost love (Mahdi), a reluctant teen bride (Hussen) and her angry mother (Imran), and chatty salesman Salam (Jabarah). Then as American soldiers pursue a young woman (Qasim), she hands her bag to Sara, who is startled to find a baby inside.

Everything about this film is so constructed that it never feels very realistic, so there isn't much suspense even as the odyssey becomes very tense. The issue is that each character represents a specific type, and they're brought together in ways that aren't remotely organic. In this sense, it feels more like a play than a movie, even though it's shot in remarkably realistic settings.

Similarly, performances are somewhat heightened, as filmmaker Daradji frequently zooms in on expressive faces to show how everyone is stressed-out about whatever might happen next. But everyone is engaging and easy to identify with, especially as they grapple with larger issues swirling so forcefully around them. Ghandour's Sara is a notably sympathetic character, letting us see the complex reasons why someone might choose to set off a suicide bomb as well as the difficult path to the realisation that she might be making a mistake.

There are several elements here that feel a little simplistic, such as the presence of these cheeky young children and a crying baby, all of whom of course make Sara pause in her mission. And other characters, such as the bride, aren't developed beyond their basic premise. But the tetchy interaction between Sara and the likeable Salam is thoroughly engaging, taking some unexpected turns along the way. And the subject matter is so important that this film simply can't be ignored.
15 themes, language, violence
---
10.Oct.17 lff
---

R E V I E W B Y R I C H C L I N E
Redoubtable


aka: Godard Mon Amour • Le Redoutable
dir-scr Michel Hazanavicius
prd Florence Gastaud, Michel Hazanavicius, Riad Sattouf
with Louis Garrel, Stacy Martin, Berenice Bejo, Micha Lescot, Gregory Gadebois, Felix Kysyl, Arthur Orcier, Marc Fraize, Emmanuele Aita, Guido Caprino, Romain Goupil, Jean-Pierre Mocky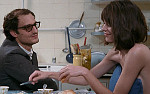 release Fr 13.Sep.17,
US 20.Apr.18, UK 11.May.18
17/France StudioCanal 1h47

---
CANNES FILM FEST
TORONTO FILM FEST

Michel Hazanavicius gets a little too clever for his own good with this biopic about Jean-Luc Godard's decade-long relationship with second wife Anne Wiazemsky. It's smart and playful, packed with hilariously inventive touches both in the dialog and visuals that will especially please Godard fans. And it's brightly played by the cast. But its characters are enigmatic and belligerent, wannabe revolutionaries who can't escape their own neuroses.

In the mid-60s, as his fans begin to think he's lost his touch, Jean-Luc (Garrel) falls for 18-year-old actress Anne (Martin), who stars in his poorly received Maoist treatise Le Chinoise. Both defensive and self-critical, Jean-Luc can't understand why he offends everyone, continually needing to apologise for his harsh remarks. He's passionate about French society, involved in the riots until the students turn on him. And he drives the adoring Anne crazy with his obsessive pretentiousness, then wallows in jealousy as she shoots a film in Italy. Will that be the final straw?

The title refers to a news story the couple quotes to each other about the dull inevitability of life on the eponymous submarine: "Such is life for the crew of the Redoubtable." It's a nice reminder of the absurdity of everyday existence, which Hazanavicius expresses through witty flourishes. From blink-and-you'll-miss-it references to full-on stylised sequences, the film is a riot of cinematic history, mashed together with tongue firmly in cheek. But this leaves the characters feeling cartoonish.

Garrel and Martin are terrific, adding little gags and unspoken moments between the clever banter. Garrel plays Jean-Luc as a brainy movie geek who thinks he's the smartest man in any room, which leaves him looking like a petulant brat, especially since his troubles are mainly played for laughs. Martin is more likeable, but is also rather enigmatic. Aside from her youth, it's not easy to see what Jean-Luc sees in her, and their relationship only has brief moments of believability. Side characters are well-played, but barely register.

This is a great-looking film that plays with big ideas about youth, freedom and revolutionary ideas in art. It's shot on an impressive scale that frequently takes the breath away, and it's packed with pungent conversations about political ideas. But what makes it fun to watch is the way Hazanavicius plays with light and colour, teasing dialog and slapstick running gags. In other words, this is a movie that makes us fall in love with cinema, but certainly not with Godard.
15 themes, language, nudity
---
6.Oct.17 lff

R E V I E W B Y R I C H C L I N E
Thelma


MUST

SEE
dir Joachim Trier
prd Thomas Robsahm
scr Eskil Vogt, Joachim Trier
with Eili Harboe, Kaya Wilkins, Henrik Rafaelsen, Ellen Dorrit Petersen, Grethe Eltervag, Marte Magnusdottir Solem, Anders Mossling, Vanessa Borgli, Steinar Klouman Hallert, Ingrid Giaever, Oskar Pask, Gorm Gromer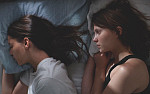 release Nor 15.Sep.17,
UK 3.Nov.17, US 10.Nov.17
17/Norway 1h56

---
TORONTO FILM FEST


A fiendishly inventive spin on the coming-of-age tale, this Norwegian thriller stirs in elements of horror and striking surreal touches that add all kinds of unexpected angles. At its core, this is a very recognisable story, but filmmaker Joachim Trier and cowriter Eskil Vogt spice things up to make it extraordinarily intriguing and insightful. And where it goes is packed with much deeper meanings.

While studying in a university library, Themla (Harboe) has a severe seizure, but no history of epilepsy. Perhaps it's stress relating to her difficulty in making friends. So her kind but very religious parents (Rafaelsen and Petersen) encourage her to be friendlier. Then she meets Anja (Wilkins), who introduces her to a group of friends. Intriguingly, Thelma seems to have some sort of sixth-sense connection with Anja, but their friendship grows stronger, the romantic feelings terrify Thelma, because of her Christian background. Meanwhile, the doctors can't figure out why she's still having seizures.

Trier unsettles the audience right from the freaky opening with a young Thelma (Eltervag) and her father on an icy hunting trip. Eerie touches emerge in virtually every scene, from glimpses of unexplained weirdness to a striking use of light and colour. Nature itself seems to be plotting something, with swarms of birds and slithering snakes. All of this is gorgeously well-shot and edited, with a seductive visual sensibility that draws us into Thelma's story, seeing everything through her observant eyes.

Harboe gives a beautifully introspective performance, sharply revealing Thelma's thoughts and feelings in a jarringly understated way. It's as if she's blankly unaware of her own power because she's been taught to ignore it. Opposite her, Wilkins is cleverly enigmatic as Anja, whose mere presence challenges everything Thelma has been taught to believe. As Thelma's parents, Rafaelsen and Petersen are both harsh and a little too conciliatory, and the implications in their history add some astonishing undertones of suspense and emotion.

With its terrifying revelations and implications, the film increasingly echoes both Carrie and The Twilight Zone, most strongly in her relationship with her parents. Her father tells her to stretch her wings then urges her to stay in touch with who she is, but she has no idea who she is. And as the story continues, some nightmarish twists push her to a better understanding. So on top of the riveting drama, this is also a provocatively resonant look at the dangers of inflicting guilt and repression.
15 themes, language, violence
---
28.Oct.17
---


< < F O R E I G N > >
See also: SHADOWS FILM FESTIVAL

© 2017 by Rich Cline, Shadows on the Wall


HOME | REVIEWS | NEWS | FESTIVAL | AWARDS | Q&A | ABOUT | TALKBACK