dir-scr Shubhashish Bhutiani
prd Sanjay Bhutiani, Sajida Sharma, Shubhashish Bhutiani
with Adil Hussain, Lalit Behl, Geetanjali Kulkarni, Palomi Ghosh, Navnindra Behl, Anil K Rastogi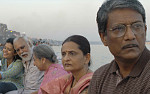 release US Apr.17 sfiff,
UK 25.Aug.17
16/India 1h39

---


Shot without the usual excesses of Indian cinema, this subtle drama explores big issues in an internalised way. As a result, the characters come to life in ways that feel timeless and resonant. This draws out big themes that connect to universal ideas of family relationships, social expectations and thoughts of mortality, all within a specific cultural framework. It's a beautiful film, worth seeking out.

When his father Daya (Behl) decides to head to Varanasi, middle-aged Rajiv (Hussain) has little choice but to travel with him. This is the city on the Ganges in northern India where Hindu pilgrims go to find salvation and prepare for death. Leaving his incomprehensible wife Lata (Kilkarni) and their troubled daughter Sunita (Ghosh), Rajiv takes his dad to the holy site, where hotel owner Mishraji (Rastogi) tells them they can stay for 15 days. But fellow resident Vimla (Behl) has been there for 18 years, so clearly rules are meant to be bent.

At only 25, first-time filmmaker Bhutiani shows remarkable sensitivity when dealing with characters in their 50s and 70s, exploring delicate layers of parent-child connections and the conflicting generational attitudes toward something as inevitable as death. Sunita perhaps represents the filmmakers' own perspective, constantly taking selfies and rebelling against traditional expectations. But there's a lovely connection between father, son and granddaughter that says a lot about humanity, and not just in this rather quirky corner of the world.

This is an observant film, shot with earthy realism, and all of the performances match this style. This makes the movie sometimes feel almost documentary as it quietly follows these people into a variety of lively situations. The actors give their characters vivid internal lives that both clash with each other and find witty ways of expressing themselves. Much of the film is very funny indeed, but the overriding emotion is more thoughtful. And each actor brings a beautiful range of textures to his or her role.

It's rare to find a film set in such a specific culture that feels so real to audiences all over the world. Life in this part of India moves to its own rhythms, colours, tastes and smells, and some of this may seem troubling for Westerners (how could you drink from the same river where people bathe and wash their clothes?). But the feelings are strongly recognisable, as is the fact that these people have so much trouble talking about them. So watching them move a bit closer to understanding themselves and each other is deeply inspiring.
dir Jerome Salle
scr Jerome Salle, Laurent Turner
prd Olivier Delbosc, Nathalie Gastaldo, Philippe Godeau, Marc Missonnier
with Lambert Wilson, Pierre Niney, Audrey Tautou, Laurent Lucas, Benjamin Lavernhe, Vincent Heneine, Thibault de Montalembert, Roger Van Hool, Chloe Hirschman, Adam Neill, Ulysse Stein, Rafael de Ferran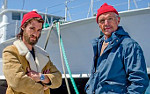 release Fr 12.Oct.16,
UK 11.Aug.17
16/France 2h02


This biopic about undersea explorer Jacques Cousteau is stylishly shot and edited into a brisk sprint through his relationship with his younger son Philippe. Scenes are short and to the point, but never quite generate a properly rounded portrait of the iconic adventurer. Still, it holds the interest and vividly depicts the larger issues Cousteau championed in later life.

In the late 1940s, Jacques (Wilson) began to experiment with diving equipment, improving the aqua-lung and working with his pal Tailliez (Lucas) to document his expeditions in print and on film. With Calypso, his floating laboratory and film studio, he travelled the world with his wife Simone (Tautou) and sons Jean-Michel and Philippe (Lavernhe and Niney), sourcing funding from oil companies and television networks. But as his fame grows, his self-involvement and womanising alienates him from his family, even as they remain involved in his work.

The film looks great, with its slick production design, seamless effects and some gorgeous underwater camerawork, all accompanied by one of Alexandre Desplat's most surging scores. But filmmaker Salle tries to push every emotional button rather than earn it, telling the story in choppy fragments that convey some key event before leaping on to the next important moment. This prevents the film from building up momentum, as the characters' are unable to develop into people we can identify with.

Wilson gives a clever performance at the centre, refusing to shy away from Cousteau's darker edges. But this makes him rather unlikeable right from the start, so his transformation into advocate for the environment feels almost mercenary. Niney has the most detailed character on-screen, and in many ways this is actually Philippe's story as he rejects his father but can't resist his charismatic pull. But this is never properly explored in the script. Neither is Simone's wounded decision to keep living on Calypso, which leaves Tautou looking sullen and mopey.

There is of course an intriguing, important story in here, which makes the film watchable. To highlight the urgent theme about the state of the planet, the script sharply depicts how scientists' warnings have gone unheeded right from the start. The Cousteau Society continues work in this field, which is admirable even if this movie kind of gives it a murky back-story, undermining some of Cousteau's most beloved movies with chilling back-stage details. Even so, his contribution to the environment and to cinema is indelible.