dir Antonio Campos
scr Craig Shilowich
prd Melody C Roscher, Craig Shilowich
with Rebecca Hall, Michael C Hall, Tracy Letts, Timothy Simons, J Smith-Cameron, Maria Dizzia, John Cullum, Kim Shaw, Jayson Warner Smith, Ian Covell, Lindsay Ayliffe, Rachel Hendrix
release US 14.Oct.16, UK Oct.16 lff
16/US 1h25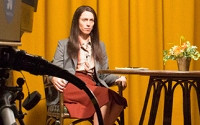 Live on air: Hall



---
SUNDANCE FILM FEST
TORONTO FILM FEST

R E V I E W B Y R I C H C L I N E

The true story of Christine Chubbuck is turned into an eerily intense personal odyssey that grows increasingly uncomfortable to watch. Director Antonio Campos vividly explores Christine's growing stress without trying to explain it away, which sharpens the depiction of the cumulative effect of the daily struggles everybody experiences. And Rebecca Hall is quite simply awesome in the role.

In 1974 Florida, TV news journalist Christine (Hall) is feeling the pressure of turning 30. Her boss Mike (Letts) wants her to report more ratings-grabbing stories, her mother (Smith-Cameron) has moved in and has a new boyfriend (Smith), and her best friend Jean (Dizzia) is quietly building her career while Christine's seems to have stalled. Christine would also like to date her anchor colleague George (Michael C Hall), but can't get up the nerve. All of these things seem to be expressing themselves in severe stomach cramps, but the dark mood swings are much scarier.

The film has a vivid 1970s aesthetic, so Campos directs in period style, encouraging unrushed performances from everyone except Hall, whose focus as Christine is dominant and powerful. It's a clever approach that gives the film an almost timeless feel, while also grounding it in a time and place. Political issues gurgle int he background (this was the summer of Nixon's resignation), and the characters' personal lives reflect the times as well.

Hall is a force of nature, charging through scenes with so much charisma that it's impossible to look away. Whether Christine is cheerful, cheeky or downright gloomy, she radiates intelligence and focus. So as things go dark, the film becomes seriously chilling. Opposite her, Michael C Hall is superbly enigmatic, Letts brings his usual antagonistic edge, and Smith-Cameron adds layers of interest to a her underwritten role. There are also pointed roles for Simons (as the weather guy) and Callum (as the station owner).

Viewers unaware of the true story may find the ending a bit hard to take, since it is presented in an almost documentary style, with presumably dispassionate accuracy. This means that the epilog feels rather abrupt. But the film is making several hugely important points about the badly compromised state of news reporting and the need to recognise mental illness when you spot it. Campos and screenwriter Shilowich aren't assigning blame for what happened here; they're merely presenting it as it happened. And clearly hoping that this helps make sure it doesn't happen again.
| | | |
| --- | --- | --- |
| | themes, language, violence | 20.Sep.16 |