dir David Gordon Green
scr Paul Logan
prd David Gordon Green, Molly Conners, Lisa Muskat, Derrick Tseng, Christopher Woodrow
with Al Pacino, Holly Hunter, Chris Messina, Harmony Korine, Skylar Gasper, Edrick Browne, Herc Trevino, Louis Moncivias, Marisa Varela, Sandra Avila, Rebecca Franchione, Natalie Wilemon
release US 19.Jun.15, UK 7.Aug.15
14/US 1h37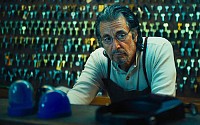 You're a mean one: Pacino



---
VENICE FILM FEST
TORONTO FILM FEST

R E V I E W B Y R I C H C L I N E

This elusive, scruffy character portrait isn't east to engage with, mainly because the central figure is such a relentless grump. It's beautifully shot and edited, with strikingly authentic performances from the entire cast and a nicely edgy sense of humour gurgling through each scene, but the point isn't easy to see.

Small-town Texan locksmith AJ Manglehorn (Pacino) is angry at life, mainly because he can't get over Clara, the girl who got away. He had a long marriage to a woman he never loved and a high-powered banker son Jacob (Messina) he rarely sees, although he dotes on his granddaughter (Gasper). The only constant in his life is bank teller Dawn (Hunter), but when he asks her out he hasn't a clue how to interact with her. Essentially, only his cat Fanny can bear to be around him, and she needs surgery after swallowing a key.

It's Fanny's hospitalisation that forces AJ out of his shell, cracking his carefully constructed isolation. But director Green and screenwriter Logan underplay everything so much that his story arc feels oddly underdeveloped, leading to a final series of scenes that aren't very organic. Thankfully, Pacino underplays the role as much as he can (which isn't much), giving AJ a loose charm underneath his surly exterior. This lets us glimpse what Dawn might see in him, and Hunter plays her with some beautifully subtle textures.

Green is terrific at touching on tiny truths in every scene, revealing hints about AJ's past that continually encourage us to try to understand him. His skill at helping customers break into cars, safes and locked doors suggests that he has a rather shady history, and his tense conversations with Jacob offer some clues about AJ's life as both a father and a son. There are also references to his past as the local high school coach, as he meets a former student (Korine) who now runs a dodgy tanning salon.

On the other hand, several scenes strain credibility, including an abrasive shouting match with his son and a couple of relentlessly awkward scenes with Dawn. Still, Green's visual approach has a dreamlike allure, as he gently intercuts and overlaps scenes to create mystery and emotion, drawing out our own memories of relational failures and unresolved yearnings. Although with a less iconic actor in the central role, the film might have had a more resonant kick.
| | | |
| --- | --- | --- |
| | themes, language, grisliness, some violence | 11.Ju.15 |