dir-scr Olivier Assayas
prd Charles Gillibert
with Juliette Binoche, Kristen Stewart, Chloe Grace Moretz, Lars Eidinger, Johnny Flynn, Brady Corbet, Angela Winkler, Hanns Zischler, Nora von Waldstatten, Aljoscha Stadelmann, Claire Tran, Benoit Peverelli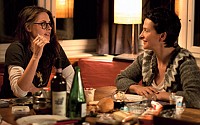 release Fr 20.Aug.14,
US 10.Apr.15, UK 15.May.15
14/France 2h04

---
CANNES FILM FEST
TORONTO FILM FEST

Even though this drama is dense, talk-heavy and rather too on-the-nose, it's packed with intriguing ideas and fascinating characters, cleverly played by a sharp cast. It's also set in a gorgeous Alpine location that provides spectacular backgrounds for the drama.

Actress Maria (Binoche) and her personal assistant Val (Stewart) are headed to Sils-Maria in rural Switzerland to honour Maria's long-time friend and director Wilhelm when they receive word that he has died. At the funeral, director Klaus (Eidinger) suggests restaging Wilhelm's play Maloja Snake, which made her a star at 20, and Maria is intrigued by the idea of taking the older role opposite rising young movie star Jo-Ann (Moretz), the paparazzi's current favourite wild child. But Maria feels she has little in common with the older character, so asks Val to rehearse with her.

The film is a never-ending stream of conversations discussing issues relating to self-image and growing older in the context of celebrity. The play within the film takes on additional meaning as its title refers to an ominous local cloud formation while its plot has clear connections to Maria and Val's shifting friend/mentor relationship. And Jo-Ann's public image has more than a passing resemblance to Stewart's real-life run-ins with the tabloid press. Intriguingly, writer-director Assayas never winks at these knotted themes.

He directs the actors to off-handed, realistic performances even when their interaction begins to get a bit arch. This is a knowing glimpse behind-the-scenes in show business that catches tensions in the various situations and relationships. Binoche and Stewart have terrific chemistry in their scenes, finding some strikingly honest moments as they agree, disagree and rely on each other for almost everything. And Moretz nails her role dead-on as a young star who knows her own power.

But everything on-screen is meta, layering the play within the film within the real life of the cast, then wringing even more symbolism out of the settings and side characters. On an intimate level, this is a remarkably involving exploration of insecurity and artistic ambition. More expansively it's an enigmatic comment on the winds (or clouds) of fate. And while the film is ultimately elusive, dropping plot threads everywhere just like Wilhem's play does, it's the kind of movie that gets the audience talking about a lot more than a space heroine with hand-zapping powers. For example.
15 themes, language, brief nudity
---
31.Mar.15

R E V I E W B Y R I C H C L I N E
Gente de Bien


aka: Good People
dir Franco Lolli
prd Gregoire Debailly
scr Franco Lolli, Catherine Paille, Virginie Legeay
with Brayan Santamaria, Carlos Fernando Perez, Alejandra Borrero, Santiago Martinez, Sofia Rivas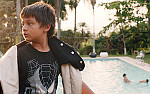 release US Oct.14 ciff, UK 17.Apr.15
14/Colombia 1h26

---
CANNES FILM FEST


Minimalistic and beautifully observed, this subtle Colombian drama depicts some telling truths about childhood that resonate even beyond the social structures that give the film its shape. It's a story about well-meaning people who don't necessarily do the right thing, and it's no one's fault. This sometimes makes the movie feel bleak and rather elusive, but it's impeccably made.

As the summer holiday begins, 10-year-old Eric (Santamaria) is dropped off at the home of his poor handyman father Gabriel (Perez), a man he barely knows. Hanging out while dad works, wealthy client Maria Isabel (Borrero) tries to get her kids to play with Eric. But their friendship is awkward. When Maria Isabel invites Eric and Gabriel to come work at their summer house, Eric works extra hard to fit in with the rich kids and their cousins. But Gabriel struggles to feel like he should be there at all.

Without a plot or even a character arc, the film feels meandering and aimless, but every scene is so impeccably observed that we almost feel like voyeurs. Most importantly, this isn't merely a clash between the classes or generations, as there are all kinds of issues swirling through each interaction, and connections between people veer surprisingly from warm affection to bitter mistrust. While there isn't a bad guy here, there are attitudes that emerge along the way that we wish we couldn't empathise with.

At the centre, young Santamaria is magnetic as Eric, a young kid who has had the rug pulled out from under him. Not only doesn't he know his dad, he doesn't like him very much, seeing instantly that he's a loser without any ambition for his life. He's much more drawn to Maria Isabel's children, although they are wary of him mainly because of his working-class father. And perhaps also because Eric tries far too hard to fit in with them.

It's not so much that events progress here. Scenes simply play out in a realistic way that refuses to fit into any dramatic structure. There are happy moments and other times when the characters are feeling profound frustration with themselves and each other. These emotions drive them to take often unexpected actions that are impossible to explain. The point is that people and social structures all play a role in how we live our lives. And more importantly, they often dictate how we treat each other.
15 themes, language, some violence
---
4.Mar.15

R E V I E W B Y R I C H C L I N E
Jauja


dir Lisandro Alonso
scr Lisandro Alonso, Fabian Casas
prd Ilse Hughan, Andy Kleinman, Viggo Mortensen, Sylvie Pialat, Jaime Romandia, Helle Ulsteen
with Viggo Mortensen, Viilbjork Malling Agger, Adrian Fondari, Ghita Norby, Esteban Bigliardi, Misael Saavedra, Diego Roman, Mariano Arce, Gabriel Marquez, Brian Patterson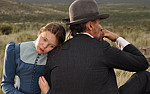 release US Oct.14 nyff,
Arg 27.Nov.14, UK 10.Apr.15
14/Argentina 1h48

---
CANNES FILM FEST
TORONTO FILM FEST


An experimental Western packed with elusive ideas, this oddball film will annoy audiences looking for a straightforward plot. But it's utterly entrancing, inventively shot and played with a wonderful sense of bizarro metaphysics. And with its dark ideas about colonialism, it will touch a nerve with those who enjoyed Miguel Gomes' 2012 drama Tabu.

In 1882 Patagonia, European soldiers aren't sure whether to carry on trying to establish an outpost or cut their losses and go home. They certainly haven't found the promised paradise Jauja. Or at least they don't think they have. Danish officer Dinesen (Mortensen) is mainly worried about his 14-year-old daughter Ingeborg (Agger), who runs off with Corto (Saavedra), the young assistant to the Spanish officer (Fondari). In pursuit, Dinesen finds himself following an officer who has gone native. But is it possible to apply Western ideas of time and space in a place this isolated?

Yes, take this film literally at your peril. Shot in a colour-saturated square frame with rounded corners, the movie looks like pristine old-time photographs and film reels. Each image is gorgeously composed, with blackly humorous touches that hint at the bigger, even less comprehensible world outside the frame. Conversations are rambling, packed with stories and innuendo, as base humanity collides with both civilised propriety and eternal truths. And the characters are cheeky, reticent, often unnervingly out of reach.

Mortensen anchors everything as the clumsy officer who's only sure of one thing: his love for his daughter. So he pursues her even though he knows she's probably lost already. Even before she runs off, he's already questioning their presence in this place, and as he ventures deeper into the forbidding wilderness his sense of realism is compromised by local mythology. And a series of existential twists further highlight the issues rolling around in his mind.

Filmmaker Alonso never makes this easy for the audience. His quirky approach is eerily light and breezy, burying the themes deeply, and the bracingly audacious final segment raises even more questions as it hints at the fallout of arrogant Europeans trying to eliminate the native culture of South America to install their own society instead. The pungent question Alonso is asking is whether they ever really had a chance in a world they could never hope to understand. And in the long run, it's actually Europe that's been conquered.
15 themes, violence, language, sexuality
---
30.Jan.15

R E V I E W B Y R I C H C L I N E
The Samurai


Der Samurai
dir-scr Till Kleinert
prd Anna de Paoli, Linus de Paoli
with Michel Diercks, Pit Bukowski, Uwe Preuss, Ulrike Hanke-Haensch, Kaja Blachnik, Christopher Guy Kane, Janin Halisch, Ulrike Bliefert, Michael Fritz Schumacher, Gernot Kunert, Yvonne Yung Hee, Manfred Mock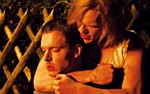 release US Apr.14 tff,
Ger 30.Oct.14, UK 13.Apr.15
14/Germany 1h19

---
BERLIN FILM FEST


Centring on the hilariously deranged connection between a young cop and a sword-wielding nutcase, this film indulges in horror movie imagery to tell a strikingly introspective story about a man grappling with his own demons. It's edgy and freaky, and also rather indulgent. But it's such a strikingly original approach to an important topic that it's well worth a look.

In rural Germany, young cop Jakob (Diercks) is leaving raw meat in the woods to lure a marauding wolf away from houses, although this doesn't solve the problem. Living with his grandmother (Hanke-Haensch), Jakob is clearly unsure of himself, taunted by local bullies for being gay, even though he's not sure what he is. Then in an abandoned house he meets a cross-dressing man (Bukowski) with a samurai sword. Is this the wolf in human form? Soon they are on a cat and mouse chase through the town, which shockingly turns into a literal bloodbath.

Writer-director Kleinert builds a riveting sense of intrigue from the start, mainly because he immediately starts digging into Jakob's psyche. This makes the film's enigmatic tone feel remarkably involving, suggesting that this grisly battle is taking place largely within Jakob's mind as he struggles to accept the truth about himself. So as the events escalate, Kleinert uses sharp editing and camerawork to create a wonderfully gothic tone that's creepy and often rather camp. And because the narrative is so internalised, it's impossible to predict.

In a remarkably unflappable performance, Diercks is engaging as the naive nice guy with a battle raging inside him. He clearly wants to do his job as required, but this nutty tranny won't let him. Bukowski is hilariously unnerving as his tormentor, an explosive nemesis who drags Jakob right into the fiery nastiness. Both performances are packed with surprises, hurling us into each bonkers scene with startling energy.

All of this is so visceral that we feel like we travel this darkly personal journey alongside Jakob. "See how powerful we could be together," the samurai purrs as he begins to crack Jakob's resistance, opening him to something far beyond his frame of reference. As the samurai begins to purge the town of those who make Jakob's life so unbearable, the film's metaphorical underpinnings begin to wobble, but it remains an inventive approach to the issue of accepting the sexuality of both others and yourself.
18 themes, language, violence
---
6.Apr.15


< < F O R E I G N > >
See also: SHADOWS FILM FESTIVAL

© 2015 by Rich Cline, Shadows on the Wall


HOME | REVIEWS | NEWS | FESTIVAL | AWARDS | Q&A | ABOUT | TALKBACK