dir Mira Nair
scr William Wheeler
prd Lydia Dean Pilcher
with Riz Ahmed, Liev Schreiber, Kate Hudson, Kiefer Sutherland, Om Puri, Shabana Azmi, Martin Donovan, Nelsan Ellis, Imaad Shah, Adil Hussain, Haluk Bilginer, Meesha Shafi
release US 26.Apr.13, UK 10.May.13
12/US 2h08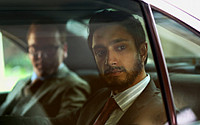 Taxi to the dark side: Sutherland and Ahmed



---
VENICE FILM FEST
TORONTO FILM FEST

R E V I E W B Y R I C H C L I N E

Riz Ahmed stars in another complex, provocative film about terrorism, but this one isn't remotely as funny as Four Lions. No, this is a dead-serious drama that grips us with complex characters and situations until the story starts to sag under its own weight. In the end it feels oddly unsatisfying, because the film's jumbled structure undermines the point it's making.

After attending Princeton, bright-spark Pakistani student Changez (Ahmed) becomes a high-flying Wall Street analyst with a sexy artist girlfriend (Hudson) and a sympathetic boss (Sutherland). But a series of events shake him, including 9/11 and subsequent harassment by police, immigration officials and security agents. Returning to Lahore, he becomes a lecturer specialising in violent uprisings. But is he also now a terrorist involved in a nasty hostage situation? The CIA seems to think so, and is moving in on him.

The film frames this story as Changez narrates it to a journalist (Liev Shreiber) in Pakistan while the tense situation engulfs them. But the script never quite connects the dots properly, abandoning characters along the way (such as veteran actors Puri and Azmi as Changez's parents) or distracting us with roles unnecessarily beefed-up for American costars. All provide the requisite on-screen presence but, with the exception of the always superb Schreiber, they're essentially irrelevant to most of what's going on.

Fortunately, Ahmed is so good in the central role that his journey is both compelling and thought-provoking. His carefully internalised performance helps us understand Changez's transition from promising university student to ruthless corporate raider to anti-establishment rebel. We vividly feel his outrage as he becomes the target of superficial patriotism and rampant ignorance about Islam. And it's even worse when these things come from people he loves and respects.

The issues this film explores are urgent and important, showing a provocative angle on the American dream. But it should have been much punchier than this. Nair keeps scenes taut and slickly suggestive, although the overall pacing feels plodding due to the fractured narrative and some deeply corny plot twists. So by the time we get to the needlessly explosive finale, everyone's motivations feel strangely muddied. Leaving us little to think about.
| | | |
| --- | --- | --- |
| | themes, language, violence, some sexuality | 18.Oct.12 lff |