dir Alfonso Cuaron
scr Alfonso Cuaron, Jonas Cuaron
prd Alfonso Cuaron, David Heyman
with Sandra Bullock, George Clooney, Ed Harris, Orto Ignatiussen, Phaldut Sharma, Amy Warren, Basher Savage release US 4.Oct.13, UK 8.Nov.13
13/US Warner 1h31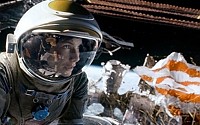 Lost in space: Bullock



---
VENICE FILM FEST
TORONTO FILM FEST

R E V I E W B Y R I C H C L I N E
Cuaron takes us on a 91-minute thrill ride deploying cutting-edge cinema technology and a harrowing performance from Sandra Bullock to root us in our seats. So even if the plot is rather contrived, the film looks so amazing that we barely breathe as we're hurled here and there just on the cusp of Earth's atmosphere.

On a routine mission to repair the Hubble Telescope, the Space Shuttle Explorer's crew members Stone (Bullock), Kowalski (Clooney) and Shariff (voiced by Sharma) are caught in a cataclysmic debris storm after the Russians destroy a satellite and spark a chain reaction. With communications out, Stone and Kowalski tether themselves together and head for the International Space Station, which isn't too far away. But they only have 90 minutes before the debris hits them again.

Cuaron and cinematographer Emmanuel Lubezki shoot and edit the film so fluidly that we barely notice any joins. Indeed, the opening take goes on for several minutes before the first cut as the camera drifts through space between the characters, even entering Stone's perspective at key moments. But then everything is seen from her point of view: a novice on her first space mission after six months of training, struggling with the sensation of weightlessness as well as some emotional issues in her past.

Bullock is terrific in the role, a character we can identify with and root for in one nightmarish scenario after another. We feel her helplessness and admire her resourcefulness as she faces various challenges, always contemplating whether the fight is worth it. By contrast, Clooney is sardonic and funny, cheering her up with witty banter and silly anecdotes while making sure to spark her survival instinct. And Cuaron's camera is just as adept at capturing their expressive faces as the spectacular planet below them.

Where the film falters is in the way the script structures each successive set-piece as a last-gasp moment. It's like a movie in which a fireman runs into a series of burning buildings, rescuing children just before the ceiling collapses in each one, in the right order. Even without an understanding of physics, these coincidences niggle. Fortunately, the film is so fast-paced, emotionally wrenching and overpoweringly visual that, like Stone herself, we don't have much time to think about the details.
| | | |
| --- | --- | --- |
| | themes, language, some grisliness | 10.Oct.13 lff |